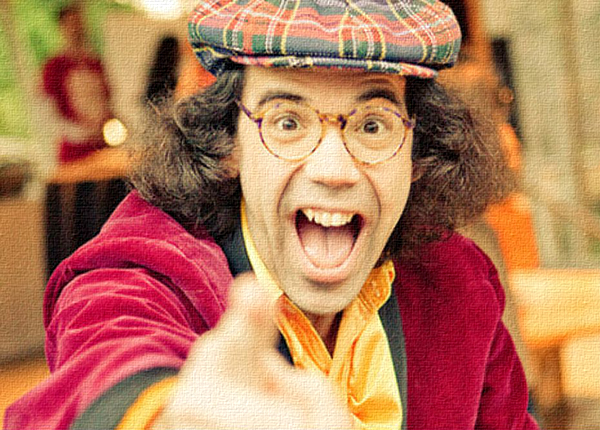 Nardwuar the Human Serviette. Beloved by some for his offbeat, uncommonly in-depth interview style, hated by others for the very same reason. Skilled in the art of research and the guerilla interview, Nardwuar often catches his subjects completely off guard with stray details from their pasts, strange connections, and even stranger gifts.
At the end of each interview, Nardwuar usually delivers two signature moments, telling interviewees to "keep on rockin' in the free world" and saying "doot doola doot doo" with the expectation of a two syllable response: "doot doo" and then freezing into a quirky pose for an uncomfortably long period of time. Sometimes artists play along, sometimes they go their own way. Check out a variety of responses in The 10 Best Endings To Nardwuar Interviews.
Hit "next" or click the image to watch…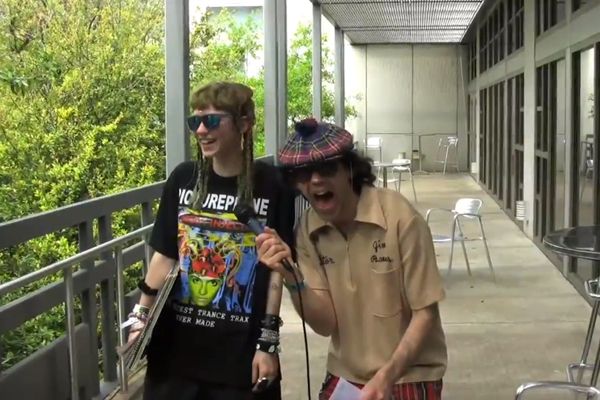 10. Nardwuar vs. Grimes
At the end of this one, Nardwuar strikes his typical pose and fellow Canadian and indie darling Grimes awkwardly and charmingly sums what is happening perfectly: "It's so beyond awkward that it's just not awkward. Should I leave?"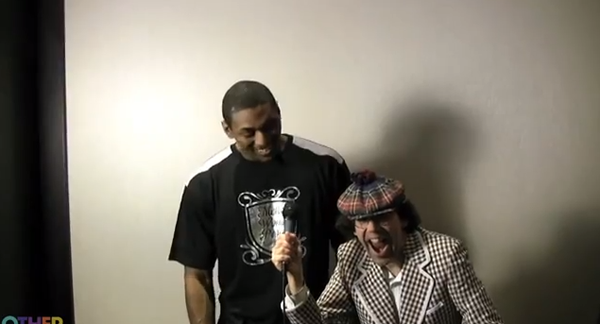 9. Nardwuar vs. Metta World Peace (aka Ron Artest)
Through the course of hundreds of interviews, Nardwuar has elicited a wide range of responses from his subjects. Few of those responses have included a freestyle and compliments on the quirky Canadian's fashion sense. NBA player and erstwhile rapper Metta World Peace (the artist formerly known as Ron Artest) is, of course, like very few people. He translated nervous energy into rapping and pined for a pair of plaid pants like the ones Nardwuar was rocking. Par for the course weirdness in a Nardwuar interview.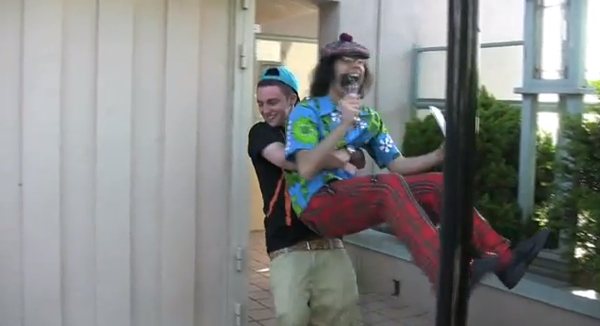 8. Nardwuar vs. Mac Miller
Ever wonder just how committed to his shtick Nardwuar is? Well, the ending of this interview with Mac Miller gave a neat window into Nardwuar's dedication. When Nardwuar froze at the end of the interview, Miller saw fit to lift him up and put him in a new position–twice. Each time, Nardwuar remained frozen in his indelible pose, the unchanging face of adherence to craft.
7. Nardwuar vs. Action Bronson
Sometimes vigorous crotch grabbing is the only response to a confusing situation. Action Bronson knows what's up. When Nardwuar went for his signature end of interview freeze, the master chef turned rhymer grabbed his own family jewels. Nothing fazes Nardwuar.
6. Nardwuar vs. Henry Rollins (1998)
Henry Rollins is a smart man. He's a very intense man. He doesn't mince words. In 1998, he ended an interview with Nardwuar by keeping it about as real as it could get for an interviewer: he told the Human Serviette to brush his damn teeth.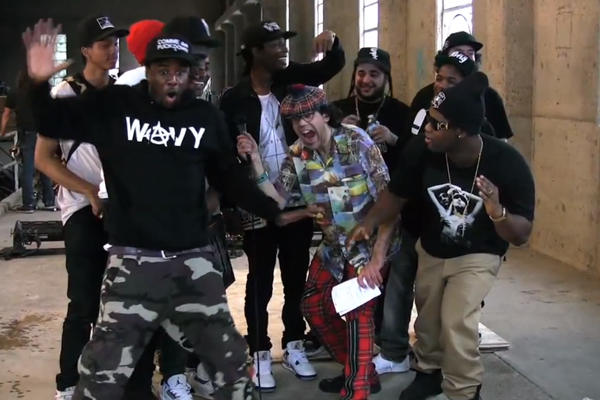 5. Nardwuar vs. A$AP Rocky
When Nardwuar freezes, A$AP Rocky and the A$AP Mob take the opportunity to turn the interview into an impromptu dance show. Because, sometimes, the only appropriate response is for your entire crew to do the Harlem Shake.
4. Nardwuar vs. Odd Future
You didn't imagine that the meeting of these minds would produce anything less than sophomoric shenanigans, did you? When Nardwuar tells Tyler to "keep on rockin' in the free world," the Odd Future impresario channels his inner 8-Mile and screams "fuck the free world!" When Nardwuar drops his usual "doot doola doot doo," Hodgy Beats chimes in with "bukkake." After Nardwuar strikes a pose, Tyler proceeds to hump and dance around the interviewer. So, basically, the OF boys respond to the Human Serviette exactly as you'd expect.


3. Nardwuar vs. Wesley Willis
It's rare to see Nardwuar get outsmarted in one of his interviews. Rarer still is seeing the nasal-voiced, seemingly omniscient interviewer out-weirded by one of his subjects. Of course, it's not often that he interviews an artist as singular as the late Wesley Willis, the cult favorite singer (and friend to Sublime) known for his bizarre, Casio-preset aided songs and violent battles with schizophrenia. Willis was also known for his gentler side, which often manifested itself in a playful head butt greeting. The end of this interview features a solid 20 seconds of slightly awkward head butting.
2. Nardwuar vs. Kid Cudi
Parting is such sweet sorrow, particularly when Nardwuar hasn't gotten you to punctuate his "doot doola doot doo" with your "doot doo" yet. Such was the case when Kid Cudi and a member of his entourage hightailed it out of Mr. Mescudi's interview with Nardwuar. As Nardwuar chased after in search of his signature ending, he was told to "come on, man, chill out."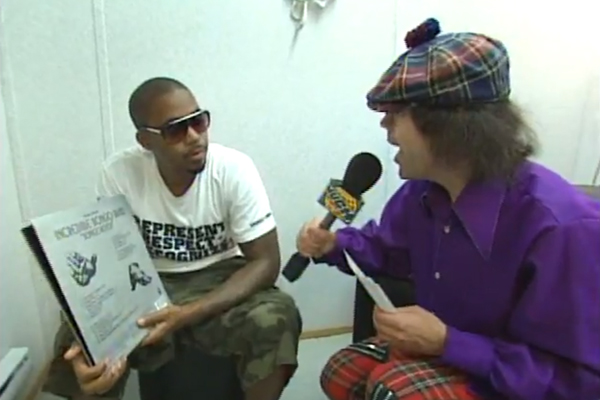 1. Nardwuar vs. Nas
Discomfort, disarray, uncertainty, anger, denial–a Nardwuar interview can bring out a bevy of negative emotions. Rarely do they all come to a head at once, as they do in the ending of Nardwuar's showdown with Nas. While some see fit to let the Human Serviette do his thing, Nas cut straight to the chase: "You are fucking nuts, you are a fucking psycho, but it's all love, it's all music." Tough love, it seems.