First Impressions of Tyler, the Creator's New Album 'Call Me If You Get Lost'
Tyler, the Creator's new album 'Call Me If You Get Lost' is here. What's the best song? Biggest surprise? Best guest feature? Here's our first listen review.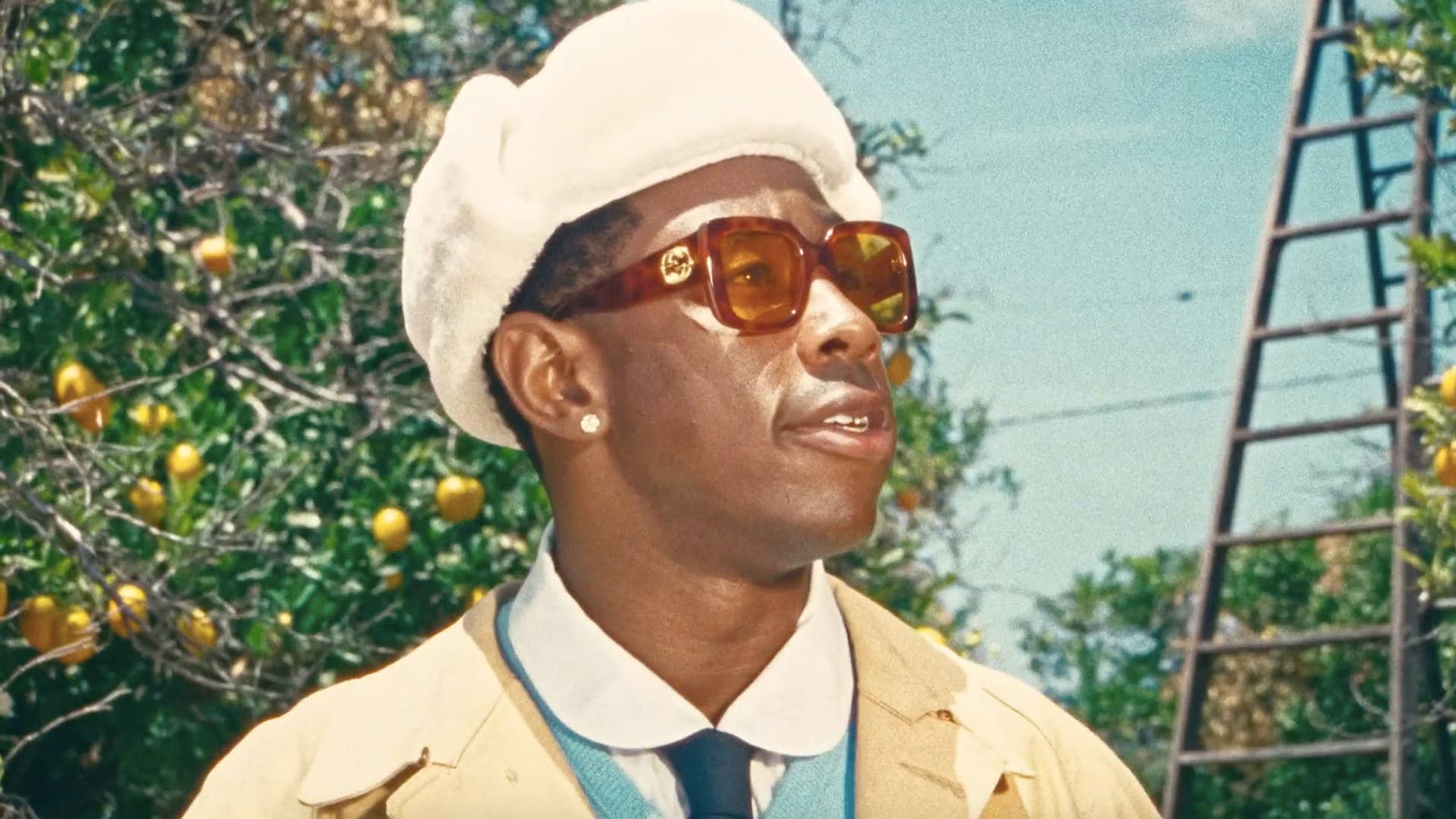 YouTube
Image via YouTube/Tyler, the Creator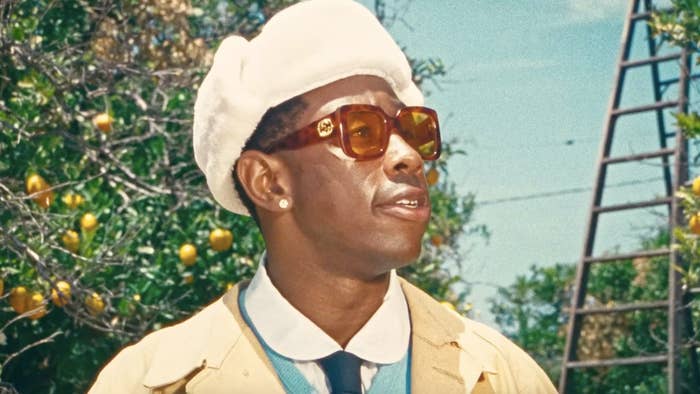 Tyler, the Creator is back with another album, and once again, he's checking off items on his bucket list.

In 2010, he tweeted, "I want a Gangsta Grillz tape so fucking bad got damn." A decade later, he linked up with DJ Drama himself and accomplished that dream. Although, as Tyler happily points out now, it's an "album."

After telling everyone "not to expect a rap album" on IGOR, Tyler delivered exactly that with Call Me If You Get Lost. From the hard-hitting beats ("Lemonhead") to the guest features (NBA YoungBoy, 42 Dugg, Lil Wayne, and more) to the storytelling verses ("Wilshire") this is a rap album in every sense of the word. Don't get it twisted, though. Tyler still manages to squeeze in melodic moments ("Sweet / I Thought You Wanted to Dance") that'll sound good by the lake this summer, too. It has a little something for everyone.

So, what's the best song? Biggest surprise? Worst thing about the album? Best thing about the album? Members of the Complex Music team (Eric Skelton, Andre Gee, and Jessica McKinney) answered those questions and more after a couple initial spins. Here are our first impressions of Tyler, the Creator's new album Call Me If You Get Lost.
Eric: "Wilshire" stands out the most after a first listen. After two albums where Tyler sparingly indulged in rap verses, how can you not love hearing him rap his ass off for eight minutes straight, weaving together a deeply personal story? The most complete and well-rounded song on the album, though, is "Rise!" That's where Tyler gets to show everything he's capable of in one song, pairing his melodic abilities with two hard-edged rap verses. I've also got to shout out "Wusyaname" and "Massa," too. Damn, I've gotta stop myself before I list every song. What an album!

Andre: "Hot Wind Blows." It starts off with Drama talking his shit, then Tyler steps in, then Wayne goes crazy. Even for someone known for rapping over any and everything, I don't think Wayne raps on lush beats like this very often, so that was very cool to hear.

Jessica: "Massa" or "Lemonhead." On "Massa," Tyler raps at length about his come-up and musical evolution from Cherry Bomb to Flower Boy until now, acknowledging his short-comings and negative first impressions. He also opens up about his circumstances prior to fame in a way that most of us haven't ever heard before, rapping, "Mom was in the shelter when 'Yonkers' dropped, I don't say it/ When I got her out, that's the moment I knew I made it." While telling his own story, he also manages to weave in reference to the deep-rooted racism in the country. From the lyrics to the production, it's a great song. And "Lemonhead" is a personal favorite. It's a rowdy record that sounds like it should be playing at a summer party, but it also shows off Tyler's rap skills and his adaptability to collaborate with artists like 42 Dugg, who most wouldn't consider to be in his lane. 
Eric: None. This might be the only true "no skips" rap album of the year so far. You can confidently play this one front to back without having to get up and skip anything. That being said, I'll probably go back to "Corso" less than other songs on here, but it still serves a purpose on the tracklist, Tyler gets off some great bars, and the back-and-forth with Drama is amazing.

Andre: Honestly, I can't see myself skipping anything on here. There are no weak moments, and the project is sequenced in a way where I don't hear any easy outs.

Jessica: I'm surprisingly not finding a song to skip. There are some that I'll go back to more than others, but there's no obvious track that I need to skip once it starts playing.
Eric: It's great to hear Tyler rap this much again (and at a higher level than he ever has before). But the best thing about the album is how he's able to combine both of his musical worlds on a single album. In the first half of his career, he proved he could rap, then he spent more time focusing on melodies and arrangements on recent albums like IGOR. On this album though, he takes a hard turn back in the rap direction, but not without forgetting the melodic tricks he picked up on Flower Boy. As a result, we get the most complete album of his career so far, as he puts sugary pop anthems like "Sweet / I Thought You Wanted to Dance" on the same tracklist as storytelling rap songs like "Wilshire" and "Massa." He pulled together all the pieces on this one.
Andre: The best thing about this project is that it takes us on a ride all the way through. It's sequenced like a cassette tape, so you don't even know or care what track number you're on at certain points, but it's so well-crafted that it doesn't really matter. I'm reading the Sopranos Sessions, and at one point Sopranos creator David Chase is discussing the inherent dreamlike quality of cinema and the viewing experience. I feel like cinematic, cohesive albums can radiate that same quality for listeners, and this is my favorite such project in a minute. I love albums that don't feel like mere playlists, but have a certain immersive character to them.

Jessica: Tyler showed a lot of growth on this project. I wasn't a big fan of his earlier work but my opinion has changed after seeing how he's evolved to incorporate new sounds and get more introspective in his lyrics. Besides the growth, though, it's been nice to hear that Tyler still has his humor, as he manages to throw in comedic lines like, "Aw, you look malnourished" on "Wasyaname" or "Got too much self-respect, I was my hands fore I piss" on "Massa" or wanting to sleep with Justin Bieber on "Manifesto." 
Eric: On first listen, I don't have any complaints. There are a couple moments when the mixing and mastering sounds a little off, but I think Tyler did that for effect (Gangsta Grillz mixtape energy?) so I'm not mad at it. 
Andre: The only thing I could nitpick is who isn't on the album. It would've been cool to hear more Odd Future members, and that Jay-Z song speculation got me excited for nothing. But what's not on the album can't bog down what is.

Jessica: There isn't much to hate about Call Me If You Get Lost right now.
Eric: NBA YoungBoy's feature. There are a lot of lazy tweets flying around right now from people who seem surprised by how good YoungBoy sounds on this album. And those people clearly haven't listened to much of his music, because he's shown these skills before on his own songs. But what is surprising is the fact that he showed up on a Tyler, the Creator album at all, and how seamlessly he fit in the fabric of a song like "Wusyaname." Somehow, Tyler put YoungBoy on a '90s R&B-leaning record next to Ty Dolla $ign and it all makes perfect sense. By the end of his verse, YoungBoy is singing his ass off and it sounds incredible. I'd listen to an R&B YoungBoy album if Tyler produced it.

Andre: The prevalence of rap on here. Tyler is multi-talented, and with those kinds of artists, when they say "I'm gonna be rapping on this one" they usually mean like half the project is rapping, or like they have a 4-song stretch of rap. But no, this is very much a rap-dominated album.

Jessica: Before it dropped, we predicted that this would be a rap-heavy album. Even so, I was pleasantly surprised that the entire album includes full rap verses from Tyler and his collaborators. This is much different from IGOR, which prioritized less conventional song structure over lyricism. The IGOR formula worked out great, but so did his method on this project. 
Eric: Lil Wayne on "Hot Wind Blows" and YoungBoy on "Wusyaname." It's a tie. Wayne is rapping like it's 2008 again, continuing his hot streak this year and proving he's nowhere near falling off. (And I already explained what makes YoungBoy's verse so great above.) Tyler really has a way of always getting the best out of his collaborators.
Andre: Wayne on "Hot Wind Blows." He's been on fire, and it was great to see him rap with Tyler, because I think Tyler's really intent on getting respect as an MC right now. There aren't a lot of better ways to do that than to go toe-to-toe with Wayne.

Jessica: 42 Dugg or Lil Uzi Vert. 42 Dugg slid so effortlessly on "Lemonhead," and Tyler honestly couldn't have selected a better feature for it. Uzi also deserves credit for his verse on "Juggernaut," where he spits whiplashing lines about luxury cars and designer threads. I noticed some people on Twitter were trying to say Uzi flopped on the track, but they're dead wrong. DJ Drama also deserves an honorable mention for his contributions. 
Eric: On first listen, this is my favorite album of the year so far. It'll take more listens to wrap my head around where this ranks in Tyler's discography, but it'll be very high. There has been a lot of talk about how IGOR and Flower Boy were the albums Tyler was always trying to make back when he recorded Goblin and Wolf, but I'd argue this is actually the true full-circle moment in his career. The rap-heavy blueprint of Call Me If You Get Lost is similar to his early-2010s albums (and the lyrical themes are very reminiscent of Wolf) but Tyler executes both the hard-hitting raps and the pretty chords and melodies at a much higher level now than he did back then. The vision was always there, but the execution has fully caught up at this point. Now, it's time to start talking about where this three album run (Flower Boy, IGOR, and CMIYGL) ranks among rap's all-time hot streaks. 
Andre: You can tell Tyler's a student of Kanye and Pharrell. This was one of my favorite initial listens of the year. The production, the curation, and the rhymes are all on point. Hearing DJ Drama's presence was nostalgic, and Tyler met the moment by rapping his ass off all over this one.

Jessica: After a first few listens, I give Call Me If You Get Lost a big thumbs up. It's a concise body of work that shows Tyler's growth as a rapper and producer. It also stays true to his sense of humor and brand while experimenting with new collaborators and pushing his sound forward. Especially as someone who was late to Tyler's wave, this album makes me really excited for what he has to offer 5 or 10 years down the road.