The 50 Best Hip-Hop Diss Songs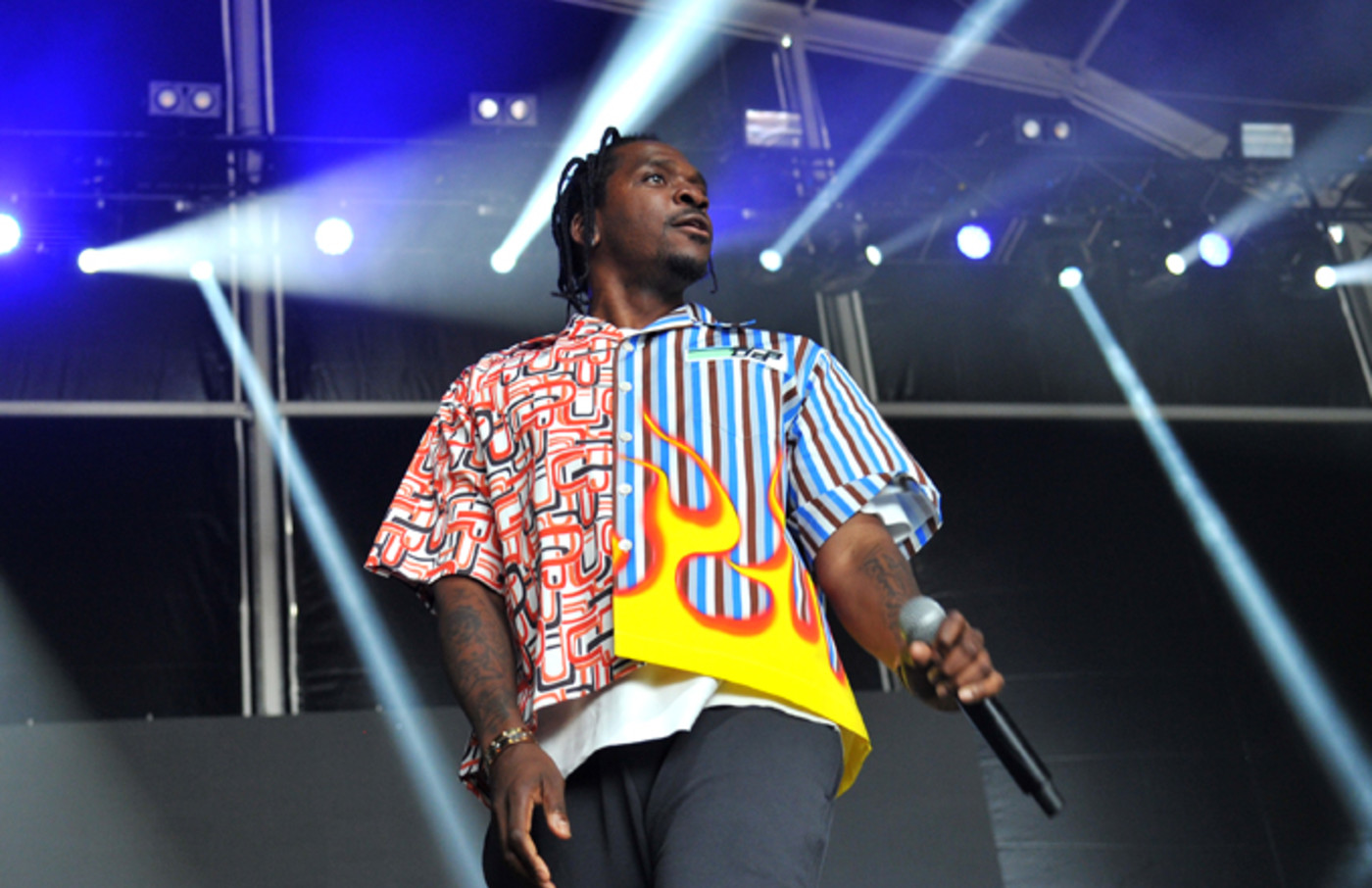 Hip-hop is a culture built around machismo and bravado, so backing down from or losing a battle or beef is detrimental to an artist's career. Certain MCs have built entire careers around beefing with other artists, while others have had their careers destroyed with just a couple lines. But what once began as two rappers simply battling over skill has turned into big business—with parody music videos, elaborate stage shows, and entire albums dedicated to the coveted battle.
The ante is constantly being upped to keep the fans entertained, so lines will be crossed while artists strive to find new ways to slander their opponents. Mothers, women, and children have all been involved. With beef always in season, Complex has compiled the 50 best hip-hop diss songs for your consumption. Vegetarians beware.
50. Young Jeezy, "Stay Strapped" (2005)
Target: Gucci Mane
Producer: Sanchez Holmes
Album: N/A
Label: N/A
Best Line: "King of Decatur/I thought you was from Birmingham"
When Gucci Mane blocked Jeezy from putting "Icy," a 2005 hit from a then-unknown guwop, on his debut album, Jeezy fired back with "Stay Strapped," a scathing diss that set out to ruin Gooch's credibility and career.
Proclaiming "Radric Davis a bitch," and questioning the authenticity of his jewelry (among other things), Jizzle ranted for over three minutes before putting a $10,000 bounty on Gucci's "So Icy" chain. What ensued in the aftermath was a dead Jeezy associate and Gucci in jail on murder charges. The charges against Gucci were eventually dropped, but this is proof that rap beef can become very real, very quickly.
49. Compton's Most Wanted, "Who's Fucking Who" (1992)
Target: Tim Dog
Producer: DJ Slip
Album: Music to Driveby
Label: Orpheus/Epic Records
Best Line: "Fuck Tim Dog/Fuck you, bitch/Fuck Tim Dog in the biker shorts"
After Ultramagnetic MC-affiliate Tim Dog dissed the entire city of Compton, California, on his not-so-subtly titled "Fuck Compton," the floodgates of Tim Dog slander burst open, thanks to a number of Compton-based rappers. One of the first to strike back were Compton's Most Wanted (they beat Dr. Dre to the punch by three months), who threatened to burn Tim's "Fuck Compton" hat (prominently featured on the "Fuck Compton" artwork), and advised him never to travel to their hometown.
48. Noreaga, "Halfway Thugs Pt. 2" (1998)
Target: Tragedy Khadafi
Producer: SPK
Album: N/A
Label: N/A
Best Line: "He don't wanna be a Muslim no more/He used to be black and proud, now he wanna be hardcore"
After signing Capone-N-Noreaga and helping craft and complete their debut album, The War Report, Tragedy Khadafi found himself on the outs with his protege Noreaga, who wasn't happy with the duo's compensation. Nore suggested they deserved more than they were awarded, despite the fact that Tragedy produced or was featured on almost half the tracks.
On "Halfway Thugs Pt. 2," the always entertaining Noreaga took the gloves off and spewed hilarious lines like, "You just mad 'cause you wasn't in the Juice Crew." The track also questioned Tragedy for abandoning his roots as a pro-black/revolutionary MC (under the Intelligent Hoodlum moniker) to become a street-oriented rapper.
47. Three 6 Mafia, "Live by Yo Rep (Bone Dis)" (1995)
Target: Bone Thugs-N-Harmony
Producer: DJ Paul and Juicy J
Album: Mystic Stylez
Label: Prophet Entertainment
Best Line: "Through the ribs, spines, charcoal the muscle tissue, and send what's left back to your Mama/Because that bitch might miss you" (Lord Infamous)
In 1995, very few people outside the state of Tennessee had heard of Three 6 Mafia. Their anonymity didn't last long, however, as the group was thrust into the national spotlight after unleashing their "Live by Yo Rep (Bone Dis)," a vicious attack on the hottest new group in hip-hop.
Three 6 accused Bone of stealing their occult-influenced, tongue-twisting style after discovering it via underground tapes that made their way from Memphis to Cleveland. Whether the beef was just was never determined, but this was a prime example of a lesser-known group gaining notoriety by dissing a bigger artist—a tactic used numerous times in the years to come.
46. Snoop Dogg, "Pimp Slapp'd" (2002)
Target: Kurupt, Death Row Records, Suge Knight
Producer: Josef Laimberg
Album: Paid tha Cost to Be da Boss
Label: Priority/Capitol/EMI
Best Line: "This n***a's a bitch like his wife/Suge Knight's a bitch and that's on my life"
After years of remaining relatively silent in the current Death Row vs. former Death Row inmate battle, Snoop stepped up from subliminals to direct shots with "Pimp Slapp'd," a dedication to Death Row and their biggest star at the time, Suge Knight. Snoop finally vocalized what many had been scared to say for years: "Suge Knight's a bitch."
"Pimp Slapp'd" was a major blow to Suge, who at the time was struggling to hold on to his menacing reputation and keep his once-legendary label relevant. This track paved the way for Suge Knight dissing, and turned Suge into more of a punchline than a feared executive goon.
45. Luke f/ Poison Clan & Bustdown, "Pussy Ass Kid and Hoe Ass Play" (1992)
Target: Kid N Play
Producer: Mike "Fresh" McCray
Album: I Got Shit on My Mind
Label: Luke Records/Atlantic
Best Line: "I saw your second House Party and figured/Two House Parties for two house ass n***as" (Bustdown)
The beef between Miami-pioneer Luther Campbell and milquetoast rapping/acting duo Kid N Play kicked into full gear after Kid N Play dissed Luke on "Next Question," criticizing him for poisoning the youth and using shock tactics to sell records. Luke and the Poison Clan easily dismantled Kid N Play, focusing on their lack of street cred, goofy dance moves, and PG-13 movies.
44. 50 Cent, "Piggy Bank" (2005)
Target: Nas, Jadakiss, Mobb Deep, Ja Rule, Kelis, Shyne, Fat Joe, Lil Kim
Producer: Needlz
Album: The Massacre
Label: Shady/Aftermath/Interscope
Best Line: "Jada, don't fuck with me if you wanna eat/'Cause I'll do yo little ass like Jay did Mobb Deep"
No stranger to beef, 50 Cent kicked off the promo campaign for his sophomore album, The Massacre, by attacking every rapper in NYC. Well, almost. Feeling a certain way about Fat Joe and Jadakiss appearing on arch-nemesis Ja Rule's "New York," 50 went in on all parties involved. He accused Jadakiss of only popping locally, and called Fat Joe on releasing a dud of an album after dropping massive hit "Lean Back." Fif even took a shot at Mobb Deep, who he would later sign. The video is an animated mess, but does score points for depicting Nas as "Captain Save Em" chasing down the Kelis "Milkshake" truck.
43. U.N.L.V., "Drag Em 'N the River" (1996)
Target: Big Boy Records, Mystikal
Producer: Mannie Fresh
Album: Uptown 4 Life
Label: Cash Money
Best Line: "You fake cheerleadin, bitch" (Yella Boy)
Feeling slighted by some stray shots fired on Mystikal's single "Beware," crosstown rivals UNLV struck back with "Drag Em 'N the River," a scorching N.O. anthem that poked fun at Mystikal's braids and his past as a high school cheerleader. At the time, Cash Money (where UNLV was signed) and Big Boy Records (home to Mystikal) were battling for top indie label status in New Orleans, and "Drag Em" quickly escalated the tension. Mystikal eventually responded via a few bars on Master P's "Let's Get Em," but at that point he was far too big to concern himself with lowly regional artists.
42. Pusha T f/ The-Dream, "Exodus 23:1" (2012)
Target: Lil Wayne
Producer: The-Dream
Album: N/A
Label: G.O.O.D. Music/ Def Jam
Best Line: "Contract all fucked up/I guess that means you all fucked up/You signed to one n***a that signed to another n***a/That's signed to three n***as, now that's bad luck"
It (allegedly) all started back at Baby's "What Happened to That Boy" video shoot, where Wayne was allegedly so enthralled by the Clipse's style that he began dressing like the Brothers Thornton—switching from his New Orleans style of dress (tees, 'Bauds, and Rees) to the more refined BAPE look. The Clipse's 2006 single "Mr. Me Too" was reportedly a reference to Lil Wayne, and the two have been at odds ever since.
In 2012, Push released "Exodus 23:1," a scathing track littered with not-so subtle jabs at Weezy F Baby. He claimed Wayne was getting screwed by his recording contract with Cash Money (which we now know to be true), and that the people around him really weren't down to ride. The truth hurts.
Wayne took the bait, countering with the lackluster "Goulish." It did include the hilarious opening line: "Fuck Pusha T and anybody that love him," which was the song's only saving grace. A few years later, when Lil Wayne began to publicly diss Cash Money Records on Twitter, Push responded: "if u wanna drop albums and don't want your CEO's rubbing they hands all in your videos, COME TO G.O.O.D. MUSIC!! (Suge Knight voice)"