Kanye's Return to Chaos
Kanye West returned to Chicago for a night of chaos and spectacle that overshadowed the music. We were there. Here's our review of the latest 'Donda' event.
Apple Music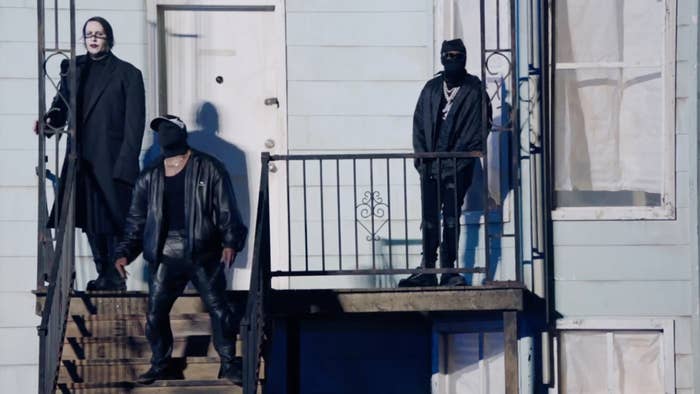 It's a few minutes past 10 p.m. on a Thursday night in Chicago, and I've been staring at Kanye West's childhood home for three hours. 
I've seen pictures of the real building on South Shore Drive, but this is a replica that's sitting smack dab in the middle of Soldier Field on a mound of dirt. If you've been following Kanye's career, you know this house has a long and complicated history. Purchased by his late mother, Donda West, almost 40 years ago, it's the place where she and Kanye lived for about eight years of his early life. More recently, though, it landed in demolition court due to "dangerous and unsafe conditions" and changed ownership several times before Kanye purchased the two-bedroom home for $225,000 in April 2020. 
A model of the small family home was constructed for the third live-streamed listening party of Kanye's forthcoming album, Donda, named after his mother. Following the first two events, which took place in Atlanta's Mercedes-Benz Stadium, this one holds extra significance for Kanye. Not only is it a homecoming in Chicago, he's symbolically returning to the place where he spent some of his most precious years with Donda before she passed away in 2007.
Although the concept is sweet, there's an eerie feeling that takes over the stadium as I wait for the show to start. Figures in all black come out and light candles around the perimeter of the house, while bright lights beam through the windows. The house is so lit up, it almost looks like people are living in it (at one point, I see a dark figure peek out from under one of the back window shades). As fans file into their assigned sections, they marvel at the structure, snapping pictures for social media. 
Finally, around 10:30 p.m., the flames on the candles take their last breath and the light in the stadium blacks out. A loop of a woman reciting Donda's name begins to play, as a montage of her and Kanye flash on two large screens. The words "Body Ownership," "Hyper Object," "No Criticism," and "Alien Nation" appear over the images. At this point, I notice that Dave Chappelle is in the suite next to me. He's huddled in a chair, biting into what looks like a buffalo wing. Then a masked Kanye, dressed in all black, appears on the patio of the house. He's accompanied by his two eldest children, North and Saint West. The kids greet the crowd before walking off, and Kanye takes a victory lap around the lawn. 
And so it begins. 
To say the stadium's sound quality is trash would be an understatement. I can hear the beats, but the bass is so overpowering that it distorts everything. Throughout the night, I can't make out most of the lyrics or even recognize the guest features. Some people around me resort to looking at the livestream and joining the conversation on Twitter. Not long after the show begins, though, I realize hearing the lyrics is hardly the main point of tonight's event. It soon becomes very clear that this is not about the music at all. 
The first two listening events in Atlanta put an emphasis on the album itself. The stages had minimal props and Kanye presented some of the most vulnerable bars he's recorded in years, discussing marriage, family, and mental health. Tonight, however, the show is presented as a soap opera, and the music plays a backseat to the theatrics happening onstage. Kanye is here to make as big of a spectacle as he can, no matter how chaotic it becomes.
On the song "Jail," DaBaby comes out and makes a surprise appearance after receiving heavy backlash for the homophobic comments he made during his set at Rolling Loud Miami. And as the song ends, we realize DaBaby's new vocals have replaced Jay-Z's verse, which was a fan-favorite at the first two listening events. Instead of a reunion of The Throne, Kanye opted for the spicier option. 
Kanye, of course, is no stranger to controversy. This is the same guy who wore a MAGA hat for two years straight and tweeted "Bill Cosby innocent" during the comedian's sexual assault case. He feeds off controversy, and his thirst for provoking emotions from fans—positive or negative—is very apparent tonight. 
DaBaby isn't the only controversial musician to show up. Shortly after his verse, the sounds of "I Know God Breathed On This" usher in a procession of black SUVs that drive around the stage. A group of people in bulletproof "DONDA" vests follow the SUVs on foot, looking like a full SWAT team. And before it's possible to process what may be a funeral procession, Marilyn Manson emerges from the front door and leans against the side railing, creepily staring into space. The crowd inside the stadium, though still captivated by what they're seeing, is visibly confused. Marilyn Manson has a well-known connection with the Church of Satan, which contradicts Kanye's Christian faith. And he was recently accused by several women (including Westworld actress Evan Rachel Wood) of sexual, physical, and emotional abuse. In January, California Senator Susan Rubio even wrote to the director of the FBI and the United States Attorney General, asking that they investigate the allegations made against Manson. 
Kanye's collaborations with Marilyn Manson, DaBaby, and Don Toliver (who was recently accused of a 2019 rape) appear to be his way of making a statement about cancel culture. Regardless of his intentions, it ends up looking like Kanye is lifting up and co-signing each of them despite their wrongdoings, in hopes of provoking more controversy and attention. Soon after, a source close to the situation tells People, "[Kanye] knows that having controversial figures around will be provocative and will get people to talking. He knows that people are going to be upset and that there will be backlash. He also knows that people are talking about it today when they wouldn't have been otherwise."
Later in the show, Kanye adds more fuel to his beef with Drake by bringing out a woman who was previously rumored to have been impregnated by the OVO rapper. Tonight is really all about spectacle. 
The crowd is paralyzed. The poor sound quality has something to do with their empty expressions, but the chaos unfolding on stage is even more debilitating. From the stands, each song feels like the last, and as the hour passes, the music becomes less and less important. What's happening on stage keeps getting weirder. 
Around 12:03 a.m., my uncle, who is a fire captain at a nearby Chicago station, texts me: "What's going on?" Not thinking much about it, I tell him that I'm still at the listening event. Then I look up. It looks like the house is on fire. Red and orange hues beam from the windows as smoke starts fuming out. At first it looks like a clever theater trick. But then Kanye, engulfed in real flames, walks out of the front door. It's not until later that we learn Kanye wanted to burn the house down in the middle of Soldier Field, but was rejected by the city of Chicago. Nevertheless, it's the first time I've ever heard people cheer on a man who is burning alive. 
This would have been an interesting note to end on, but Kanye has one last surprise. After he and the house are extinguished, a woman in white walks down the aisle and meets Kanye, reborn. "It's Kim Kardashian!" Someone yells from the 200's section. The woman's face is concealed, but her silhouette and braided ponytail do look very similar to Kim K. Kanye takes off his mask and appears to symbolically renew vows with his ex-wife. And just like that, the lights go out. 
As I walk out the stadium with a mob of fans, there's confusion. "That was ridiculous," one person says. A girl laughs and asks her friend, "What did we just see?" Despite the confusion, though, it's clear most people remain curious about the ongoing Donda saga (the album doesn't end up appearing on streaming services at midnight like many had expected). As I check Twitter later in the night, I see an overwhelming number of people criticizing Kanye's decision to remove Jay-Z, Kid Cudi, and The Lox from the album. In hindsight, Kanye probably should have kept the version we heard at the second listening event. 
By the time I finally get an available Lyft and make my way back to my grandparents' home in a suburb of Illinois, it's 3 a.m. 
"What was that supposed to mean?" my grandmother asks. She's been sitting in the dark with the TV on mute, waiting for me to make it home. My mom, who is supposed to be asleep in the guest room, is also wide awake, looking at clips of the show on her phone and throwing out guesses of what each thing symbolizes. "He lit himself on fire in his childhood home to get rid of his past," she says. "And as he's born through the ashes, he gets a new life with Kim. He's a phoenix." 
"You're not making any sense," my grandmother replies. 

Honestly, at this point in the night, it's way too late for me to try interacting with them. There are countless theories about what this listening event really symbolizes. But as I think back on the past 24 hours, the only takeaway that really makes sense to me is that this whole Donda experience is Kanye's attempt at creating a spectacle of chaos and controversy that becomes even bigger than the music. It worked.