The Best Hip-Hop Album Covers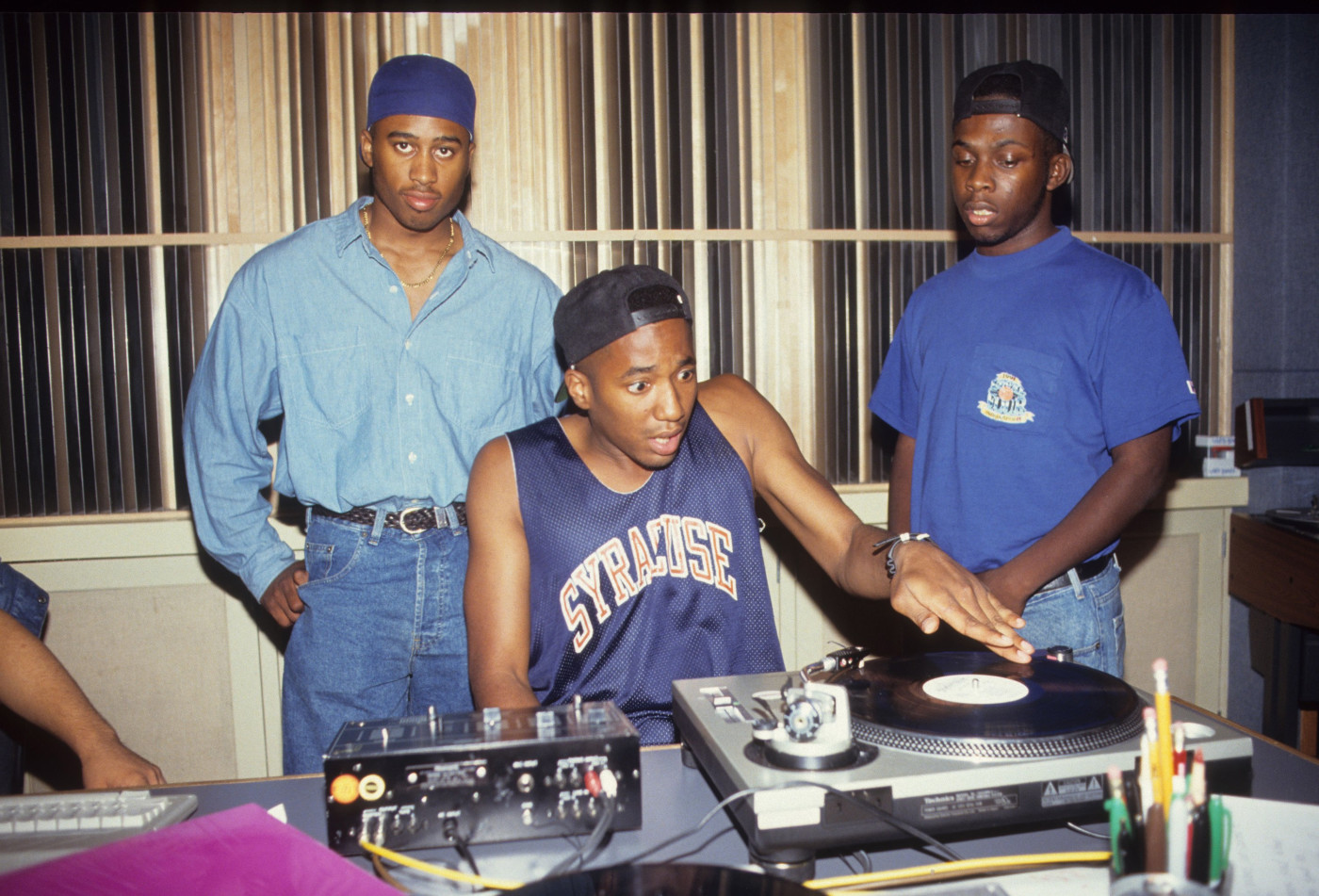 Dating back to its earliest ties to graffiti culture, visuals have always played a large part in hip-hop culture. Though many artists today still put a lot of effort into album art, its importance has certainly worn off in modern times.
But once upon a time, album art mattered. LPs were hung on walls, CDs were cracked open, and cassette J-cards were unfolded awkwardly and with as much anticipation as is given to today's Zshare links. From the Daisy Age fluorescence of De La Soul to the digital age fluorescence of Kanye West, we're proclaiming the finest moments of three decades' worth of hip-hop album art as we count down the 50 best hip-hop album covers.
The Fugees, 'The Score' (1996)
Artwork: Brian O. White
Photographer: Marc Baptiste
Label: Ruffhouse/Columbia
Simple and understated, yet still impactful. Wyclef, Lauryn, and Pras look both singular and united on the cover of The Fugees' mega-successful sophomore album The Score. 
Lil Wayne, 'Tha Carter III' (2008)
Art Direction: Mr. Scott Design
Photographer: Jonathan Mannion
Label: Cash Money/Universal Motown

When aspiring to make a classic album, one looks at the classics that came before it. Same goes for a classic album cover. Big had a baby, Nas had his childhood photo, so Wayne followed suit. But Wayne being Wayne, he took it a notch higher, updating his baby picture by Photoshopping his current day tattoos onto its face. Many mistook it for a fan-made joke when it first made the Internet rounds, but no, that was the album artwork. All of Wayne's crazy projected, quite literally, onto his baby picture.
Redman, 'Dare Iz a Darkside' (1994)
Art Direction: The Drawing Board
Photographer: Danny Clinch
Label: Rush Associated Labels/Polygram

Red's one of a few rappers crazy enough to successfully pull off an homage to Funkadelic's Maggot Brain cover. Dare succeeds by not sticking too closely to the Funk Mob's layout. Yes, his body is submerged in dirt, leaving only his screaming head visible, but the photo shifts the original's perspective to show a bunch of power lines, for some reason. The red-tinted jewel case also helped avoid things becoming too similar.
Madvillain, 'Madvillainy' (2004)
Art Direction: Jeff Jank
Photographer: Eric Coleman
Label: Stones Throw

Jeff Jank, whose in-house work for Stones Throw consistently impresses, went with a simpler approach than normal with this fan favorite from Madlib and MF Doom, but it worked. Doom hits the viewer with a deadened glare from behind a rusted mask, bringing a whole new meaning to the word "doom."
Makaveli, 'The Don Killuminati: The 7 Day Theory' (1996)
Art Direction: Ron "Riskie" Brent
Illustrator: Ron "Riskie" Brent
Label: Death Row/Interscope

For his final (real) album, Pac finally reached the pinnacle of his persecution complex and had himself nailed to a cross. Make no mistake, though—he means no disrespect to Jesus Christ, as a very serious disclaimer on the cover specifies. (Of course, Bay Rap heads know that Dre Dog, a.k.a. Andre Nickatina, was rocking the crucifixion cover with The New Jim Jones some four years prior, but impact is what matters).
Freeway & Jake One, 'Stimulus Package' (2010)
Art Direction: The Brent Rollins Design Explosion
Label: Rhymesayers Entertainment

Cash ruled everything for the ex-Roc spitter's collab with Seattle beatsmith Jake One. Designed by Brent Rollins, the package played on the economic rebuilding theme, seconding as an oversized wallet complete with customized dollar bills and credit cards. The sad irony, of course, is that this project was released during an era when everyone stopped dropping real ducats on physical music, meaning the intricate artwork didn't get its just due from most, save for the truly diehard fans.
Del Tha Funkee Homosapien, 'No Need for Alarm' (1993)
Art Direction: Scott Idleman
Photographer: Blink
Label: Elektra

Del's always been something of a cartoon character, so placing him in a comic book cover frame made perfect sense for his breakout album. It also helped to further push the Hieroglyphics' tri-eye logo as the most prominent underground hip-hop sticker on skateboards and hoodies with two subtle cover placements. The old-school Elektra logo is a nice touch, as well.
50 Cent, 'Get Rich or Die Tryin'' (2003)
Art Direction: Stang Inc.
Photographer: Sacha Waldman
Label: Aftermath/Shady/Interscope

LL made the shirtless musclebound rap cover acceptable, Pac made it rebellious, but it was 50 who took the look to the masses. Get Rich Or Die Tryin' indirectly inspired the Myspace profile pics and Twitter avatars for an entire generation of lip-licking sensitive guys who spent too much time at the gym.
De La Soul, 'De La Soul is Dead' (1991)
Art Direction: Joseph Buckingham
Illustrator: Joseph Buckingham
Label: Tommy Boy/Warner Bros.

By the time their second record came around, De La Soul were sick of being mistaken for peace-loving hippies, so they took the only logical action: They killed themselves. This metaphorical suicide was the ultimate in image rebranding. Joseph Buckingham's simple tipped-over flower pot was a kick in the shins to everyone who mistook the Daisy Age for softness.