Each Member of Migos Gets to Shine on 'Culture'
On this album, Quavo, Takeoff, and Offset each make the case that they're the group's MVP. Complex Original
Blank pixel used during image takedowns On Thursday night, Migos dropped their latest album, the highly anticipated Culture. During the online group listening session that is Rap Twitter on a release night, many pointed out that Takeoff sounded like the "MVP" of the project. They're not wrong. Takeoff shines throughout, in a way that he hasn't before. The verses are dexterous, and attention-grabbing. They make you sit up and listen. Here's the thing though; he's not the only standout. For the first time in their career, Migos have released a project where each member makes a valid argument for being the show-stopping member of the group.
Think about it. Throughout their run, Quavo, Takeoff, and Offset have all had their all-star moments. On "Handsome & Wealthy," Quavo is Michael Jordan reincarnated. He's playing double duty on hook and verse—his sweet spot—deftly switching up flows and delivery to blend the lines between the two. Takeoff is like LeBron James on "Fight Night," delivering a forceful verse that outstrips his comrades with ease. It was an early sign of his improvement as an MC—on Culture he's shining consistently. On "Bad & Boujee," Offset treats the beat like Vince Carter does a basketball on a windmill dunk. He doesn't even use words to kick off his verse, he just hoots like an owl. And that's the thing with Culture: for the first time, there are no moments where you say, "Well I wish this song had more Quavo," or less of either other member.
This album marks the first project where all three are firing on all cylinders for an entire full-length. On "Get Right Witcha," you go from infectious Quavo hook to fire Quavo verse to insane Offset verse and finish with Takeoff spazzing. The song never lets up the momentum, and the energy between all three Migos is palpable. This is a Showtime Lakers fastbreak in rap form. I'm talking Flying Death Machine Miami Heat shit. It doesn't stop there, either. We already know what Quavo can do, after a 2016 filled with standout guest features. The beauty of Culture is that he's maintained his own high level of quality, while Offset and Takeoff prove that they deserve every measure of praise he's received lately.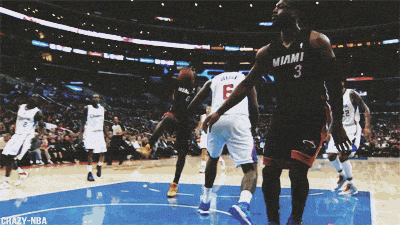 After just one day, Culture is emerging as a favorite for the group's best project to date. It's clearly more than a collection of hot singles cobbled together— they've proved they can deliver a really dope album. Thanks to "Bad and Boujee," Migos are now bigger than they've ever been, and for good reason. They've figured out their own formula, and that's not to say they were doing anything wrong before. They're locked in, and their greatest strength is their ability to move the spotlight around. The results speak for themselves, too. They're at the top of the charts, and Culture will likely debut at the top spot, too. The journey has been long and turbulent, but Migos deserve all the success coming their way, and then some.