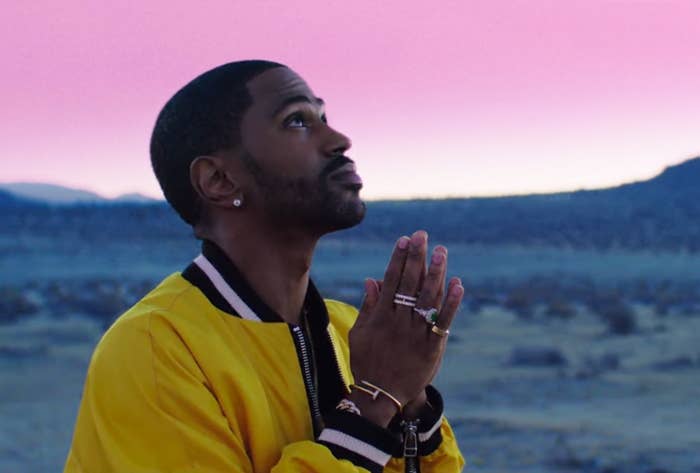 Big Sean's new album, I Decided, finally arrives in a few weeks, and with the promo ramping up for the project, he recently sat down with Zane Lowe for a special interview on Apple Music. During the extensive conversation, Sean talked about the inspiration and direction of the album and how the project came together. "This album, this is my snapshot of what I'm going through right now, what I'm feeling like," Sean said. I Decided means so many things. I feel like life is all about the decisions you make. This is what I decided. That's why I put a period on the end of it because this is definitive." 
Over the past few years, Sean's private life has made numerous headlines, and that's sure to continue with his new relationship with Jhené Aiko. On his private life, Sean said that as an artist, you have to make sacrifices.
"As an artist you can imagine, you make sacrifices as an artist like putting your privacy on the line," Sean told Lowe. "If you're a true artist you sacrifice your privacy, you sacrifice the stories of your life you've been through, you sacrifice all these different emotions and you put em out there but it's for people to relate to it's for people to help them get through their times." 
On his last album, Dark Sky Paradise, Sean said that he set the blueprint for the rest of his career. "It was definitely the foundation, it was the base of a house I'm building that I want to look back on 100 years from now and people to hear that."
Sean also shared some of the collaborators featured on I Decided, including Aiko, The-Dream, and Eminem. André 3000 didn't make it on the project, though Sean did play it for him and Rick Rubin.
In regards to Kanye West, Sean said he "def had a presence" on I Decided and even had some backing vocals at the end of "Bounce Back."
'

@kanyewest

def had a presence on this album. I feel like he groomed me in these last 10 years to creatively get me to do what I do

@BigSean
"Kanye definitely had a presence on this album" (That's Ye on the end of "Bounce Back" talking)
Though Sean has only released a few tracks from the upcoming project, the anticipation is as high as ever. Both "Moves" and "Bounce Back" are slappers and a good indication of what's to come from Sean. You can listen to Sean's full conversation with Zane Lowe below, and pre-order the album on iTunes now.