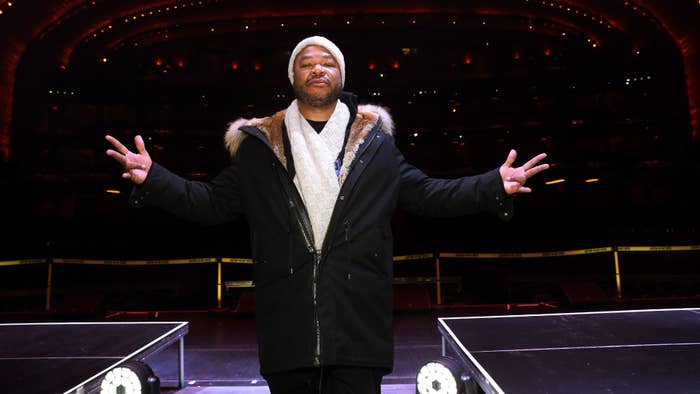 UPDATED 4/6/21 5:04 p.m. ET: Xzibit has now addressed the original TMZ story in question, saying in an IG post on Tuesday that it is "misleading at best." As Xzibit further explained, only one dispensary has removed Napalm cannabis products from their "digital shelf," which—per Xzibit—means "they probably still have it on the dispensary shelf."
See original story below.
Xzibit's cannabis brand—named Napalm—is facing controversy this week.
The brand, first announced in 2020, was reportedly pulled recently from a Los Angeles-based dispensary. That's the word on Tuesday straight from a TMZ report, which also included a video from Xzibit in which the former Pimp My Ride host addressed the controversy surrounding the brand's name, which of course is the same name of a brutal chemical weapon used prominently during the Vietnam War. 
"The word 'napalm' is definitely synonymous with, you know, war and being used as a weapon," Xzibit said in a video statement. "And if you know anything about me and my body of work, you know I got albums called Weapons of Mass Destruction, Man vs. Machine, so on and so forth."
Per Xzibit, the cannabis brand's name was intended as a direct reference to his 2012 album of the same name. The branding for the company, he added, carries the same font and general aesthetic.
"My intention here is to just let everyone know as a Black man, I understand discrimination and hatred," Xzibit added. "I understand what that does to communities and how it affects communities. So just to clarify the position that we have at Napalm Cannabis, we by no means acknowledge, justify, or feel as though we are promoting violence toward the Asian community. We stand with the Asian community. We stand firmly in the belief that our intentions, our directives and initiatives, are for the positive for the cannabis community and also for the enrichment of the community around us."
According to Xzibit, he and the Napalm Cannabis team have plans to do "many, many things" for "the community at large" in the future.
One product that garnered particular attention, according to TMZ, was their signature eight-gram pre-roll called "The Grenade." Their report also states that Napalm products were removed from digital shelves at the Higher Path dispensary, who explained in a brief statement to the publication that their promotion of such a product was "violent and ignorant."
Complex has reached out to reps for both Napalm and Higher Path for additional comment and will update this post accordingly.