Adult Swim is throwing their first ever festival in Downtown Los Angeles this October. As previously announced, Run the Jewels is among the inaugural event's headliners. Now, because sometimes we apparently can have nice things, an additional 24 artists and comedians have been added to the lineup.
Thundercat, Hannibal Buress, Kitty, Zola Jesus, Nick Rutherford, Big Freedia, Ahmed Bharoocha, IDK, Jena Friedman, and previous staff favorites honoree Wavves will join Killer Mike and El-P in Los Angeles Oct. 6-7. The festival, a combination music/comedy experience, promises a "cultural festival like no other" packed with Adult Swim-related pleasures and an increasing stacked lineup. In the coming months, Adult Swim will announce even more headliners.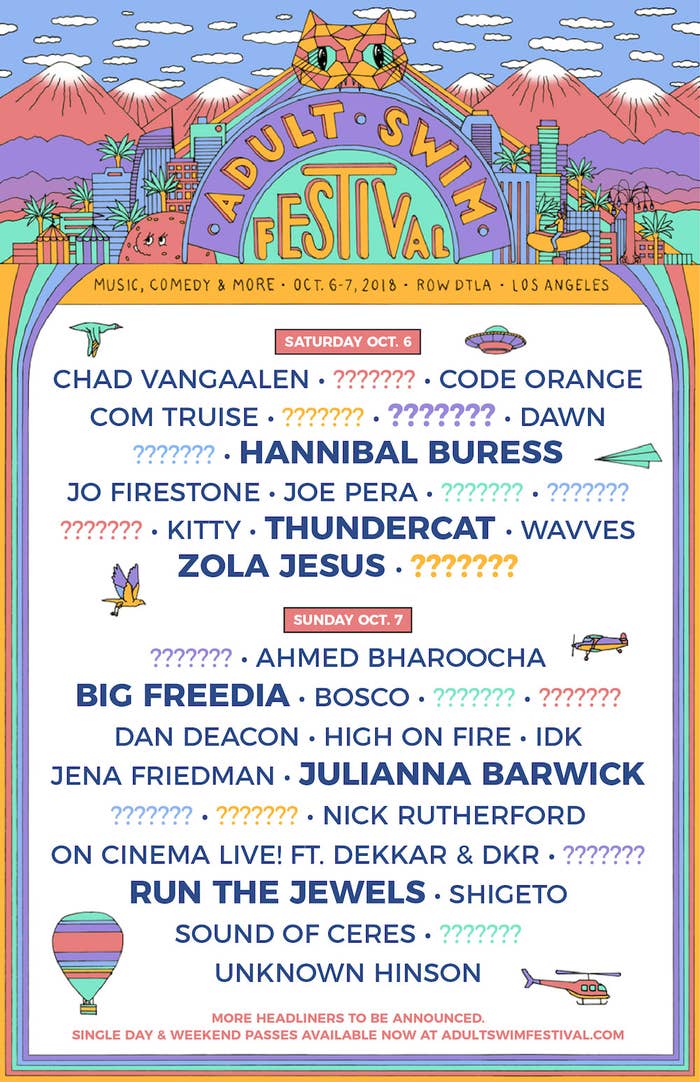 "We've always been committed to bringing fans unique events and experiences," Jill King, Cartoon Network/Adult Swim's Senior VP of Marketing and Partnerships, toldForbes back in March when announcing RTJ. "Over the years, we've done successful tours, panels, and popup events at places like San Diego Comic-Con and New York Comic Con, as well as our Adult Swim on the Green event that visits smaller markets." With the first Adult Swim Festival, King added, the brand has a chance to "expand and invest in our portfolio" with real growth potential.
In addition to what one might expect from a comedy and music throwdown hosted by Adult Swim, attendees should expect to take part in "AR, VR, mobile, experiential, and 3D animation"-related activities. Hell yeah. See you there.