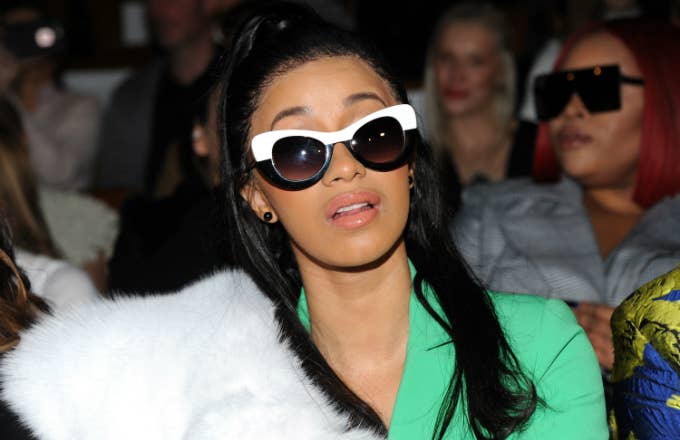 The usual suspects are out here pushing pregnancy allegations again. Early Wednesday, TMZ ran a report claiming that "members" of Cardi B's "team" told people over Super Bowl LII weekend that the Grammy-nominated "Bodak Yellow" crafter was pregnant.
Specifically, TMZ's sources claim that Cardi had a special VIP area reserved at the Maxim party in Minneapolis that weekend. After her performance, an employee of the venue offered to escort Cardi to the VIP area "where alcohol was flowing." At this point, the report claimed, a Cardi rep intervened to say the singer would rather stay near the stage and drink water. This same rep then allegedly told the venue employee that Cardi "was three to four months pregnant."

Cardi hasn't directly responded to TMZ's latest act of TMZery, likely because none of this is any of their—or anyone's, for that matter—damn business. However, she did drop this on Instagram Wednesday morning:
This also isn't the first time a profoundly annoying rumor of this nature has ensnared Cardi. When an Instagram user tried to drop pregnancy suggestions in the comments of a post earlier this month, for example, Cardi offered up a firm response. "No bitch I'm just getting fat," Cardi said. "Let me fat in peace."
Complex has reached out to Cardi's reps about this latest so-called "report" and will update this post accordingly.