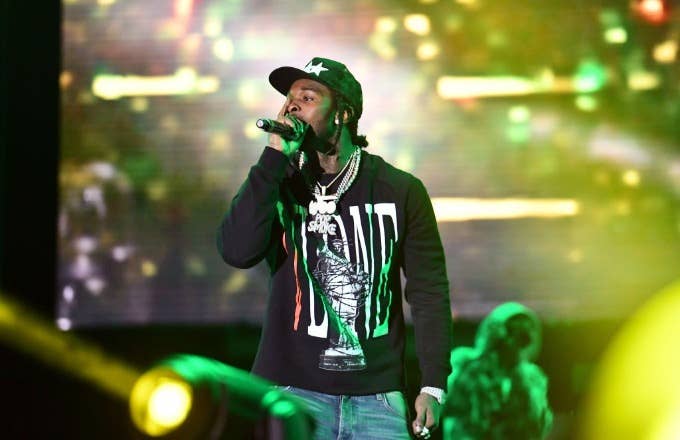 Pop Smoke was arrested early Friday for interstate transport of a stolen vehicle at John F. Kennedy Airport.
The recent JackBoys collaborator is alleged to have transported a stolen 2019 Rolls Royce Wraith from California to New York, with arraignment set for Friday afternoon in Brooklyn Federal Court.
In court documents obtained by Complex, Pop Smoke is listed as being charged with Interstate Transportation of Stolen Motor Vehicle. He's alleged to have "knowingly and intentionally" transported the vehicle "on or about and between" Nov. 5 and Dec. 3 of last year. A separate report from TMZ cites law enforcement sources as claiming that Pop Smoke first met the car's owner at a recording studio in Los Angeles, at which point a "verbal agreement" regarding use of the car in a video was established. The car was allegedly agreed to be returned the following day, though the report states that didn't happen, at which point the car was called in as stolen. 
According to a law enforcement source, a photo of the Rolls Royce was posted on Pop Smoke's Facebook account. A Law enforcement source also says that Pop Smoke is facing a 10-year max sentence. The rapper has since pleaded not guilty at a Friday hearing. His next court date is scheduled for Feb. 3. Pop Smoke is also suspected of being a member of the 823 G Stone Crips and the government has requested he make no contact with any known gang members. His bond was set at $250,000. Smoke's mother is putting up her house in order to secure her son's release.
Complex has reached out to a rep for Pop Smoke for comment.
Earlier this month, Pop Smoke followed up his Travis Scott and JackBoys collab with the release of his new video for "Christopher Walking," directed by Brennan Rowe. He's set to release his Meet the Woo 2 project later this year.
Pop Smoke, who landed on Complex's recently released list of 25 Rappers to Watch in 2020, briefly spoke with Earmilkabout his post-"Welcome to the Party" ascent for an interview that dropped earlier this month.
"It's a movie, it feels good," he said when asked about how his success had him feeling as he moved into a new year. Smoke added that he knew "Welcome to the Party" would take off because, simply, "everything I do [is] lit." Asked to share with fans what he hopes his impact will be on music, he expressed similar feelings of creative confidence.
"Pop Smoke came in and changed the game," he said. "Pop Smoke came in and showed them n***** a new vibe . . . It's not your regular New  York."