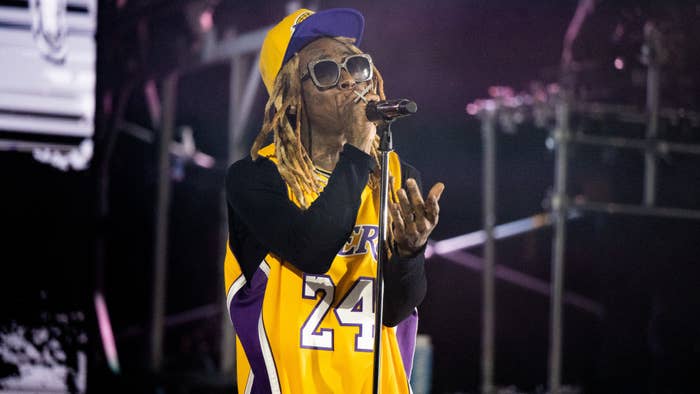 Lil Wayne has been reported to have brought his tour-closing show in Los Angeles to an early end this weekend.
As claimed by attendees on Reddit, Twitter, and elsewhere, Weezy cut his set short on Saturday due to the audience's reaction to an intermission performance from several artists on his Young Money roster. The show, which took place at The Wiltern in Los Angeles, served as the closing night of Wayne's Welcome to Tha Carter tour.
"We ain't about to be bending over backwards for these folks," Weezy is seen saying in one clip. "We worked too hard for this shit. We worked way too hard. This is my motherfuckin' artist Allan [Cubas], that was [Lil] Twist, that was Yaj [Kader]. We are Young Money. We appreciate y'all time."
Complex has reached out to reps for Wayne, Young Money, and Live Nation for comment. This story may be updated.
The Welcome to Tha Carter tour kicked off back in April with a sold-out show in Minneapolis, marking Weezy's first full tour in four years. From there, Weezy took the career-spanning set to venues in Chicago, Toronto, Atlanta, Birmingham, Nashville Austin, San Francisco, and elsewhere.
See here for Complex's experience at Wayne's show at the Apollo.
In March, Lil Wayne rolled out the timely I Am Music compilation, which includes a slew of hits from his back catalog, as well as more recent singles like "Kant Nobody." Next up, fans have been expecting the sixth entry in Wayne's long-running Tha Carter album series.
In a recent Zane Lowe chat, Wayne detailed the ambitious goals he had for the new project, which he "can't believe" is even happening.
"Go listen to my last feature and know it's gonna be a thousand times better than that," he told Zane.