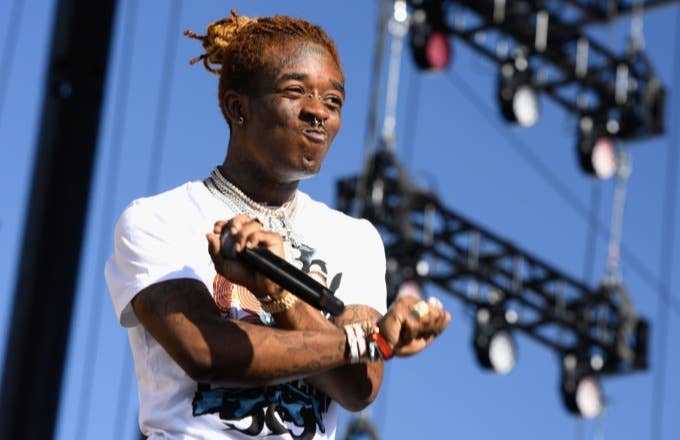 The road to Eternal Atake may be long, but at least it's not full of people making the same "the friends we made along the way" joke over and over again.
We have, however, been riddled with vague release date teases and multiple perceived delays that have contributed to a general belief among many fans that Lil Uzi Vert has been somewhat held back by record label Powers That Be following the release of his Billboard 200-topping Luv Is Rage 2 back in 2017.
For the latest, we have fan-shared footage of Uzi being hit with an inquiry about the expected arrival date of an album that may or may not boast some Marilyn Manson involvement. Confusingly, thanks to the capturer's zoom timing and the background noise of the scenario, there's some division among fans regarding whether Uzi is saying "two weeks" or "three weeks" in the clip. According to the person who filmed it, however, Uzi is saying "three weeks" and (though the zoom obscures this) holding up three fingers.
It's worth noting that dropping a new album at some point in the next two to three weeks would place its release date firmly in the territory of potentially hitting 666 days, give or take, after the release of Luv Is Rage 2. 
During his Rolling Loud headlining set last month, Uzi claimed that he had recently wrapped up sessions for the "last song" on the album. "I ain't gon' lie, the other night I finished the last song to the album," he told the audience at the time,. "Ain't this about a bitch? So y'all ready for this motherfuckin' album?"
Inspiringly, Uzi closed out that message with a well-delivered "OK. Bye." that's since become a bit of a running joke among fans.