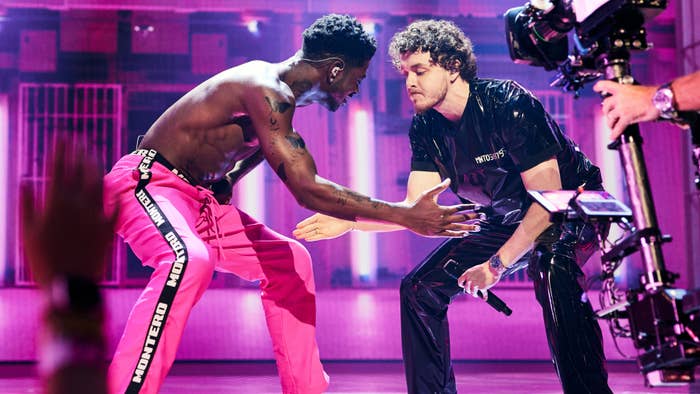 Montero single "Industry Baby," boasting production from Take a Daytrip and Kanye West, was given the MTV Video Music Awards treatment on Sunday.
Preceding the performance was a friendly reminder from Lil Nas X that fans were now less than 8,000 minutes away from the release of the new album, which marks the follow-up to the 2019 EP 7 featuring  Cardi B and Travis Barker. With Montero, as X himself has detailed in multiple interviews, the larger artistic aim was to tell a more personal story.
In a Variety piece from earlier this year, X also teased that the 15-track album would feel "much more cohesive" than the EP while maintaining his musically diverse approach to song-crafting.
Montero is out Sept. 17 and also features Doja Cat, Megan Thee Stallion, Miley Cyrus, and Elton John. The latter legend linked up with X just last week for a new Uber Eats campaign in which both artists were given the unique opportunity of trying out each other's most iconic looks.
As for future collabs, a recent Twitter exchange with Kid Cudi resulted in the Man on the Moon III artist being enlisted for the Monterodeluxe. Amid the tweeted back-and-forth at the top of this month was the looping in of Dot da Genius and the aforementioned Take a Daytrip.
"Turn on the synths," the production duo said when tagging Dot. "It's happening."
While you wait for Lil Nas X's new album, check out his performance of "Industry Baby" with Jack Harlow below.