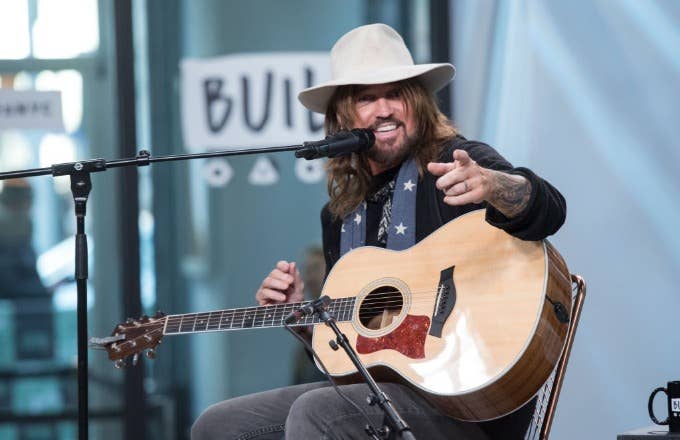 Looks like Lil Nas X will indeed be getting the last laugh in the somehow-still-happening genre debate surrounding his hit "Old Town Road."
As you'll recall, the 2018 release's viral ubiquity turned the country-tinged cut into a full-blown country radio hit back in March, only to be perplexingly disqualified from that genre's charts because the song, by Billboard's assessment anyway, "does not embrace enough elements of today's country music."
If that sounds a bit silly or even downright suspect to you, you're not alone. The charts drama surrounding Lil Nas X's breakthrough country trap banger has unfortunately persisted, with the artist himself now making the best possible middle finger-esque move for the situation by calling on noted possessor of a heart that's both achy and breaky: Billy Ray Cyrus.
Rolling Stone announced the link-up late Wednesday, revealing that an "Old Town Road" remix was imminent featuring some contributions from Cyrus. The song isn't due to hit streaming services until midnight, but Lil Nas X has already confirmed to fans that Cyrus "murdered that shit."
Cyrus handles the first hook on the remix, which still keeps the track well under three minutes, as well as a new verse.
Last month, Cyrus addressed the country music Powers That Be's mistreatment of the original version of the track. "Think like there is no box," he urged. Then, early Wednesday, Cyrus again addressed the controversy mere hours before the remix report came through.
"When I got thrown off the charts, Waylon Jennings said to me 'Take this as a compliment' means you're doing something great!" Cyrus said, welcoming Lil Nas X to a distinguished group. "Only Outlaws are outlawed. Welcome to the club!"
The most recent update to the all-genres Billboard Hot 100 has the original "Old Town Road" at No. 15, a position that will surely shift to single digit placement following the release of the Cyrus-assisted remix. In the meantime, revisit country trap's arguable arrival moment below: