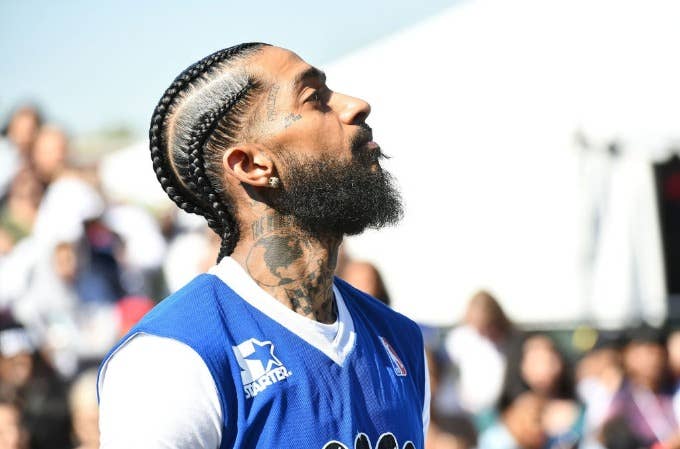 The Los Angeles Police Department (LAPD) has named the suspect wanted in the shooting death of Nipsey Hussle.
Late Monday, LAPD officials said 29-year-old Eric Holder was wanted for homicide. Holder was last entering the passenger side of a white 2016 Chevy Cruze with a California license plate near the scene of the shooting, which also injured others. An unidentified woman was seen operating the vehicle at the time. At the time of this writing, additional info had not been officially released. 
Police have now requested the assistance of the public:
According to a separate TMZ report on the suspect's identification, Holder also goes by the name "Shitty" (or "Shitty Cuz") and an arrest warrant has been issued. Holder is alleged to have engaged in a "tense" conversation with Hussle before leaving to grab a weapon, at which point the fatal shooting occurred. "We're told Nipsey asked him if he had snitched to cops in the past because that was the word on the street," TMZ writes, adding that the suspect "felt disrespected."
A SoundCloud account under a moniker has also reportedly been linked to Holder, perThe Blast.
On Monday, Hussle—as previously revealed by Los Angeles Police Commission president Steve Soboroff—was originally scheduled to meet with LAPD officials alongside Roc Nation to discuss gang violence. Though reports early Monday suggested the meeting would move forward with a Roc Nation rep joining Soboroff and LAPD Chief Michel Moore on Hussle's behalf, the meeting was ultimately postponed. According to the latest word from TMZ, Hussle's family wants to participate on the meeting on his behalf but were unable to make it happen this soon.
Yet another TMZ story claims Nipsey's life may have been in danger days before his murder. Filming a music video for a DJ Khaled/John Legend collab on Thursday, March 28, "there was great concern over Nipsey's safety." The production took place in a parking structure and the team hoped to shut the whole thing down to limit access; in the end, only the top two floors were booked, and 10 armed cops were reportedly hired for safety. TMZ says "they were scared someone would try sneaking on set and killing him."
A Nipsey tweet posted hours before his death has also been pointed to in support of the theory. "Having strong enemies is a blessing," he wrote.
At his show at the O2 in London Monday night, Drake—who collaborated with Hussle on the 2009 track "Killer"—paid his respects to the 33-year-old artist as someone who "provided for his people."
During his set, which marked the first of a seven-night residency at the arena, Drake also called for everyone to "look around and be grateful and happy" for having the chance to share in such a communal experience. "I just want to say I love you, I'm thankful to be here with you tonight," he told the crowd. "London, as long as you'll have me back I'll stand in the middle of this building and I'll give you everything I fucking got. Cheers my brother. Rest easy, my G."
Below, stream Tuesday's press conference from LAPD:
Moore pointed to what he said was a larger problem of a "seemingly tragic love affair with gun violence" during the presser, specifically citing a recent trend showing an increase in shooting-related violence in South Los Angeles. Moore also confirmed previous reports of a tense conversation between Hussle and Holder, though Moore's account also included the other men at the scene, who were injured. Moore did not elaborate further on the nature of the tense conversation but did add that authorities believe the two knew each other.
"People that were at that scene or have information from people who were at that scene . . . we ask that you call [us] day and night," Moore said. "We're not done gathering evidence in this horrific shooting." Holder, he added, represents a "substantial risk" to public safety.
"I am confident that he is watching this . . . I ask him to surrender," Moore said. Later, he offered some clarity on the injuries sustained by mourners Monday night, saying that he believes the confusion began when an individual brandished a weapon and was met with an attempted disarming by a witness.