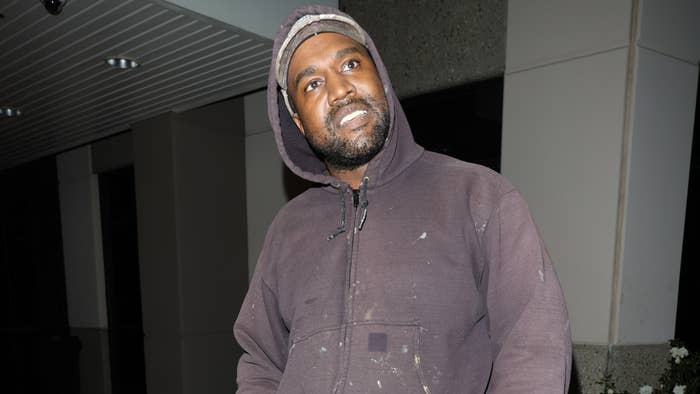 After days of mounting criticism and speculation, it happened: Adidas terminated its Yeezy deal.
The move comes amid other brands and entities' similar acts of distancing aimed at the artist formerly known as Kanye West, who has been widely called out in recent weeks in connection with (among other things) a series of remarks slammed as anti-Semitic. Fans, as noted in this piece by Complex's Jessica McKinney, have also criticized Ye over his string of concerning comments.
But the latest run of controversies extends back a bit further than that, at least to earlier this month when Ye featured a "white lives matter" design as part of the YZY SZN 9 presentation in Paris. From there, Ye shared an IG update calling Black Lives Matter "a scam," with a fleet of ensuing responses noting that the Black Lives Matter Global Network Foundation and the Black Lives Matter movement itself are two different things.
Subsequent interviews and social media updates also received widespread coverage, including a later-removed Drink Champs episode that spurred the announcement of a potential $250 million lawsuit on behalf of the late George Floyd's daughter. Thought not confirmed, Ye, during an interview with Chris Cuomo on NewsNation that took place earlier this month, claimed that SoFi Stadium in Inglewood, California canceled four scheduled shows he had set up following his much-criticized comments.
Tucked in at the end of a recent long-form interview with Lex Fridman, notably, was Ye stating he was "sorry for hurting you, as a Jewish person," although earlier in the same interview he delivered remarks similar to those for which he's been widely called out.
While some attempted to posit that JPMorgan Chase cut ties with Ye over his anti-Semitic remarks, TMZ shared a report amid related coverage pointing out that this was, in fact, not the case.
Per the outlet, the move from the investment banking company is reported to have actually been made weeks earlier in response to Ye himself having expressed his dissatisfaction with their arrangement. A separate report from the Associated Press noted the same.
As was the case with JPMorgan Chase, the Ye-related developments coming from Def Jam actually precede the current moment.
In a statement to THR, a Universal Music Group rep noted that the label's relationship with Ye, as well as its partnership with GOOD Music and a Bravado merch deal, had all come to a close last year.
Ye's Donda sequel, his most recent album, was self-released as a Stem Player exclusive earlier this year. Aside from Donda 2, all of Ye's studio releases have been distributed through Def Jam, including the original Donda.
Below, we take a look at a number of brands and companies that have announced they were taking action with regards to their respective relationships with Ye, who was also recently revealed to be buying the right-wing social media platform Parler. 
Before a slew of others started distancing themselves from Ye, the two leading social media providers—Instagram and Twitter—both took varying degrees of action.
First, Instagram (as confirmed in a statement to NBC News) removed several posts, notably after Ye shared screenshots of a conversation with Diddy in which he said he was going to "use you as an example to show the Jewish people that told you to call me that no one can threaten or influence me."
Also this month, Ye made his return to Twitter after being away from the platform since the 2020 election. In one tweet later removed from the platform due to it having violated the site's rules, Ye said he was "going death con 3 on Jewish people."
Elon Musk later said he had expressed concerns to Ye regarding his then-recent Twitter activity. Although Musk did not mention a specific tweet when making this claim, it was widely assumed this was in response to the aforementioned DEFCON reference.
In an exclusive report on Oct. 21, Women's Wear Daily revealed that Balenciaga had ended its relationship with Ye.
While no reason was given in a brief statement provided to the outlet, a rep for the fashion house's parent company was cited as confirming there were no plans for additional work involving Ye, who had become closely associated with the brand during the Donda era and through his and Demna's Yeezy Gap Engineered by Balenciaga project.
"Balenciaga has no longer any relationship nor any plans for future projects related to this artist," a Kering rep said.
Entertainment studio MRC has shelved an already finished Ye documentary. Per the Hollywood Reporter, the film had been made the subject of distribution talks prior to it being pulled, although any such plans have now been called off.
In an open letter titled "Shelving of Our Kanye West Documentary and Two Important Lies," company leadership said they "cannot support any content that amplifies [Ye's] platform." The letter also included a breakdown of "anti-Semitism 2.0," with Ye specifically being criticized for having "sampled and remixed a classic tune that has charted for over 3000 years – the lie that Jews are evil and conspire to control the world for their own gain."
Creative Artists Agency, the Los Angeles-based talent agency more commonly referred to as simply CAA, was reported by the Los Angeles Times to have also brought its own relationship with Ye to a close.
Although a statement wasn't initially provided, CAA's move followed the sharing of a memo from UTA CEO Jeremy Zimmer, who urged staff to "please support the boycott of Kanye West." Ye was briefly signed with UTA but has largely been represented by CAA.
Arguably the most mentioned name throughout all of this has been Adidas, whose own history has received renewed attention amid discussions on the impact of Ye's statements.
In early October, Adidas and Ye's partnership was confirmed to have been placed "under review" after what the company described as "repeated efforts to privately resolve the situation." Ye, of course, had been publicly critical of his dealings with Adidas, as well as with Gap. In a recently released mini-doc, for example, Ye included footage of a particularly tense meeting with Adidas execs.
"Ye's recent comments and actions have been unacceptable, hateful and dangerous, and they violate the company's values of diversity and inclusion, mutual respect and fairness," an Adidas rep said when later announcing the termination of the Yeezy deal. "After a thorough review, the company has taken the decision to terminate the partnership with Ye immediately, end production of Yeezy branded products and stop all payments to Ye and his companies.'
In what amounted to a headlines-making reversal, Boston Celtics guard Jaylen Brown confirmed in a social media-shared statement that he was ending his "association with Donda Sports."
Brown, as well as the Los Angeles Rams' Aaron Donald, originally signed with Ye's Donda Sports in May. Donald has also since confirmed his exit, while Donda Sports president Antonio Brown (at least at the time of this writing) will remain in his role as president.
Foot Locker, in a move similar to one recently announced by Gap, said it will remove Yeezy shoes from its stores.
An email to employees, according to a report from Footwear News, saw workers for the retail company being told to hold Yeezy shoes in the backroom of its stores for the time being. In a subsequent statement to the outlet, a Foot Locker rep said the company "does not tolerate any form of anti-Semitism" or other "hateful and discriminatory behavior."
The rep also said Foot Locker would "not be supporting" any future Yeezy releases.
The RealReal, a consignment marketplace for luxury products, announced on Tuesday that the company will no longer stock Yeezy products moving forward.
"Kanye West's recent behavior at Paris Fashion week and the comments he made regarding the Jewish community are not only offensive, but are harmful and go against everything we believe in," The RealReal said in a statement that was provided to Insider. 
U.S. department store chain TJ Maxx, meanwhile, said it had told those in charge of buys to not purchase Ye-related pieces moving forward.
"At TJX we do not tolerate discrimination, harassment, or hate of any kind. We have instructed our buying teams not to purchase this merchandise for sale in any of our stores globally," a company rep said in a statement shared with CNN Business.
On Wednesday, a Madame Tussauds London spokesperson announced the decision to remove a wax figure of the artist though they didn't explicitly reference the criticism Ye has received for his recent comments as the motivation for the move.
"Ye's figure has been retired from the attraction floor to our archive," the spokesperson said, per The Guardian. "Each profile earns their place at Madame Tussauds London and we listen to our guests and the public on who they expect to see at the attraction."
Ye's wax figure was debuted back in 2015 alongside one of Kim Kardashian.