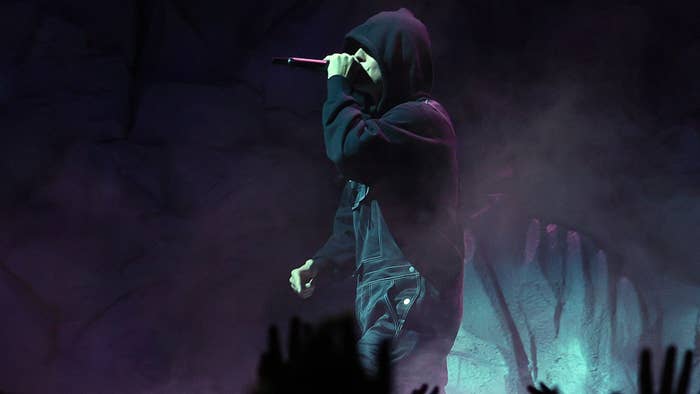 The current No. 2 song in the country was among those VMAs-ified on Sunday night.
The Kid Laroi and Justin Bieber's "Stay," which previously peaked in the top Hot 100 spot, went down in the MTV performance canon as part of a Doja Cat-hosted ceremony that carries special significance for both artists. For Laroi, it's another pivotal moment for the Fuck Love era. And for Bieber, Sunday's 2021 edition marked his first performance on the long-running awards show since 2015.
JB also shared an emotional performance of Justice cut "Ghost," as he rocked a hood over his head, and as fans in both Billie Eilish and his wife Hailey watched on bobbing their own heads. 
Both Bieber and Laroi are up for a number of the night's awards, with Laroi notably among those nominated for Best New Artist. Also nominated were 24kGoldn, Giveon, Olivia Rodrigo, Polo G, and Saweetie.
In a note to fans in August celebrating "Stay" hitting the No. 1 spot on the Billboard Hot 100 chart, Laroi said the feat marked not only a major moment for himself, but also for Australia.
"Growing up all I ever wanted to do was 'make it big' in America and show everyone what we have to offer," he said at the time. "It's been a while since I've been back home because of COVID but truuust me I been there in spirit."
Speaking with Waiss Aramesh for a Complex feature, also released last month, Laroi spoke candidly about being excited to enter a new (i.e. post-Fuck Love) chapter of his career. He also showed love for the still-fascinating Kanye West release 808s & Heartbreak, deeming it a "perfect" album.
Above, catch Kid Laroi and Justin Bieber's 2021 VMAs performance of "Stay," as well as Bieber's "Ghost." And for the full Complex chat, click here.