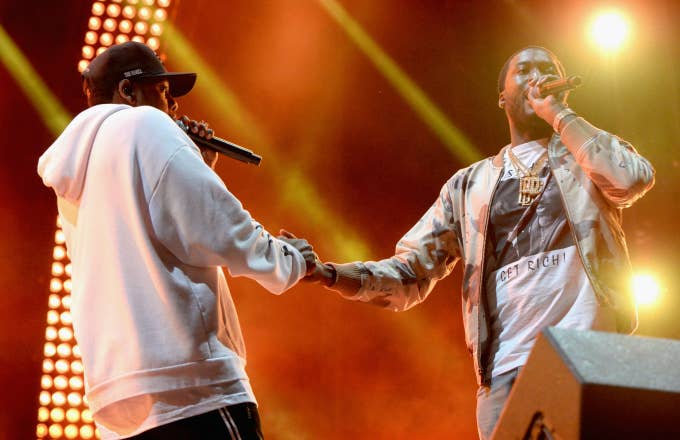 Amid protests of Meek Mill's recent sentencing of two to four years in prison for probation violation, Jay Z has penned a powerful op-ed for the New York Times on the "absurdity of the criminal justice system." Though Jay was specifically inspired by Meek's sentence to write the piece, he also noted that Meek is merely a famous example of a widespread problem.
"On the surface, this may look like the story of yet another criminal rapper who didn't smarten up and is back where he started," Jay said. "But consider this: Meek was around 19 when he was convicted on charges relating to drug and gun possession, and he served an eight-month sentence. Now he's 30, so he has been on probation for basically his entire adult life."
Jay also criticized the very concept of probation, which often ends up being more of a "land mine" than a second chance. "As of 2015, one-third of the 4.65 million Americans who were on some form of parole or probation were black," he said. "Black people are sent to prison for probation and parole violations at much higher rates than white people. In Pennsylvania, hundreds of thousands of people are on probation or parole."
Roughly half of the people in Philadelphia's city jails are locked up for probation or parole violations, Jay added, meaning jails could be "literally shut down" if those on probation or parole were treated fairly. "Probation is a trap and we must fight for Meek and everyone else unjustly sent to prison," he said. Read Jay's full New York Times piece here.