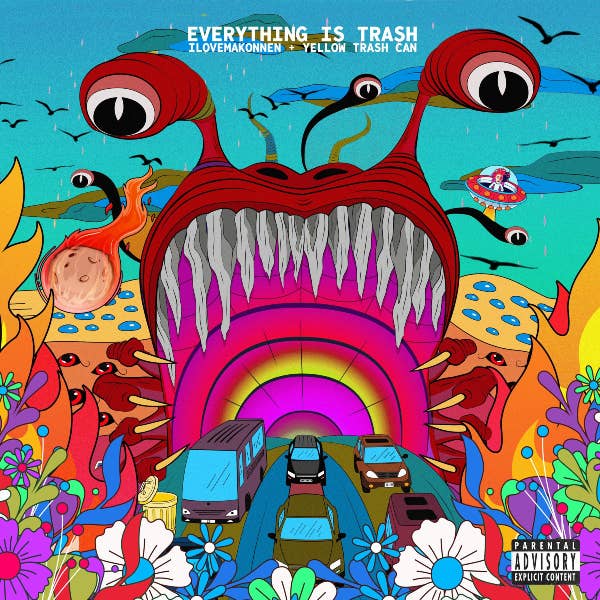 ILoveMakonnen, who last year commemorated his artistic independence with the surprise release of My Parade, has shared a new nine-track album made in collaboration with the production duo Yellow Trash Can.
Everything Is Trash features the previously released singles "Don't Tell Me What to Do" and "My Girl Trans," the latter of which arrived earlier this month, complete with cover art by frequent Makonnen collaborator @wavvvydan.
An early standout from the album is "Fuck Yeah," a track Makonnen highlighted on Twitter surrounding the Everything Is Trash drop. Elsewhere, Makonnen also suggested that Everything Is Trash could end up being his final album to be released via the now-traditional streaming format.
Grab Everything Is Trash, featuring cover art crafted by the aforementioned @wavvvydan, on Spotify below.
The latest Makonnen album was recorded at Burn Money Music studios in Portland, an integral city for Makonnen that the influential artist previously discussed with Complex back in 2019. 
"Portland's great," Makonnen said at the time. "I love it. It's my home. But really it was innerness that put me into doing these outer moves that I've made. I'll be distracted with the outerness of LA, New York, Atlanta, all those other places, so I like to spend time with myself and figure out me before I start to figure out someone else."
That same year, Makonnen was featured in the Showtime docuseries Shangri-La, which focused on producer Rick Rubin and his Malibu studio. At the 2020 Grammy Awards, the four-part series received a nomination in the Best Music Film category.