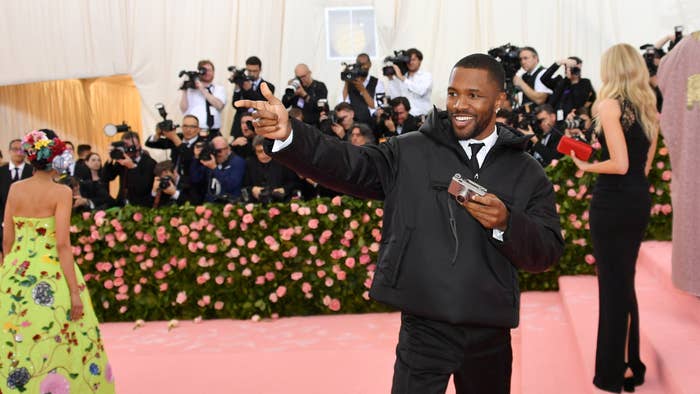 Mercifully, everyone's plans for 2023 have now been decided for them.
Early Monday morning, the Los Angeles Times' Steve Appleford shared word straight from Paul Tollett—CEO of AEG subsidiary Goldenvoice—that Frank Ocean would be headlining the 2023 edition of the pandemic-complicated Coachella Valley Music and Arts Festival.
"Right now, it's the Wild West," Tollett, a co-founder of Coachella, said when explaining why he broke from tradition and announced a festival headliner this far in advance of the actual festival dates. "I'm just trying to be as fair as I can to artists and to the fans to make sure that eventually they get to see everyone that we talked about."
Of course, Ocean—as well as Travis Scott, Rage Against the Machine, and many more—were originally set to perform at the 2020 edition of Coachella. With the pandemic, the 2020 edition was at first postponed before being called off outright, with the same being true for 2021.
In June, it was announced that Coachella—which celebrated its 20th anniversary in 2019—would be returning in April 2022, without Ocean (but with the respective returns of La Flame and Rage). As for the 2023 edition, it's unclear who else will be joining Ocean on the two-weekend lineup.
Though Ocean fans don't need reminding, Aug. 20 will mark the fifth anniversary of Blonde, Ocean's most recent full-length studio album and a regular appearer in best-of-our-current-era conversations. In July of 2018, the album was certified platinum by the RIAA.
A pair of standalone solo tracks, "Dear April" and "Cayendo," were released in 2020. Toward the end of last year, Ocean was forced to call off the release of new vinyl featuring an unnamed new song, previously speculated to be a track titled "Little Demon." Per a statement released at the time, the release was canceled "due to the events of this year," with refunds issued to those who had pre-ordered the vinyl.