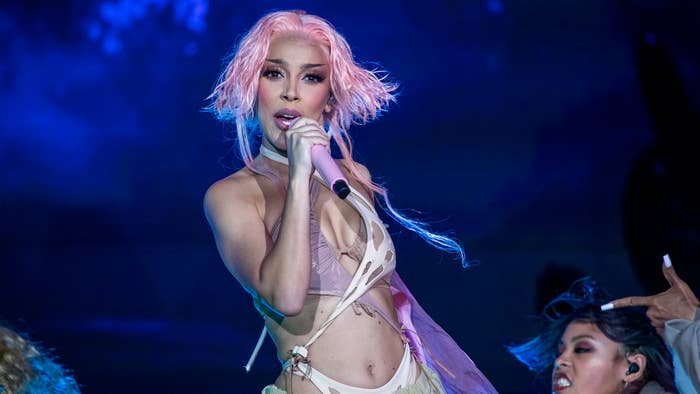 Doja Cat told fans on Thursday night that she "can't wait to fucking disappear" amid frustrations with the industry, more specifically the talk surrounding a recently canceled festival set. 
In a series of tweets, the Planet Her artist said that she's "not taking pictures" with so-called fans again after her current tour wraps. In response to other tweets, she also said that "everything is dead to me," including music. "[A]nd I'm a fucking fool for ever thinking i was made for this this is a fucking nightmare unfollow me," she wrote. At the time of this writing, Doja's Twitter name had been changed to "i quit."
While some of the fan-originating tweets Doja responded to have since been removed, TMZ and others have reported that the source of this frustration is a canceled festival performance in Paraguay. Doja and other artists (including Machine Gun Kelly) were set to perform at Asunciónico 2022, with weather ultimately forcing the sets to be canceled.
Apparently, some fans directed their grievances over the called-off festival slot at Doja herself. According to TMZ, fans seemed to be angry that Doja had tweeted about her Brazil show but didn't say anything about the canceled performance in Paraguay. 
In addition to Doja and MGK, Miley Cyrus was also listed on the lineup for Asunciónico 2022. In an IG post this week, Cyrus shared a message with "fans and everyone worried" in connection with reports of her flight to the festival being forced to make an emergency landing due to a lightning strike.
"Our plane was caught in a major unexpected storm and struck by lighting," Cyrus said. "My crew, band, friends and family who were all traveling with me are safe after an emergency landing. We were unfortunately unable to fly into Paraguay."
This month, Doja Cat was announced as being part of The Weeknd's upcoming After Hours Til Dawn tour. The current routing for the tour's first leg sees the trek kicking off in Toronto in July and wrapping in Los Angeles in September.