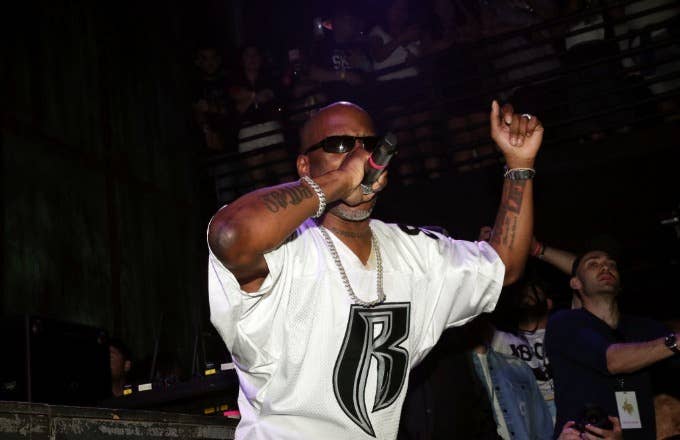 DMX contributed some opening bars to this weekend's Sunday Service throwdown hosted by Kanye West.
The weekly tradition, which typically includes reworked gospel versions of Ye cuts and various classic songs for an intimate audience of friends and family, was gifted with an intro prayer that's not unlike the equally passionate spoken word elements found on essential X albums like It's Dark and Hell Is Hot and Grand Champ.
"I am the object of your affection," X told the enthusiastic crowd. "Your favor surrounds me as a shield and the first thing that people come in contact with is my favored shield . . . I have favor with everyone that I deal with today. Doors that were once closed are now open for me. I receive preferential treatment and special privileges. I am God's favorite child."
Catch a clip of X's intro prayer, portions of which should sound familiar, below.
Previous Sunday Service attendees include West collaborators Kid Cudi, 070 Shake, Travis Barker, and more.
X is marking the 20th anniversary of the aforementioned classic It's Dark and Hell Is Hot with a tour that keeps him on the road through early May. Last month, he made a surprise cameo in the Michael Garcia-directed video for Bhad Bhabie's "Bestie." New music from X is also believed to be imminent, with early post-prison reports from January adding that X has received offers for a potential biopic.
During an interview with Big Boy in January, X shared his thoughts on younger artists currently dominating the charts. "They're all promoting drug use," he said at the time. "If that's what you wanna do, that's your business, but you ain't gotta promote it like it's cool and make it cool."