UPDATED 6/28/19 5:55 p.m. ET: Tickets for the inaugural Day N Vegas sold out in about 30 minutes Friday; a fan-to-fan exchange option is available for those who missed out.
See original story below.
The 2019 festival circuit has a wildly promising newcomer on the agenda, with Las Vegas set to add another top-tier weekend to its already strong assortment of live music marathons.
TMZ first broke word early Monday that the inaugural Day N Vegas will kick off Nov. 1 with a headlining set from J. Cole. Saturday and Sunday, meanwhile, are said to be toplined by proven festival attractions Travis Scott and Kendrick Lamar, respectively.
Lil Uzi Vert, Tyler, the Creator, Migos, Schoolboy Q, Juice WRLD, 21 Savage, Megan Thee Stallion, Brockhampton, Lil Nas X, Kali Uchis, and Miguel are also among the Las Vegas Festival Grounds-set gathering's year-one lineup. Goldenvoice, i.e. the same Goldenvoice behind Coachella and Hangout, is putting the three-day Vegas throwdown together. Ticket sales begin June 28 at 12 p.m. PT.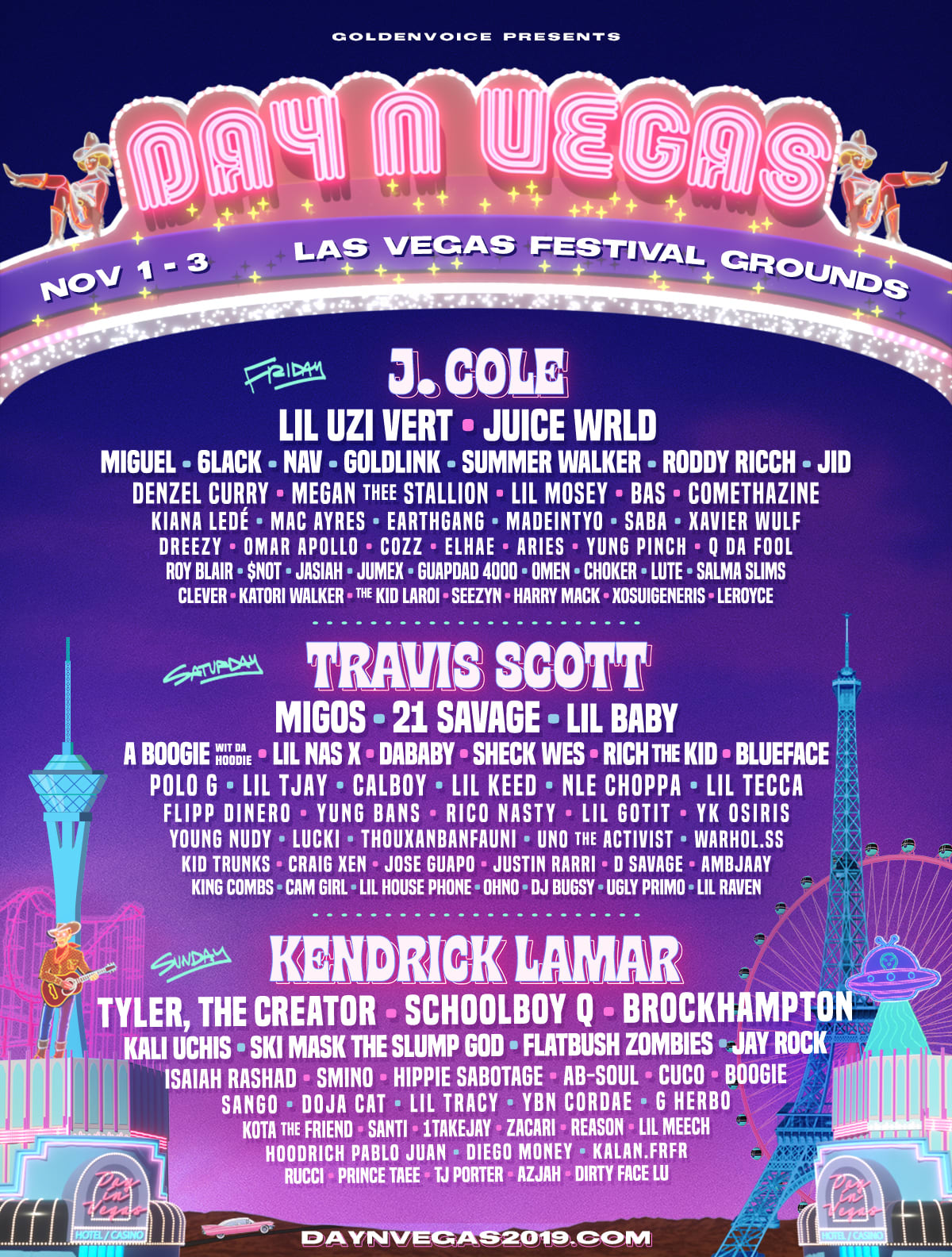 The inaugural Day N Vegas nicely complements the city's years-strong, multi-genre Life Is Beautiful Festival, which hits the region a few months earlier in September. This year's LIB lineup boasts Chance the Rapper, Post Malone, Billie Eilish, Vampire Weekend, Lil Wayne, Desus & Mero, and more.
The Day N Vegas fest's big three—Cole, La Flame, and Pulitzer Kenny—are all fresh off major recent moves. Kendrick Lamar, for one, was reported back in April as having inked a long-term publishing deal with BMI. Meanwhile, Travis Scott is still riding high off the otherworldliness of ASTROWORLD and J. Cole just dropped off Dreamville's "Down Bad" earlier this month.