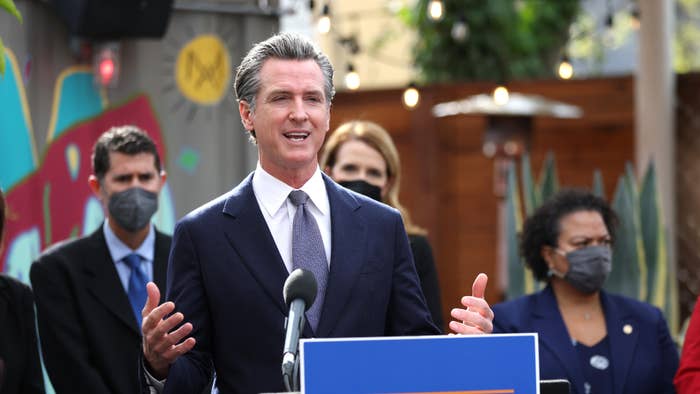 California Governor Gavin Newsom is expected to sign the state's rap lyrics bill into law after an Assembly vote.
Bill AB 2799, as first reported byBillboard, was recently unanimously approved by the state Senate and was on Monday the subject of another Assembly vote which cleared the path for it to move toward being made law. In short, the bill—as seen in other similar efforts elsewhere—aims to limit when prosecutors are able to use lyrics as a form of evidence. These restrictions, supporters note, will help prevent unfair practices when it comes to attempting to influence juries.
The bill in its most recent form words it this way:
"This bill would require a court, in a criminal proceeding where a party seeks to admit as evidence a form of creative expression, to consider specified factors when balancing the probative value of that evidence against the substantial danger of undue prejudice."
"Creative expression" in this instance, the bill further clarifies, is defined as the use of creativity or the imagination when crafting "sounds, words, movements, or symbols." Furthermore, once law, the bill would "provide a framework" for courts to make sure that using an accused individual's art will not be done "to introduce stereotypes or activate bias."
While the issue of one's art being used against them as evidence has long been a cause of concern, the discussion surrounding this practice has bene met with greater attention in recent years, due in large part to high-profile cases such as the RICO indictment in Georgia in which Young Thug and Gunna are named.
In response to the latter, music execs Kevin Liles and Julie Greenwald launched the Rap Music on trial: Protect Black Art petition, which will soon top 60,000 signatures.
"Weaponizing creative expression against artists is obviously wrong," Liles and Greenwald said in a joint statement in June when announcing the effort. "But what gets us so upset is what's happening to Young Thug, Gunna, and YSL is just the most high-profile case. In courtrooms across America, Black creativity and artistry is being criminalized. With increasing and troubling frequency, prosecutors are attempting to use rap lyrics as confessions, just like they're doing in this case."