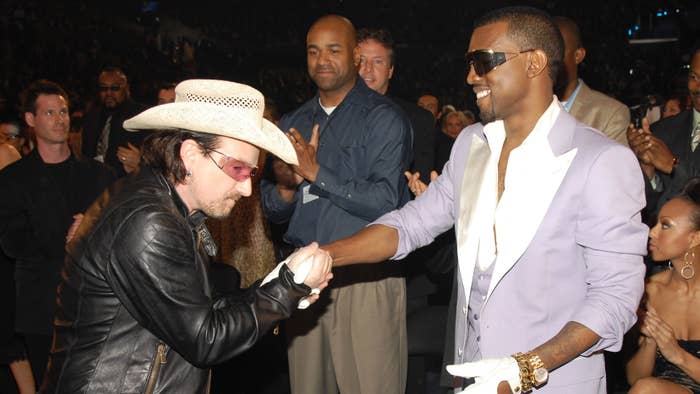 To mark his 60th birthday, U2 frontman Bono has shared a playlist of 60 songs that he says "saved my life."
Kanye West's 2013 Yeezus cut "Black Skinhead" is among the picks, with Bono penning a thoughtful mini-essay on how deeply he was affected by hearing the song for the first time on Saturday Night Live.
"Dear Kanye, I was a hundred feet from your feet… Your eyes were shut so as not to be distracted from the words you had just written around the corner, but here you were debuting this song live from Saturday Night Live… and I'm in the TV studio to witness some black history," Bono wrote, also quoting some key lyrics from the catalog highlight. 
In Bono's words, the song represented hip-hop taking "the black leather jacket back from rock 'n' roll." Bono, notably, also compared West's performance to a "punk Othello" and connected to feelings he had as a teenager.
"The soundtrack of terror, but I wasn't afraid," he wrote. "I was relieved somebody was fearless."
As longtime West fans will note, he joined Bono and U2 back in the mid-2000s for the band's tour in support of How to Dismantle an Atomic Bomb, their 11th album. The two have also exchanged multiple words of praise in various press bits over the years, with West famously crediting his time on the road with the band as greatly influencing the Graduation sessions.
Specifically, West explained during an NYC listening party for the 2007 album, "I Wonder" marked his attempt at penning a song that was similar in structure and overall feel to U2's Atomic Bomb cut "City of Blinding Lights."