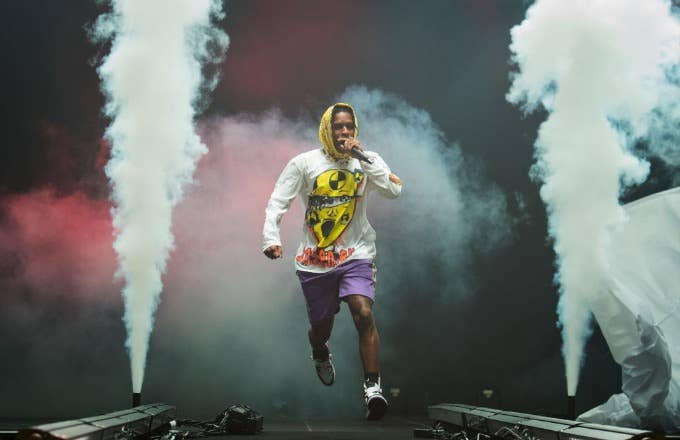 Thursday marked the second day of ASAP Rocky's Sweden trial, with the man who alleges he was assaulted during the incident at the root of this controversy questioned and cross-examined by Rocky's defense lawyer Slobodan Jovicic.
BBC News' Larissa Kennelly was on site with Maddy Savage for the court proceedings in Stockholm, noting that assault accuser Mustafa Jafari claimed during examination Thursday that he was looking for his friend when he approached Rocky's group in the street. According to in-court reports, the accuser claimed multiple times that he was unaware of Rocky's celebrity.
As for the alleged assault itself, the man claimed Thursday that "some [in Rocky's group] had bottles," though Rocky's defense lawyer went through video frames in court in which circles were drawn around Rocky and three other men's hands to show that they were not holding bottles.
Rocky's lawyer questioned the veracity of the accuser's claims of having approached the group in the street in an effort to locate a friend, asking if such a thing constituted "sober behavior."
Rocky was then questioned during day two of the trial, opening his remarks with an account of how he ended up outside the Max burger chain location. Per Rocky, he was in the region for a show and wanted to explore Stockholm via electric scooters. He and other members of his team then downloaded an app to use said scooters, at which point he says "two men approached his security guard."
From there, Rocky said, the vibe changed. After initially walking away, both men are said to have returned moments later and again started talking with the guard, who told them to move away and was actively blocking them from Rocky. The assault accuser, Rocky said, then hit his guard with a pair of headphones. "It got a little scary for us," Rocky told the court.
Rocky also reiterated comments he made when sharing Instagram footage from the day in question, noting that he told the men he didn't want any problems. Rocky added that he believed both men were on drugs at the time. "When we walked away, we were followed," Rocky said, defending his bodyguard as having followed the usual protocol of keeping him safe.
The topic of bottles was again broached, with Rocky admitting to having picked up one from the street as part of he and his team's snap decision to prevent the accuser from having access to them. However, per Maddy Savage, he quickly decided holding it at all was a bad idea.
After accounts of attempts to have passersby help contact police and a failed attempt at ordering an Uber, Rocky explained his direct encounter with the accuser, again noting his belief that the man was on drugs due to his behavior. Once back at the hotel that night, Rocky said, he decided not to press charges as he didn't want additional attention on the incident.
Rocky didn't listen in on an ensuing conversation between the guard and the accuser, who allegedly had his hands in the guard's face. Rocky, though he told the court he didn't get a clear look at how the guard lifted the accuser, said footage he had seen did suggest the accuser had been lifted by his collar during the incident.
The bottle issue was later brought up again, with Rocky affirming he didn't break or hide them, reiterating his previous assessment of having one temporarily in his possession in an alleged effort to prevent it from being used by the men. The accuser's attorney suggested that Rocky and his group intentionally moved the encounter to a quiet street.
Rocky explained how this encounter was informed by previous instances in his life, including being threatened by someone with a knife and a home robbery. Due to this history, Rocky explained, he never knows what to expect when someone he doesn't know approaches him.
During the Sweden incident, he said he and his team were hoping local authorities would eventually arrive on the scene to defuse things. Speaking further on his individual encounter with the alleged assault victim, Rocky reportedly told the court it's not clear whether he "pushed or punched" him.
Following a break, the trial continued, with focus placed on alleged text messages from Rocky's assistant and others. One alleged text, said to be sent by the assistant, reportedly stated something to the effect of "Harlem came out and smashed a bottle on a person," with "Harlem" being argued as a reference to Rocky.
Rocky was born and raised in the storied Manhattan neighborhood; The Blast says a recording of a 2017 interview was played in court featuring Rocky saying, "In here they call me Harlem but my name Rocky."
Prosecutors also pointed to an alleged text, also said to be sent by the assistant, in which the deletion of footage is discussed. Rocky, asked about the contents of his phone, said he hasn't had access to it for a month and that any editing was due to wanting to remove uses of the n-word. His decision to post clips on Instagram was inspired by the publication of separate footage by TMZ.
As for the nature of the alleged texts between the assistant, the guard, and a manager, Rocky said Thursday he wishes not to speculate on their meaning.
The conversation between Rocky's team and the passersby who were asked to help communicate with the assault accuser and his friend was also detailed, with an in-court transcript alleging that the accuser told the women he didn't know who Rocky was. When they offered to provide context, Rocky is said to have told them not to do so, pointing back to his original assessment that the men were unaware of his celebrity.
Pressed on what was reportedly characterized as a discrepancy in his original police interview in which he said no glass bottles were handled, Rocky is said to have noted that such comments referred solely to the fight itself.
Later, Rocky praised Sweden for its "beautiful architecture" and noted he's been in the area five or six times in total. Ultimately, Rocky said, he only wants "justice" with regards to this incident. "I want my name to be cleared," he reportedly said Thursday. "Justice for all of us."
These comments were part of Rocky's final statement, which was followed by testimony from others involved in the incident, including Bladimir Corniel and David Rispers. All three say any actions were made in self-defense.
Rocky, who was visited in jail this week by his mother for the first time since his arrest, pleaded not guilty earlier this week.
During day 1 proceedings, defense attorney Slobodan Jovicic said Mustafa Jafari and his friend had exhibited "aggressive and deeply provocative behavior" at the time of the incident. 
"[Rocky] has been harassed in the past. In this case, the bodyguard made the assessment that these people (Mustafa Jafari and his friend) should move on ... and not to come close," Jovicic said Tuesday.
Speaking Wednesday with the Los Angeles Times on the stateside support and "international pressure" from the White House and other authorities the Rocky case has received, SLM Law CEO and criminal defense attorney Silva Megerditchian theorized those factors may have had the opposite of their intended effect.
"I think the Swedish government really wants to be careful not to show any preferential treatment for an ASAP Rocky versus another international person," she said, adding that the speed of these legal proceedings may also have hindered Rocky's defense from having adequate preparation time.
Rocky's trial will continue Friday. For more insight on Thursday's proceedings, head here. And for audio and sketch excerpts from Thursday's testimony, see below.