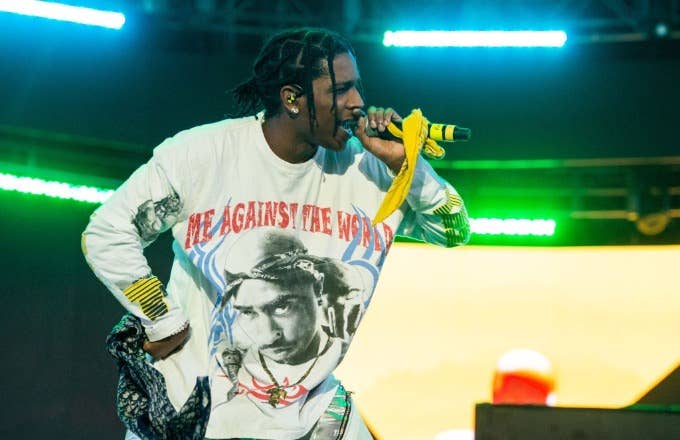 A conclusion in the controversial Sweden case of ASAP Rocky, who was earlier this month allowed to leave the country after a lengthy stay and eventual trial, has been announced.
Rocky and his co-defendants have been given a suspended sentence after being found guilty. Furthermore, per on-site reporter Maddy Savage, he will be required to pay damages to the victim. The determined damages to be paid come out to SEK 12,500 (approximately $1,303).
The alleged use of a bottle during the encounter—a consistently key facet of the case throughout the trial—was reported Wednesday to once again be a crucial component of the latest legal moves against Rocky. Per Alex Marshall, the fact that the prosecutor wasn't able to prove such an item was used during the encounter is why Rocky ultimately landed a sentence of this nature.
Rocky responded on Instagram, writing, "I AM OF COURSE DISAPPOINTED BY TODAY'S VERDICT. I WANT TO SAY THANKS AGAIN TO ALL OF MY FANS, FRIENDS, AND EVERYONE WHO SHOWED ME LOVE DURING THIS DIFFICULT TIME. IMMA KEEP MOVING FORWARD."
"The assault has not been of such a serious nature that a prison sentence must be chosen," the court said in a statement regarding the decision Wednesday, perBBC News. "The defendants are therefore sentenced to conditional sentences." Rocky is now subject to a probationary period of two years, with the court stating the to-be-paid damages as being for "violation" of the man's "integrity and pain and suffering."
Marshall spoke with Rocky's attorney Wednesday, with the possibility of appeal made to sound unlikely. "The question is whether he'll have the energy and stamina to do this one more time given all the circus around it," he said.
Rocky, who was not in court for Wednesday's proceedings, reiterated during trial earlier this month that his actions were in self-defense and should not be considered assault. The two men in question, Rocky claimed via Instagram almost immediately after the incident occurred, followed him and his team for multiple blocks and also harassed women on the street.
Following the end of his three-day trial (and subsequent release) earlier this month, Rocky expressed gratitude for the wave of support he'd received from fans, friends, and family during what he considers a "difficult and humbling" period in his life.
"Thank you from the bottom of my heart to all of my fans, friends and anyone across the globe who supported me during these last few weeks," he said at the time. "I can't begin to describe how grateful I am for all of you. This has been a very difficult and humbling experience."
Rocky made his glorious return to the stage over the weekend in Anaheim, California for the inaugural Real Street Festival. YG, ASAP Ferg, and Tyler, the Creator were among the special guests who popped up during Rocky's set.