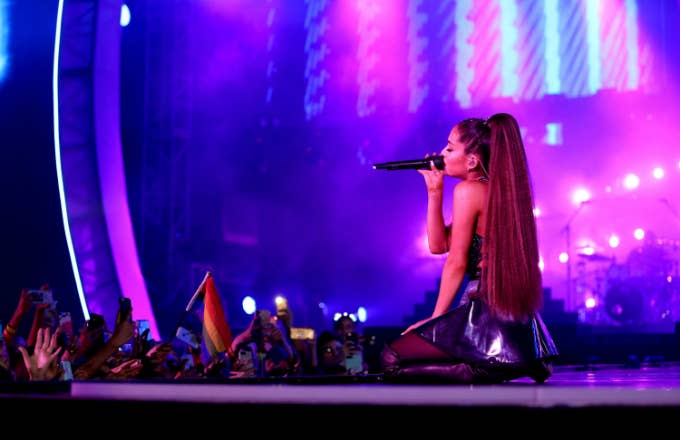 Ariana Grande's excellent album Sweetener is barely two months old, leading many fans accustomed to a more traditional album cycle approach to believe that more new music is at least a couple years away. However, in the spirit of in-the-moment creativity, Grande has now confirmed that she's not keen on following the outmoded album era approach any longer.
Replying to a fan Monday who said they weren't ready for "this era" to end, Grande explained that she's not really a fan of so-called "eras" and detailed her plans to now make and drop new music "whenever" instead.
Grande has also recently been sharing photos and videos from the studio, in addition to a shot of what looked like a handwritten tracklist in the making, meaning we can possibly expect to hear some of this new music very soon:
"You put so much time and so much of yourself into something, and then all of a sudden you give it to the world and it's no longer yours," Grande toldVogue of Sweetener back in August. The album, featuring Missy Elliott and Pharrell Williams, opened at No. 1 and was met with widespread critical acclaim.
The album was supported by a limited run of intimate performances dubbed the Sweetener Sessions in Los Angeles, New York, and Chicago. Grande later canceled her musical guest stint on this season's Saturday Night Live premiere, which had the unfortunate effect of Kanye West stepping in while wearing a goddamn MAGA hat.