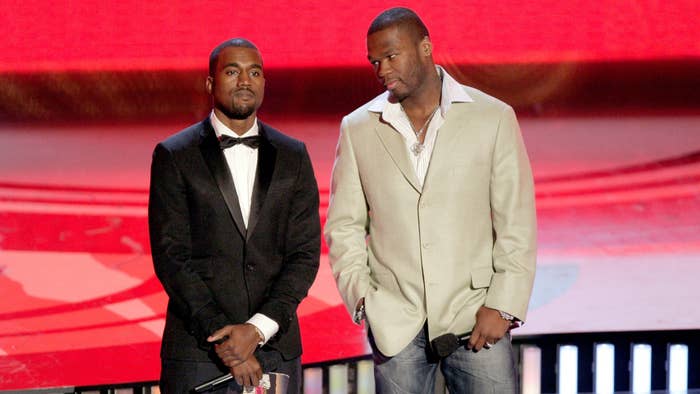 2007 was a particularly exciting year in music, particularly for fans of Kanye West and/or 50 Cent. As is firmly engrained in pop culture history by now, the year brought the release of 'Ye's still-celebrated instaclassic Graduation and 50's hotly anticipated The Massacre follow-up Curtis. And while a highly publicized playful charts battle between the two albums ultimately resulted in 'Ye coming out on top, it would be quite silly to label Curtis a failure.
In his new book Hustle Harder Hustle Smarter, 50 makes the same point while connecting the album showdown to what he recalls as healthy competiton between himself and JAY-Z.
"I salute JAY for a sophisticated strategy," 50 says in the book when discussing JAY's transition to boss of Def Jam, as spotted byHipHop-N-More. "There was nothing unethical or disloyal about it. A lot of people hesitate to make those moves. They'd rather stay connected with the same group of people, even if those people aren't getting them any closer to success. Jay didn't fall into that trap. Still hasn't."
JAY also gets brought up in a section of the book focused on Curtis vs. Graduation. Notably, 50 suggests the surrounding PR stunt was formed from his own idea, not 'Ye's. As for JAY's connection to the showdown that helped inspire a pivotal shift in music at large, 50 said JAY was still "uncomfortable" with his success at the time and had a keen interest in ensuring Graduation reigned supreme.
"[Interscope co-founder] Jimmy Iovine might not have cared about beating Kanye, but JAY-Z, who was the head of Def Jam at the time, damn sure cared about beating me," 50 writes. "JAY had been extremely uncomfortable with my run in NYC for years. So he did everything under the sun to make sure he could beat me through Kanye."
Connecting this assessment to the more divisive elements of 'Ye's current era, 50 expressed his assessment that JAY likely has disappointment for his Watch the Throne co-crafter.
"JAY took a lot of pride in Kanye's victory," he says. "I think that's one of the reasons he's so disappointed in Kanye today."
50's new book dropped on April 28 and is now available via all the usual book-obtaining services. A previously shared excerpt saw 50 reflecting on the disappointment he felt regarding the careers of Lloyd Banks and Tony Yayo, both G-Unit alumni.