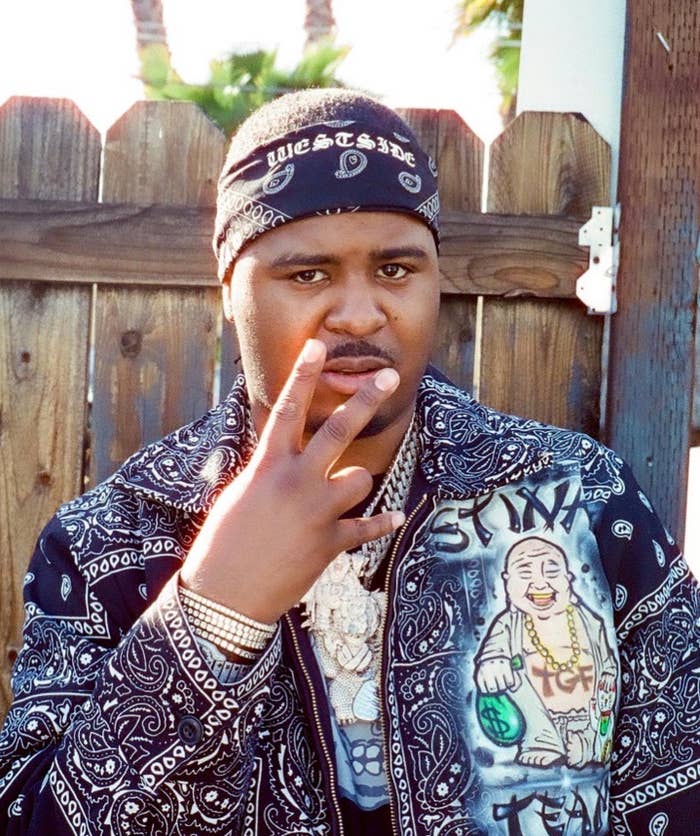 Drakeo the Ruler, South Central's prodigal mudwalker and the undisputed People's Champion of Los Angeles, was murdered Saturday night at Exposition Park, where he was scheduled to perform at a music festival. He was 28 years old. The loss is incalculable and cosmically cruel. The Ruler's legend will continue to luminate and be mourned throughout Southern California until this land is leveled to ashes, and Drakeo will go down as both one of L.A.'s greatest rappers and a human sacrifice to the decaying American beast. 
Born Darrell Caldwell, on December 1, 1993, Drakeo was raised in the deep "Hundreds" section of South Central, one of the few neighborhoods not covered by Los Angeles' postwar, racially restrictive housing covenants. He was raised by his mother, who taught pre-school. Like most of his neighbors, and tens of millions of folks around the country, Drakeo was set up to fail from the jump: criminalized poverty and police occupation drove him to a constant state of cold paranoia at a young age. He was first arrested at 12 years old and spent intermittent time at different youth correctional facilities. As a result, he was a frequent truant at Washington High in Westmont, the public school that both Ice Cube and Gil Garcetti attended.
Along with his brother, Ralfy the Plug, Drakeo created and quickly perfected self-described "nervous music," soundtracks that properly rendered the feelings of being watched and operating without room for error. Flu Flammin' through a police state requires you to move a bit differently. Drums skitter with sinister, clandestine energy. Elastic flows subvert the beat entirely, at once feeling beyond control and shockingly effortless, like cracking yourself a seal and then balling out at Neiman Marcus Beverly Hills. 
His true breakout came with 2015's "Mr. Get Dough," which soared over heads and instantly demanded the respect of DJ Mustard, the reigning producer of the West. "Oh Lord, I love bein' a joint, it's fantastic." Drakeo emerged as a muttering, inscrutable shit-talker who sometimes seemed to reinvent talking altogether. The Mustard remix racked up millions of plays. Drakeo's first project under Mustard's 10 Summers imprint, I Am Mr. Mosely, cackled with potential and announced a singular talent.  
Drakeo followed with two full-length projects in 2016: I Am Mr. Mosely 2and So Cold I Do Em. Continuing to bend language, beat his chest, and refine the "nervous music" product, The Ruler picked up his trademark "SHEEEEEESH!" and upped his hook game. "I aim at n—- temples, Shirley / I think these n—- want attention, surely." What?! "Shanaynay / I had to let that b—- sing, Shanaynay!" WHAT?! "We keep the chunky monkeys, n—- get to trippin' in the club, we go donkey." WHAAAAT?! 
It's also around this time that Los Angeles began persecuting the People's Champ. In January 2017, Drakeo, Ralfy, and their burgeoning crew the Stinc Team found themselves subjects of an LAPD raid. Cops used multiple songs, including "Chunky Monkey," to find the condo near LAX where Drakeo shot music videos. The search yielded a few guns, which Drakeo denied were his, and just like that, the most thrilling new artist out was put behind bars for most of the following year. Much like life on the margins, and surviving in neglected neighborhoods, the rap ecosystem is crushingly fickle and rarely lends sympathy to victims of the carceral machine. This very well could have been the end of Drakeo's recording career, or at least the shitty break that humbled his forceful ascent.
He didn't ask for it, but he became the iconography of the moment, a piece of Los Angeles canon that continued to mystify the individual while succinctly explaining the system he was trapped by.

Instead, Drakeo got out and immediately dropped heat. Cold Devil was heralded as an instant masterpiece and featured some of the best music of the decade, 16 dizzying and electrifying songs recorded in just 10 days. The music whisks you from the slums to Maestro's with chilly, surrealist swagger, to the point that it's difficult to tell which is which, and where you are. Half of the records sound like Drakeo is muttering to himself, the steely and point-blank hilarious observations of a South Central genius mid-shopping spree. "Big Banc Uchies" was remixed by Shy Glizzy, while Lil Yachty showed love for "Flu Flamming."
His delivery was being aped not just across Los Angeles, but spreading throughout the industrialized rap universe. Jeff Weiss, the tireless music journalist who covered Drakeo's career with vibrant detail, once said that "there's a cottage industry of rappers trying to sound like Drakeo… There are even some really great songs that are just people trying to sound like Drakeo." 
Tragically, and all too predictably, the envy and obsession was not contained to Drakeo's peers. In March of 2018, Drakeo was arrested again for alleged possession of a firearm. He was taken to the 77th Street Division of the LAPD, where, according to the LA Times, cops were celebratorily blasting his music. It had become indisputable: the police were watching him. Drakeo would go on to be charged with "first-degree murder, attempted murder and conspiracy to commit murder," all in connection to a December 2016 shooting in Carson, CA. He vehemently denied the charges and had the alibi to prove it, but he languished in Men's Central Jail regardless. For a man who got his name in part from the Ancient Greek legislator, things got downright draconian for Drakeo.
Prosecutors argued that Drakeo had outfitted the Stinc Team as a criminal enterprising gang to kill rival artists. They weaponized Drakeo's work against him, with seemingly endless music video clips of him rapping with semi-autos, showing off his earnings and pouring up lean for the jury to see. It all added up to racist, fanatical ramblings on behalf of Deputy Sheriff Francis Hardiman, a dimestore Mark Fuhrman and lazily-drawn cartoon villain. Drakeo was acquitted of all murder charges in July 2019, but District Attorney Jackie Lacey's office decided to retry Drakeo on the hung charges of shooting from a motor vehicle and, more saliently through Section 182.5 in the California penal code, criminal gang conspiracy. In the same way that Drakeo reimagined words, the D.A. completely reimagined the "justice" process. Drakeo was put on trial for a second time, once again in relation to the 2016 shooting allegations that he just beat.
Drakeo's attorneys, John Hamasaki and Kellen Davis, moved to disqualify the D.A. office from prosecuting, due to glaring and obvious conflicts of interest. There were so many things to consider: the fact that the Sheriff's Department donated $1.3 million to Jackie Lacey's re-election campaign; that Hardiman was married to someone working in Lacey's office; that the judge on this case, Laura Walton, was a former colleague of both Lacey and the deputy D.A; that the judge had issued an illegal and unconstitutional gag order on Drakeo himself.
Section 182.5, a particularly insidious piece of policy used to lock up Black and brown folks across the state of California, meant that Drakeo could be charged for conspiracy to commit a felony through any felonious conduct of other "gang members." The Stinc Team was patently not a criminal street gang, but Section 186.22 of the penal code defines "gangs" as three or more people with a common name or identifying symbol, engaging in collective or even individual "criminality." That's it. Other members of the Stinc Team were offered plea deals for petty crimes ranging from vandalism to toting guns in music videos. Drakeo, meanwhile, wasn't offered shit. He sat in solitary confinement, a political prisoner and hostage of the Los Angeles Sheriff's Department.
"It makes you more [inclined to be] violent. You could be the calmest, coolest person in the world, but being in there, you change," Drakeo told Weiss for The Ringer. "The cell seems to get smaller and smaller."
The case stalled through the pandemic while the Compton Court House was closed, and Drakeo was staring at 25-to-life while simultaneously dropping some of the sharpest work he ever put his name on. Thank You for Using GTL, recorded by beatmaker JoogSZN through prison phone service Global Tel Link, was delivered as 19 skin-shredding rough sketches live and direct from Men's Central Jail. The platitude of "this is why we can't have nice things" is almost always reductive, but in Drakeo's case, it's fucking fitting. The most original stylist out of L.A. was forced to make new music in a corrections jumpsuit from solitary confinement, his engineers bouncing the hottest verses of the year from privatized inmate services with decidedly shit audio quality.
Drakeo the Ruler's absence was felt in the Los Angeles streets amid the 2020 uprisings. He was missing specifically because of the LASD and Lacey's collaborative bullshit, so when folks went out to protest the police killings of George Floyd, Breonna Taylor, and unarmed Angelenos like Dijon Kizzee and Andres Guardado, it was Drakeo's slippery flows and JoogSZN's eerie minimalism busting through speakers. When organizers and antifascists marched down Rodeo Drive, tagging an Amiri store with ACAB graffiti, FREE DRAKEO signs and posters were ubiquitous. Drakeo's work always fostered elements of great American protest music, from its gleeful rejection of traditional language codes and expectations to its defiant indulgence in outlaw spirit. He didn't ask for it, but he became the iconography of the moment, a piece of Los Angeles canon that continued to mystify the individual while succinctly explaining the system he was trapped by.
The day after incumbent Lacey lost her re-election bid to George Gascón, who was running well to her office's left, Drakeo received a stunning plea deal to secure his release. Taking the deal from a lame-duck D.A. meant the Stinc Team would indeed be recognized as a gang, and any minor parole violation would instantly rescind his freedom. But the joy was palpable all around the city. The Ruler really beat this damn case twice. The stuff of unadulterated legend.
"[Rehabilitation] is a joke. Shit, where I was at, it will make you worse. It won't make you better," he told Huck Magazine. "The American Dream is a lie."
We knew the truth, as Drakeo was quick to remind folks in his 2020 and 2021 drops. The County blues were ditched for Gucci turtlenecks and blinding custom diamond pieces. He came home to a mobilized and rabid base of supporters that included Drake, Rich the Kid, Don Tolliver, Sean Kingston, Maxo Kream and the late Nipsey himself.We Know the Truth and The Truth Hurts found the man's performance talent firmly intact, while expanding his tools as a recording artist. Drakeo's codeine croak was put into increasingly challenging and out-of-pocket spaces. "My car came with umbrellas in it, n—- / the police said I hang with all felons in my pictures," he and Ralfy rapped over looping gong strikes and dramatic drumwork that's more befitting of NFL pre-games than tricky dance moves in blood-streaked Louboutins. "We just cool, bro, you getting too excited / ain't seen your face when I was up on that indictment," he spit on a lead single alongside the most successful commercial force of the decade. The post-prison mythos and indefatigable comeback energy, of course, reminded some folks of other got-it-from-the-mud heroes. But he wasn't the L.A. Gucci Mane. "NAH, HE'S DRAKEO THE RULER." And he wasn't the 2020 Lil Boosie. He just beat some shit that'll top that.
It sure seemed like the police apparatus was still on his heels. Earlier this year, Drakeo was pulled over in an Uber while riding with his son. He was charged with possession of a firearm, even though Drakeo disputes the finding of a gun in the first place—felons generally do not risk their freedom by bringing straps to a goddamn rideshare app. As he told the podcast No Jumper, the officers were high-fiving each other upon arrest. He was let go after his lawyer stepped in, but cops still took his jewelry in a brazen asset seizure.
"Folks be forgetting, rappers have to deal with so much as targets," he told Billboard earlier this year. "We're expected to keep up an image, and you have to worry about the police and haters. If I have protection and get caught up, they say I shouldn't have it. But if I were to be robbed, no one would have sympathy for me. It's a lose-lose situation."
It may seem senseless, then, to consider the latest voice of Los Angeles was taken from the world at a Los Angeles booked performance. Not only a homecoming show for The Ruler, who had just released Ain't That the Truth in July and So Cold I Do Em 2 earlier in December, the Once Upon a Time in L.A. festival was an on-the-nose symbol for how far Drakeo had truly come. This was to be a torch-passing celebration; performances from earlier in the day came from Warren G, Mack 10, DJ Quik, The Game, Cypress Hill, and so many other seminal Los Angeles faces. But the work and presence of Drakeo the Ruler thoroughly showed that things don't make sense—that this life's absurdism and natural, human callousness are functionally indistinguishable when dealing out the same consequences in a zero-sum game.
So of course this concert was produced by LiveNation, the embattled live events company already facing charges of neglecting security procedures at Travis Scott's Astroworld festival. And of course this happened the same year that fellow Stinc Team member and fellow LASD political prisoner Ketchy the Great tragically passed away in a car crash. If it feels stupid to say that Drakeo had "awful luck" or "was cursed," that's because it is indeed stupid. Drakeo was the direct human consequence of bad policy, neglected city corners, criminalized poverty, a commercial industry that fetishizes hardship, and Los Angeles' insatiable jealousy streak.
At times, it seemed like Drakeo the Ruler existed specifically to defy expectations and defeat odds, but that's the kind of uninspiring voyeurism that dominates artificial understandings of "West Coast Hip-Hop" in the first place. That's all to say it ignores who Drakeo really was: a father to Caiden, his son who will be turning five years old next month; a preternaturally intelligent creative, offering perspectives and visions that felt otherwise unconjurable; a Black man who owned his music, split the profits with his people, and refused to compromise with the corrupt rulemakers. He manipulated language not only because it was his style, and because the God-level rapper needed to challenge himself, but because the opps on both sides were hanging on every word. Handling that pressure with cool humor gave Drakeo's listeners a share of uncut optimism to work with. Who knows how many lives were saved by that on its own?
Alongside Ketchy, Drakeo will be forever loved, mourned, and invoked. His hair-raising sheeeeesh call will ring throughout the land, the bingo lingo to be preserved on custom Buddha-shaped granite tablets. Barney's is still for the Jakes. The legacy will be bravely carried by Caiden, Ralfy, Joog, Ron-RonTheProducer, and the rest of the Stinc Team and Caldwell family. Imitations and misappropriations will inevitably come and go, but the void left by Drakeo's passing is going to be unfathomably massive for as long as we're all here. Ain't That the Truth. 
Long Live The Ruler. There will never be another.