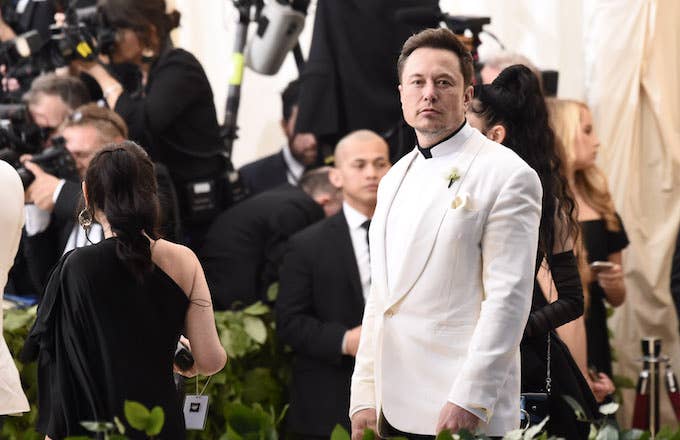 It's difficult to exaggerate the size of Elon Musk's footprint on the public imagination. Tesla has made electric cars cool. SpaceX has normalized the notion that commercial space travel is achievable. The Boring Company is slated to break ground on both coasts, potentially revolutionizing inter-city infrastructure; it also sells branded flamethrowers. OpenAI is developing artificial intelligence with the specific aim of not fomenting a robot uprising. PayPal, a service Musk co-founded, is still a behemoth. Elon Musk is out here, everywhere.
Much of his ubiquity is not directly attributable to the South African entrepreneur himself, but that hasn't stopped Musk from becoming a symbol of brilliance and ambition. Even as his companies bleed money and his haughty promises recede further into the horizon, the billionaire remains respected and fawned over. His tweets are news; his dating life goes viral; and debates rage over whether he is Tony Stark, Bruce Wayne, or a supervillain. Rappers are especially fond of him, and their praise of him reveals a unique pattern. More than just geeky over-recognition or techie adulation, the Elon Musk rap fan club is a collective yearning for more resources and consideration for black artists, a public wish for rappers to be taken seriously beyond music.

Kanye is the clear figurehead of this group. He's admired Musk since the start of the decade, calling him up unexpectedly and visiting SpaceX headquarters. Pharrell also once toured SpaceX and snapped a photo with Elon during that era, but he was probably just retrieving his newly purchased Tesla. Kanye's veneration of Musk has a more aspirational tenor. Each time Kanye has name-dropped Musk, from one of his infamous rants, to a radio interview, to a discussion at Art Basel, it has been in awe of Musk's sprawling ambitions. Like Kanye's other idols, Walt Disney, Mozart, and Steve Jobs, Elon Musk represents visible, spectacular change, disruptions so impactful and visible that they shape history. For years, Kanye has pushed DONDA as a company that can potentially create anything, and Musk signifies that possibility. Musk has responded to this reverence by penning Kanye's blurb in Time's 2015 100 Most Influential People List and insisting that Kanye is one of his biggest influences, but it's still a markedly one-sided relationship. Earlier this month, like many celebrities before him, Kanye publicly thanked Elon for his Tesla and claimed he had entered the future; Musk offered a retweet.
the Elon Musk rap fan club is a collective yearning for more resources and consideration for black artists, a public wish for rappers to be taken seriously beyond music.
Tyler, the Creator's relationship with Musk is a bit more loose. The pair shares a mutual interest in cars, and have bonded over the Tesla and the McLaren. The excited tone of their few Twitter exchanges is pretty par for the course considering Tyler's general high-energy persona, but there's still a palpable sense of admiration. "I HOPE YOU HAVE A GOOD DAY AND ANY IDEAS YOU HAVE AND STUFF GO FOR THEM NO MATTER WHAT NIGGAS SAY SHOUT OUT ELON MUSK," Tyler once tweeted, to which Musk replied, "Thanks Tyler." Tyler views Musk as more of a role model than a potential benefactor, which makes sense in the context of Tyler's DIY spirit and his own troubled expansions beyond music. Tyler doesn't believe that GOLF can do anything, but he does insist that it can do more than it's allowed, and Elon Musk embodies that unfulfilled potential. Their relationship is also one-sided, and Tyler wants it that way. The Neptunes, Kanye, and Stevie Wonder are his muses; Elon Musk is his finish line.

For Jaden Smith, Elon Musk is the starting point. "I love Elon," Smith once told Business Insider, "He's one of my biggest inspirations in the world." Smith was promoting Just Water at the time, his brand of sustainable bottled water, and Musk functioned as a symbol of his resolute belief that Just Water could tilt the bottled water industry toward more eco-friendly practices. In Smith's music, too, Elon embodies this frontier of new possibilities. His video for "Icon," a single from his last album, was filmed in front of a Tesla. "I need you to listen to the vision," he rapped as the video flitted between shots tracking the Tesla's sleek curves and images of Smith dancing, the line between human and design intentionally blurred. Last month Smith distilled the core of his Elon standom into a tweet: "Elon Musk Builds Spaceships, You Can Do Whatever TF You Want If You Set Your Mind To It." Smith's admiration of Elon is completely open-ended and directionless, and that's the point. Through Elon Musk all things become possible. He's a human vision board.

Donald Glover's perception of Elon Musk is more ambivalent. When the New Yorker profiled Glover earlier this year, he viewed him as competition. "I don't see anyone out there who's better," he said, referring to his extensive skill set. "Maybe Elon Musk. But I don't know yet if he's a supervillain. Elon is working on ways for storytelling not to be the best way of spreading information. Sometimes I get mad at him—'You think people are insignificant!' But we probably are at the end of the storytelling age. It's my job to compress the last bits of information for people before it passes." For Glover, Musk is a harbinger of impending doom, and thus a catalyst to stave off whatever horrors loom. Though it's masked as skepticism, it's essentially another form of admiration. Musk is Glover's personal SkyNet; it's obvious who plays John Connor.

In all these permutations—respect, esteem, motivation, rivalry—Musk operates as an emblem of unstoppable genius. What's fascinating is that his net worth, his assets, and even his skills never factor into this appraisal. No one ever mentions what Elon Musk does. He's lionized for his audacity, his vastness, his presence. He's the ultimate influencer, rappers believe, and that's a prize in itself. For these artists in particular, all of whom are recognized for being talented, but haven't quite been credited or awarded outside of entertainment, Musk is on the other side of that thick glass ceiling. By invoking him they nominate themselves for greatness and opportunity, bypassing the limits of rap. All rappers want money and power; these rappers want rupture. Elon Musk is the patron saint of impact.
Ultimately, Musk is just the latest addition to an ever-expanding pantheon of people rappers admire.


Mogul ambitions are a pillar of rap and a logical goal for anyone familiar with the history of rappers vanishing from the cultural consciousness, but Elon Musk isn't viewed as a mogul. He's seen as an innovator, a medium in constant contact with the future. If the image of a "Black Beatle" signifies undeniable cultural dominance, a black Elon Musk represents an unquestionable cultural legacy, influence so manifest that there is a before and after.

It takes tremendous ego and naivete to credit Musk with so much power and to seek to duplicate it, but it also clearly comes from a sense of real disenfranchisement. When Tyler, the Creator lost his Mountain Dew endorsement over a surreal commercial that was labeled racist, it was a real setback for him; his obscured blackface performance in the "Tamale" video seemed to carry over that grudge. Likewise, Kanye's shitposting in 2018 feels like retribution for what he sees as a career full of concessions and obstacles. He's finally free he insists as morphs into a firebrand with no particular goal other than provocation and attention. Perhaps he's always wanted the freedom to destroy more than the freedom to create.

Ultimately, Musk is just the latest addition to an ever-expanding pantheon of people rappers admire. Not entirely different from historic shout-outs to Michael Jordan, Oprah, Trump (before and after the 2016 election), Steve Jobs, Barack Obama, and Michael Jackson, citing Musk is a way to embellish one's mythos, to gaze at the star chart and plot a course. This Musk fetish rings ominous when you consider Musk's repulsive business tactics and history of empty rhetoric—in many ways, he's just a more palatable Donald Trump, another billionaire with a global brand that obscures his regular failings. But in a world where attention is the highest currency, it makes sense that a noisemaker would become a fixation for the creators of the globe's most ubiquitous yet unappreciated sound. The future is loud.