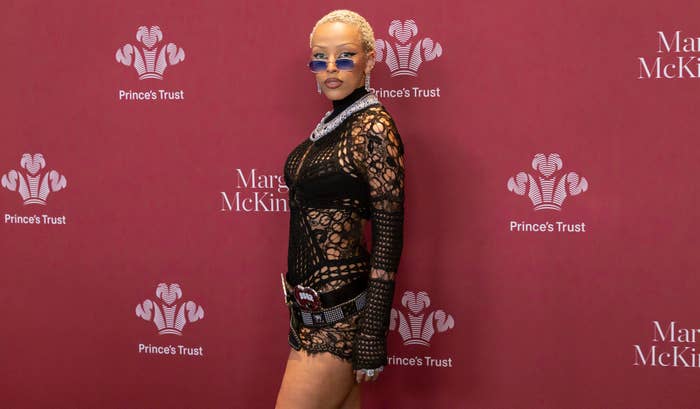 Doja Cat had a few things to get off her chest on Tuesday night. 
First the Grammy winner targeted her last two albums, categorizing them as nothing more than money makers. 
"Planet Her and Hot Pink were cash-grabs and yall fell for it," she penned on Twitter. "Now I can go disappear somewhere and touch grass with my loved ones on an island while yall weep for mediocre pop." 
Planet Her arrived in 2021 and saw features from heavy-hitters like The Weeknd, SZA, Ariana Grande, Young Thug, Gunna, Eve, and JID. It hit No. 2 on the Billboard 200 and has spent 97 total weeks on the chart, currently sitting at No. 85. 2019's Hot Pink peaked at No. 9 and spent 155 weeks on the albums chart. This leaves her debut, 2018's Amala, in the non-cash-grab department.
The 27-year-old then changed her forthcoming album title, writing, "It's not called hEllMoUth either it's called First of All." 
She confirmed, "And yes I'm announcing the album title right now." 
The star previewed a new song on her Instagram Stories as well. The track features a slow-flowing beat resembling more soulful hip-hop compared to her electrifying pop sound. 
Many fans chimed in, with some giving criticism no one asked for. "I just know this album is gonna flop because her fans don't like this type of sound from her," one Twitter user wrote.
"Purging," Doja replied, seemingly hinting that she's refining her fan base. She then offered a farewell to someone saying she "lost me w that last song," and told another user she won't sprinkle in any pop to please fans.
Doja changed her Twitter bio to read "'First of All' and 'Finally,'" possibly hinting at another project
Last week, Doja debuted a new bat skeleton tattoo that flows down her spine. The ink marks a fresh start for the artist as she shared the meaning behind the body art. "Bats often represent death in a sense of letting go of the old and bringing in the new. They are symbols of transition, of initiation, and the start of a new beginning," she highlighted.