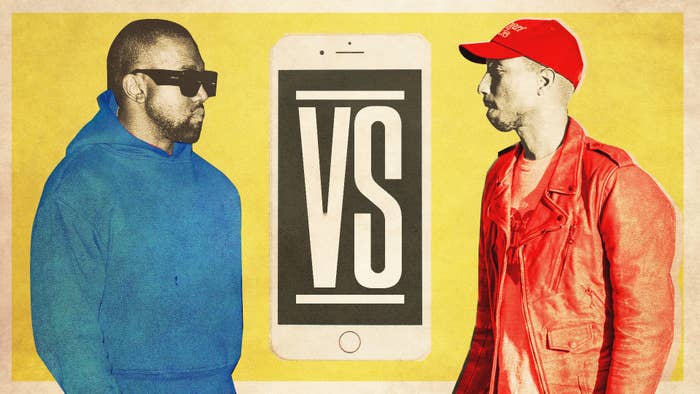 After Timbaland and Swizz Beatz kicked off the Instagram Live battle trend on March 24, they've been instigating follow-ups, which have included more producer battles (Boi-1da vs Hit-Boy) as well as songwriter battles (Sean Garrett vs The-Dream and Johnta Austin vs Ne-Yo). After a few rounds, they gave the series a name: Verzuz.
These battles have already delivered memorable moments that managed to briefly distract us from the daily onslaught of bad news we've been bombarded with lately. Where were you when Boi-1da debuted a new Drake and Roddy Ricch song, just moments before Hit-Boy responded with an unreleased Big Sean and Nipsey Hussle collab?
We couldn't help ourselves from fantasizing about the incredible battles that might pop up next in this series. To keep things interesting, we've separated them into three categories: producer battles, crew battles, and hook battles. Dive in below.
PRODUCER BATTLES
Pi'erre Bourne vs Ronny J
Pi'erre Bourne and Ronny J are two of the most successful beatmakers to emerge from the ranks of the SoundCloud rap world. Ronny J produced one of the songs that really kicked off the SoundCloud rap wave (in fact, you can hear that argument here), Denzel Curry's "Threatz." And Pi'erre's work with everyone from Playboi Carti to Trippie Redd and (admittedly against his will) 6ix9ine helped the movement hit its commercial heights. But that's far from it for each of them. Ronny J's aggressive style brings out the best in everyone from Lil Pump to Ski Mask the Slump God to Smokepurpp to even J. Balvin. And Pi'erre's more relaxed beats have kept artists like Carti and Young Nudy coming back to the well again and again. This one's for the kids, and it just might be more lively than any other battle on this list. —Shawn Setaro
Kanye vs Pharrell 
A Kanye West and Pharrell Instagram Live contest has become one of the most requested battles since the trend started a couple of weeks ago. On his own, Pharrell could take up days of time running through his solo hits like the cheery dance anthem "Happy" as well as his collaborations with Beyoncé, Kendrick Lamar, Migos, and so many more. And if he were to add in records he produced as part of the Neptunes, he would take things to another level. Remember that, in their prime, Pharrell and Chad Hugo were responsible for over 40% of the songs on the radio. And no matter how you feel about Kanye, there is no denying his catalog and influence on rap. Prior to producing his own solo records like "Jesus Walks" or "Father Strecth My Hands," he also lent a hand to JAY-Z on "Izzo (H.O.V.A), Beyoncé on "Party," to Alicia Keys' "You Don't Know My Name," and many more. This face-off is less about a winner and more about celebrating two hitmakers who have been such a large part of hip-hop music for nearly two decades. It would be a true dream battle, if it actually happened. —Jessica McKinney
Diddy vs Jermaine Dupri 
This is a battle for the sake of nostalgia. Diddy and Jermaine Dupri are gatekeepers of the biggest club hits and dance records of the '90s and 2000s. Dupri made his mark in 1992 with Kris Kross' rambunctious anthem "Jump." Since then, he's stacked his catalog with party records that have influenced some of the greatest dance crazes in hip-hop like "I Think They Like Me (SoSo Def Remix)" as well as Hot 100 pop R&B songs that are played at weddings and special events (he co-produced and wrote Mariah Carey's "We Belong Together"). Dupri also fostered the career of millennial heartthrob Bow Wow, producing a majority of his discography. And Diddy's footprint in hip-hop culture is just as impressive. He plucked Notorious B.I.G. from the streets of Brooklyn and made him a star. Of course, fans would have to endure Diddy stopping every track to throw in an ad-lib or bust a quick dance move, but it would be worth it to hear him run through tracks like "Juicy" and "Hypnotize." Big isn't the only artist on Bad Boy's roster to get some airtime. In the label's heyday, everyone from Mase to Lil Kim and 112 was pumping out hits. It's also worth noting that Bad Boy's reign also includes Yung Joc, Dainty Kane, and Day 26. 
What's great about Diddy and Jermaine Dupri is that they have something for every type of fan. If you're not feeling the rap segment of this battle, allow them to transition to another genre. Dupri's R&B catalog is exceptional, with hits from Mariah Carey (many of which he also co-wrote), Janet Jackson, Usher, and Ashanti. Dupri's R&B records probably run even deeper, but Diddy can keep up by playing tracks from Mary J. Blige, Jagged Edge, Faith Evans, and more. This battle would be ridiculous. Honestly, everyone would be a winner. —Jessica McKinney
Just Blaze vs Heatmakerz 
Just Blaze spent a solid 11 years behind the boards at the now-legendary Baseline Studios, pumping out early aughts classics for the Roc-A-Fella crew and beyond. The Roc's dynasty would have been short-lived without Just's blazes for Hov, Beanie Sigel, Freeway, and the like. And he's still going to this day, working with the A-list of the A-list (Beyoncé, Eminem). At the same time Just was cooking up the Roc, the Heatmakerz were giving Dipset their signature sound. They were responsible for the sped-up soul chops that turned the Harlemites into a worldwide sensation. A battle between Just and the Heatmakerz would be a mindblowing feast of high-pitched vocal samples and classic hooks. Every "Oh Boy" would be countered with an "I'm Ready," every "U Don't Know" with a "Dipset Anthem." The streets would never be the same. —Shawn Setaro 
London on da Track vs Metro Boomin
London on da Track and Metro Boomin are two trap producers who have taken Atlanta's music scene to new heights. They've both worked with major artists like Drake and 21 Savage, but no collaboration sounds alike. These two could go toe-to-toe with some of the greatest hits of the decade. Imagine London kicking it off with 2014's "Lifestyle" (performed by Rich Homie Quan and Young Thug) followed by Metro's "Jumpman" (Drake and Future). It wouldn't all be about rap, though. Both Metro and London can switch things up and battle it out with R&B records like Summer Walker's "Playing Games" (London) against the Weeknd's "Heartless" (Metro). With two of the most popular producers (and producer tags) in the game, there's no telling what could happen during this battle. Who knows, we could even catch some wild previews of unreleased music. —Jessica McKinney
Southside vs Lex Luger
This battle almost happened a few years ago, with $100K on the line. Southside and Lex originally co-founded 808 Mafia, but Luger left to strike out on his own. And both have more than their share of songs that were not only hits, but also went on to define an entire era in hip-hop—an era we are still, in a lot of ways, in the midst of today. Few songs have been more influential than Lex's "Hard in da Paint," and the successes that followed in its wake, from "B.M.F." to "H.A.M." and even some songs without acronyms, set the stage for pretty much every trap producer who followed. But Luger's former partner picked up the torch when Luger slowed down to battle addiction and mental health issues. Southside teamed up with Future for songs on the classic projects Monster and DS2. And he's continued to work with the hottest artists: Travis Scott, Quavo, and countless others. We wish both of these guys the best, and want them to work out their issues in a healthy way—in front of the whole world, on Instagram. —Shawn Setaro
Toomp vs Collipark 
DJ Toomp has been a Southern hip-hop pioneer since he was working with Raheem the Dream and MC Shy-D back in the '80s (to hear his memories of those days, check this 2017 interview I did with him). But his real come-up came about 15 years later, when he began working with T.I. Toomp executive produced and did four bangers on the album that gave trap music its name. The partnership only expanded from there, culminating in the iconic "What U Know." Plus, there are classics with Jeezy, Ludacris, and other ATL-iens. And when those run out, he can pull out the big guns: a good chunk of Kanye's Graduation album, including "Big Brother"; and a song by said big brother himself, JAY-Z's "Say Hello." If Toomp is the prince (if not the originator) of trap, Michael "Mr. Collipark" Crooms is the prince of crunk—a title he cemented by producing the Yin Yang Twins' "Wait (The Whisper Song)." But he's a lot more than that. He's got mid-aughts classics with Bun B, David Banner, Bubba Sparxx, and more. And for that all-important last round? Well, I dare anyone to top "A Bay Bay." —Shawn Setaro
Murda Beatz vs Boi-1da
Murda Beatz and Boi-1da both grew up in Ontario (though Murda has long since abandoned his native land for Los Angeles). And both have ties to Drake. But only one can truly represent the Maple Leaf in this battle for Canadian supremacy. Boi-1da's track record is longer. His breakout year was 2009, when he parlayed Drake's "Best I Ever Had" into work with the likes of Eminem and Birdman. Since then, he's been consistent, holding down Drizzy over and over again, while also making time to work with Rick Ross, Big Sean, Game, Soulja Boy, Hov, and many, many more. Meanwhile, Murda Beatz started out in Chicago and Atlanta, scoring up regional successes in 2013-14 with mixtape cuts by Fredo Santana and Migos. That slow and steady rise just exploded in 2018 when he co-produced "Nice for What." And things have been at hyper-speed since then, with songs for almost every major artist you can think of. So even though he has fewer years behind the boards than his competitor, it would be one hell of a fight. May the best (country)man win. —Shawn Setaro 
Tay Keith vs Wheezy
Tay Keith was our producer of the year pick for 2018—which was shocking, considering that he effectively came out of nowhere, having only a handful of credits to his name and he was still in college at the time. But that didn't stop him from killing the game with "Look Alive," "Nonstop," and of course "Sicko Mode." If you heard his producer tag, you knew it was a can't-miss song. And Wheezy is quickly becoming the future of Atlanta. He's the go-to guy for Young Thug and his YSL crew like Gunna and Lil Baby, and also finds time to work with Future, Lil Uzi Vert, Rich the Kid, Young Nudy, and more. A battle with Tay Keith would put Wheezy's powerful, majestic style (see the fanfare-sounding melodies on Thug's "Hot," for example) against Keith's energetic, of-the-moment drum programming in a battle to see who's the hottest right now, and who's likely to leave the biggest mark on the game. —Shawn Setaro
Alchemist vs Madlib
This would be the battle no hardcore rap fan would want to miss. If you thought Swizz Beatz and Timbaland's IG battle went for a long time, Alchemist and Madlib would definitely keep you up past your bedtime running through all their classics. Complex dubbed Madlib the 2019 Producer of the Year due to his work on Freddie Gibbs' Bandana, but his discography goes way deeper than that. With Madlib on the set, we could relive hits from the past like Madvillainy, his collaborative project with MF DOOM, or be introduced to something new like Lulu, his recently released project with Conway the Machine. Alchemist is still in the game, though. His production discography dates back to the mid-90s with credits on Prodigy's "Keep It Thoro" and Jadakiss' "We Gonna Make It." More important to reliving their greatest hits though, this battle would be an opportunity to see legendary artists at work. The thought and precision that goes into each record is something worth marveling at. Alchemist most recently commented on a possible Instagram Live battle in an interview with Eliott Wilson, saying Madlib would "absolutely destroy me," but here's hoping this still goes down. —Jessica McKinney
Mike Will Made-It vs Mustard 
You can't discuss the last decade of music without bringing up Mike Will Made-It and Mustard. Most recently, Mustard delivered two of the biggest (and best) songs of 2019, "Pure Water" with Migos and "Ballin" with Roddy Ricch, but that's just the beginning. As an Los Angeles native, Mustard has an ability to create music that feels relevant to the region but also resonates with outsiders. He helped YG gift L.A. with the classic My Krazy Life album, and his collaborations include a dizzying list of greats from Rihanna to Beyoncé to the Migos to Nipsey Hussle. Mike Will also helped shape college and festival experiences with GOOD Music's "Mercy," 2 Chainz's "No Lie," and Juicy J's "Bandz A Make Her Dance." His musical output slowed down after producing Kendrick Lamar's "DNA" and "Humble" in 2017, but he has enough music from the past decade to make up for that. There's no way you could leave this Instagram session unsatisfied. —Jessica McKinney
---
CREW BATTLES
Dreamville vs TDE
Who you pick in a battle between Dreamville and Top Dawg Entertainment reveals more about your rap personality than you'd probably care to admit. Dreamville fans will obviously point to J. Cole's ability to go platinum without any features, EarthGang as the second coming of OutKast and J.I.D's DiCaprio 2 as the best thing out of Atlanta since Thugger. Haters will call Cole corny, EarthGang OutKast rip-offs, and J.I.D as a rapper with much to prove. Top Dawg is more established, though reliant on more hype than Dreamville. Kendrick is in a league of his own, obviously, but DAMN. came out in 2017. ScHoolboy Q is a good second star, but he seems more interested in golfing and raising a family than aspiring for the charts at the moment. Ab-Soul will spend 20 minutes railing about conspiracy theories before he even gives you a song, and Jay Rock is just trying to convince you to give him a chance. And then there's SZA and Isaiah Rashad, two of the label's most exciting artists, but two artists unwilling to give into traditional release schedules. With Anthony Tiffith going against Dreamville's Ibrahim Hamad, as they each pick songs from their respective crews, this battle would be tight and long-lasting. —Will Schube
Stinc Team vs Griselda Gang
The members of L.A.'s premiere rap squad, Stinc Team, are currently facing various levels of harassment from the LAPD, so for the sake of this argument, let's pretend that the wildly corrupt tactics of L.A.'s police force have subsided and Drakeo the Ruler, Ketchy the Great, Ralfy the Plug, and Bambino are able to battle Buffalo's wrecking crew in peace. Stinc Team relies heavily on Drakeo's fantastic albums, including the just released compilation, Free Drakeo. Griselda is just too tough with the way Benny the Butcher, Westside Gunn, Conway the Machine, and the recently added Boldy James are able to harness a shared aesthetic, but this battle would be an entertaining bout. With recent remixes from Danny Brown and Earl Sweatshirt, Drakeo and his squad have the clout to go head-to-head with Griselda, but the sheer depth of the Buffalo crew might be too much for Stinc Team's role players to handle. After Drakeo runs through his discography, the rest of the roster could be too thin to put up a fight against the prolific output of Westside and Conway. Regardless of who takes it, this would be a phenomenal battle between two of rap's most exciting crews. —Will Schube
The Ultimate Battle of the Babies
Let's have a little fun with this one and play it out, bracket style. March Madness came and went without a whisper but April brings the Battle of the Babies, rap's most talked about competition finally coming to life. It's a simple eight-team tournament headlined by DaBaby, Lil Baby, and Sada Baby, with the veteran baby, Birdman, trying to make one last run towards glory. Off the heels of My Turn, we have Lil Baby in at number one, with DaBaby a close behind two seed. Sada Baby is the darkhorse at number three, with Birdman at number four. Facing off against Birdman is Baby Keem, hoping to use "Orange Soda" to fend off a lifetime of success from the OG Baby. In at six is SahBabii, hoping to Double Dick his way into an upset. At seven is the Dale Earnhardt of rap, Big Baby Scumbag, and rounding out the bracket is Bhad Bhabie, who doesn't really stand a chance, but we needed eight artists so why the hell not?
Lil Baby obliterates Bhad Bhabie, able to dive deep into a discography that grows more impressive by the day. The two versus seven matchup is more interesting, with Big Baby Scumbag utilizing his love of Miller Lite to get DaBaby drunk five songs in. Unfortunately, Baby's catalog is just too deep, especially after the release of "Find My Way." Sada Baby records six new songs while battling SahBabii, and while the latter puts up an admirable fight, Sada is just too hot right now to lose. Four versus five is the most interesting matchup here, and while the 51-year-old Birdman succumbs to a nap early in the competition, he's able to outlast Baby Keem with relative ease.
The bracket goes chalk in round one, but the one/four matchup goes to Birdman who receives a little bit of Dr. Carter rejuvenation and teaches Lil Baby not to trifle with the OGs. Sada Baby continues his hot streak and somehow outlasts DaBaby, who spent too much energy trying to escape round one and can't compete with Sada's gargantuan output. In the final round, the three seed Sada Baby uses his cultural cache to outlast a fading Birdman. The latter had his day as rap's best baby, but in 2020, Sada's reign is only beginning. He's less beholden to industry rules than Lil Baby or DaBaby, and leading an upstart Detroit scene into a new era. The landscape changes daily, but as of now, in this outrageous hypothetical no one asked for, Sada Baby is rap's best baby. —Will Schube
---
HOOK BATTLES
Chris Brown vs Justin Bieber  
If you want a hit, just call Chris Brown or Justin Bieber to perform the hook. There's something about these two that instantly increases a track's popularity whenever they're involved. CB's catalog as a featured guest might be a little more versatile. He can jump from singing on the hook on rap tracks like Bow Wow's "Shortie Like Mine" or Ace Hood's "Body 2 Body" and then transition to pop and R&B duets like his Jordin Sparks collab "No Air," or Brandy's "Put it Down." No matter who he's on the song with, he instantly becomes the main focus due to his unrivaled riffs and ad-libs. Justin has been just as vital to a song's success in the past couple of years. It was his hook on "Despacito" that helped Luis Fonsi and Daddy Yankee make history as the first Spanish song to peak at No. 1 on the Billboard Hot 100 since "Macarena" in 1996 (the track also broke YouTube and streaming records). And his contribution on DJ Khaled's "I'm the One" was the glue that held verses from Chance the Rapper, Quavo, and Lil Wayne together. —Jessica McKinney
Ty Dolla $ign vs Jeremih 
Ty Dolla $ign and Jeremih are the unsung heroes of hooks. You might be surprised to hear how many they have helped create. Both Jeremih and Ty have enough tracks to draw from with their solo catalogs, as well as the singles they've hopped on as featured guests. Where would we be if Ty didn't come through with his hook on 2010's "Toot It and Boot It" or 2014's "Or Nah"? Jeremih has also provided smooth transitions on Wale's "On Chill," and "Down on Me" with 50 Cent. It's also interesting to see how both artists have transitioned from working R&B and hip-hop tracks to pop songs. Ty Dolla, in particular, has worked with Khalid, Skrillex, YG, and Future within the span of a couple years. While Jeremih has typically stayed within the R&B genre, he has worked with a wide range artists from PartyNextDoor to Justine Skye and August Alsina. While the Live would get competitive, the duo could finish things peacefully by playing records from their joint album MihTy, which was released in 2018. —Jessica McKinney
---
BONUS BATTLE!
645ar vs RMR
This one ain't gonna last long. The battle for hype in 2020 is between 645ar, who has four songs on Spotify (totaling about six minutes), and RMR, who completely dominated Twitter for a day with the release of his gospel-gangsta anthem, "Rascal." At three minutes long, RMR would play "Rascal" four straight times while 645ar runs through his Spotify three times, before it becomes clear that this battle comes down to whose moment is strongest. 645ar unleashed his self-titled mixtape from last year, which betrays an emcee not totally reliant on squeaking towards success. His traditional rap tunes are average, but the fact that they exist would likely allow him to outlast 15 straight plays of "Rascal." It depends on how infectious you find RMR's song. If you can listen to it for five hours straight, getting something new out of it each time, you're probably insane, but will ride with him in this battle. Even with a less consistent discography, 645ar would be able to simply outlast RMR to take the crown. With his just-released "In Love With A Stripper," we see 645ar riding his buzz to victory. —Will Schube