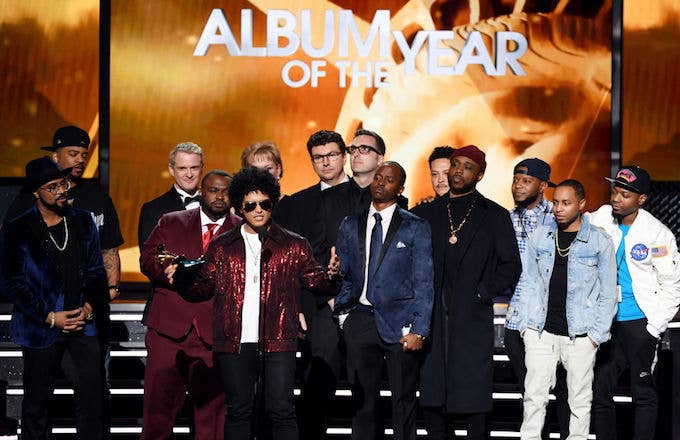 Over the past several years, the Recording Academy has been working overtime to shed its reputation as a stodgy, too-white and too-old voting body that wouldn't know a truly innovative artist if they sent an apologetic text to one. 
This year's Grammy nominations gave some people (full disclosure: including us) hope that they were finally wising up. With, by some metrics, hip-hop becoming the most popular style of music in the world, this year's list of nominees was more diverse than ever before. The slate of nominees was closer to reflecting what was actually going on in the world of music than ever before—and, in some cases, could have made for a show that was ultimately a little edgy.
Kendrick Lamar's Damn and Jay Z's 4:44 were both up for Album of the Year, and each seemed to have a realistic chance at winning the night's most prestigious award and take their place in history beside winners like Tapestry, Songs in the Key of Life, Sgt. Pepper's Lonely Hearts Club Band, and other historic LPs—and to become the first rap album to win since OutKast took home the trophy 14 years ago.
As you surely know by now, that was not to be. Bruno Mars' 24K Magic took home the trophy. While that album is superb—fun and successful in its mission to "see everybody dancing"—it is distinctly backwards-looking. Not for nothing did Mars thank '80s and '90s icons Jimmy Jam, Terry Lewis, and Teddy Riley in his acceptance speech. The fact that it won over Damn means that, yet again, the Academy went with the safe, retro choice over something more distinctly of-the-moment.
This has been a pattern for years. Just last year, Adele's 25 beat out Lemonade, an album so smart and relevant that it had its own goddamn syllabus. Taylor Swift's pop move 1989 bested To Pimp a Butterfly and, in a move reminiscent of this year, Daft Punk's disco-influenced Random Access Memories defeated Good Kid, M.A.A.D. City. Mumford & Sons' folk-lite anthems beat Frank Ocean's re-imagining of what R&B could be on Channel Orange. Herbie Hancock's mellow takes on Joni Mitchell bested Kanye's Graduation.
This dynamic—the safe over the daring—was sadly not limited to the night's final award. SZA's loss to Top 40 darling Alessia Cara fits the pattern just as well. It's something rely on, no matter the virtue signaling that happens onstage and in its nominations. Artists are starting to quietly not show up for Music's Biggest Night™. The likes of Kanye West, Frank Ocean, and Drake were no-shows this year, and the latter two didn't even submit their projects for consideration. It's hard to imagine Jay coming back after spending his night in the front row, constantly televised, but never invited onstage for any of the eight awards he was nominated for. 
So, as someone puzzling what to do about another old, stodgy regime once put it, what is to be done? Well, despite the internal changes, perhaps not much. This year's Grammys proved that the Academy are who we thought they were, and we shouldn't look for their patterns or priorities to change anytime soon.