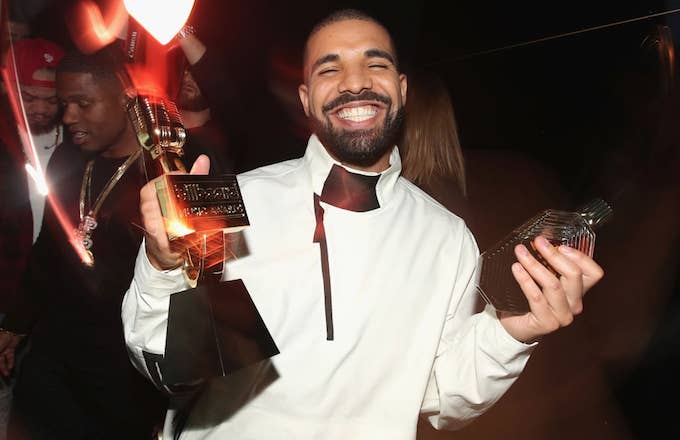 "I was an angry yout' when I was writin' Views/Saw a side of myself that I just never knew"
—Drake, "Do Not Disturb"
Drake's admission on More Life's final track came as a surprise to...almost no one. Drizzy's attempt at a magnum opus, 2016's Views, was immediately pegged by critics as dour, claustrophobic, moody—reviews read, not unfairly, like a thesaurus entry for "bummer."
It seems like Aubrey was taking notes. The superstar's next release was a noticeably lighter affair, backing away from the need to make any grand pronouncements about the state of The Boy, instead concentrating on things like afrobeats and dancehall sounds, Migos flows, and flutes.
So now that it's time for a new Drake album, what can we expect? Will he go back to endlessly complaining about people who want him dead? Or will we get the lighter, more fun Drake of a million mash-ups? Well, we've got some early indications about Scorpion, and things look promising.
While the video for "God's Plan" may have moved many of us to tears, it's not because the track itself is depressing. There are hints of the Views-era artist here; a sentiment like "It's a lot of bad things that they wishing on me" wouldn't sound out of place on his previous album. But between the uplifting video and the easily memorized melody, the song doesn't feel like a downer.
And "Diplomatic Immunity" finds our hero in a light and playful mood, doling out amusing insults that take just a second to catch ("hot topic like your everyday clothes" is, honestly, a pretty good dig). He's still put upon, of course—this is Drake we're talking about here. But that sense is not overpowering, the way it was on so many Views tracks.
His latest offering, "Nice for What," borrows heavily from perhaps the most party-centric genre of all: bounce. Any time you're operating in a style whose foundational text tells you to "shake that ass like a salt shaker," you're definitely in "having fun" territory.
Drake also seems to be brightening up via his feature appearances: Migos' "Walk It Talk It" and Blocboy JB's "Look Alive." The Soul Train-inspired video for the former was Drake at his cheesiest. It's a reminder that he has a background in acting, and he's hamming it all the way up—in a Jheri curl wig, no less. In the video for "Look Alive," Drake is doing his absolute best to Shoot, the Memphis dance Blocboy JB has been popularizing. Drizzy knows he can't dance—"Hotline Bling," anyone?—and it makes the effort that much more amusing. Drake is an entertainer, and when he digs his head out of the sands of his paranoia and moodiness, he's capable of lighting up the world.
All indications are that things are looking up for Drake, and we have moved past the woe-is-me era that culminated in Views. Here's hoping that this summer, Scorpion brings us more flutes and less frustration.