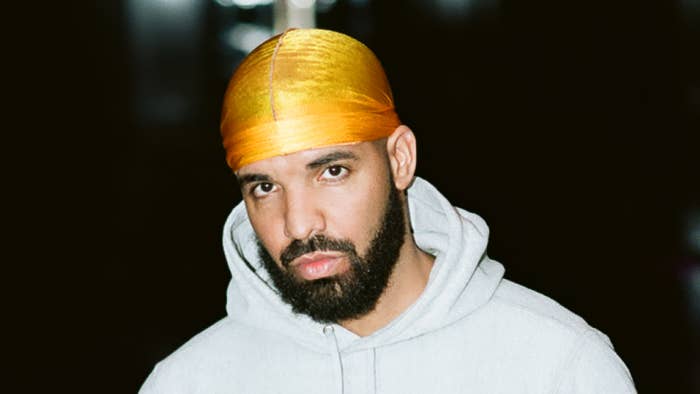 The rumors started early on Thursday: Drake was releasing a new project. Evening plans were canceled, speculations were made. Was this his long-awaited full length? Did it have any connection to the loosies and Instagram snippets he'd been sharing lately? Was this a way to capitalize on all those "Toosie Slide" streams? 
Finally, early Thursday evening, we had our answer: The Boy was releasing "some leaks and some joints from SoundCloud and some new vibes" in a collection called Dark Lane Demo Tapes. We'd have to wait until the summer for the proper album.
But Dark Lane Demo Tapes is no small consolation for Drake fans. It has the songs they've been hungering for, like "Pain 1993." And it features beats from a variety of producers old and new.
At least one of the songs took shape in a collaborative environment with many producers working together. Producer Foregin Teck tells Complex that back in January 2019, there were "about 10 producers" working in a secluded house in Los Angeles for about three weeks. Teck remembers himself, "Toosie Slide" beatmaker OZ, Sevn Thomas, Boi-1da, DRTWRK, Audi, Vinylz, and Jahaan Sweet. Out of those sessions came the Rick Ross and Drizzy duet "Gold Roses," as well as Dark Lanestandout "Losses."
But the story of "Losses" starts far from Los Angeles, though. It begins in Düsseldorf, Germany. Elyas is a 22-year-old beatmaker who Teck met at a workshop that he was giving with OZ in Switzerland. Impressed with the young producer, Teck signed Elyas and they began collaborating. So, when Teck arrived at the sessions, he contacted his young protegé, who promptly sent over a bunch of music. One of the compositions would eventually become "Losses." 
But it had to go through quite a metamorphasis. "I didn't recognize it was my sample or my melody when I got back," Elyas recalls. And there's a reason. Foreign Teck says he and Sevn Thomas slowed it down considerably. Then, Sevn went to town.
"We bought this little microphone at Sam Ash, and [Sevn] just recorded, because he could sing," Teck remembers. "So he recorded a bunch of vocals to it. And me and OZ and him, we just chopped it up, added some effects to it, and sped it back up. We added basic drums, just a kick, snare, and high hat, and started tweaking." 
Elyas, whose only previous major placement was on Tory Lanez' recent "Msg 4 God's Children" ("I had to wait like one and a half years after I've been signed and then it's like, 'Okay, another one, another one'—that's crazy," he marvels), says that he found out just "three or four days ago" that Drake would be releasing the song, and, like the rest of us, discovered on Thursday evening that it would appear on an actual project. 
"It felt like the night before Christmas as a young kid, you know? I couldn't really fall asleep and I was crazy," he tells Complex. 
While "Losses" may date back over a year, other Dark Lane Demo Tapes songs are much newer. Producer JB Made It is behind the Fivio Foreign and Sosa Geek collaboration "Demons," which came together a full year later, in January of 2020 ("I remember because it was on my birthday," he says.)
The U.K.-based JB was in New York City for sessions with a bunch of artists that month, including Sosa Geek. 
"I played the 'Demons' track to him," JB tells us. "They go crazy for it." 
In the middle of the celebration, JB had some other pressing business.
"So, I go to the bathroom and I was on the toilet," he remembers. "My manager came to me knocking on the door like two minutes later, knocking frantically. I was like, 'What's going on here? You're disrupting my business!' I was very confused. I actually thought I was going to get shot. [I thought,] I'm going to die in New York."
It turned out to be something a little bit different.
"He mentioned Drake. I was like 'Drake?!'—like Soulja Boy. I was like, 'What are you talking about?' I was confused because nobody really told me. He was like, 'Drake was on the phone.'"
JB came out of the bathroom to a different world. 
"Everyone was like, 'Bro, your life's about to change. You're about to go viral.' And I'm still not putting two and two together. I was still confused. Then I hear that Drake [was on] the phone and he said he wants to jump on the track."
When Drake shared a snippet of the track last month, JB was "speechless." Not bad for a beat that started with a sample he found on the music collaboration website Splice. 
"I was like, 'Oh yeah, this is cool,'" he says. "I kind of just built around it, chopped it up."
The track's release came just in time. "Three months ago I was in a lot of problems, a lot of struggles at home money-wise," he explains. And having a song with Drake "was the last thing I thought would ever happen."
For producer D. Hill, landing on the project was a little less shocking. The 24-year-old was behind not only Dark Lane's Future duet "Desires," but also the previously-released Drake/Future collab "Life Is Good."
"Desires" came about via Nayvadius. "I connected with Drake through Future," Hill says. "I was sending him beats. ['Desires' is] just one of the ones they happened to pick."
When Future posted a snippet of the track in August, Hill knew it was game on, but he tried not to get too excited. "A lot of times they never come out, especially when it's a snippet of a song," he says. Like many of the producers we talked to, he found out about "Desires" making Dark Lane when he saw the tracklist on social media. 
According to Hill, the song's other credited producer, "OVO" Noel Cadastre, is responsible for the track's outro. But the bulk of the song was all D. Hill.
"I'm not against collaborations," he explains. "But I felt like with me coming into the game, being a new name, I have to show people what I can do with just me. Then I can incorporate the collaborations into the mix."
Producer MexikoDro is best known for his work with Playboi Carti. But he doesnt show up on Dark Lane's Carti feature "Pain 1993." Instead, his famous "Plug!" tag pops up on "From Florida With Love." 
It's a track that dates back even further than "Losses"—all the way back to 2017. "Out of nowhere," MexikoDro remembers, Drake commented during one of Dro's IG Live sessions around that time, which led to a correspondence. Eventually, Noah "40" Shebib, Drake's go-to producer, sent over a melody, and Dro took things from there.
"I just did my thing, went crazy on the beat," MexikoDro producer tells Complex. "[40] put the melody together, and I put the drums. Broke the beat down, added the 808s, kicks, claps, hats, snares—everything that I needed to add to the beat to make it what it sounds like today." 
Dro is ecstatic that he has a track with a superstar, for a very particular reason—his mother. 
"If it wasn't for Drake, my momma wouldn't be proud of me," he says, admitting that his inactivity for the past few years was due to some unspecified legal issues. "It inspired me to come and show her that I'm doing something positive, and can support her and my family doing something I love. And she sees that."
---
Editor's note [Sunday, May 3]: A previous version of this article was edited to clarify information about the making of "Losses"