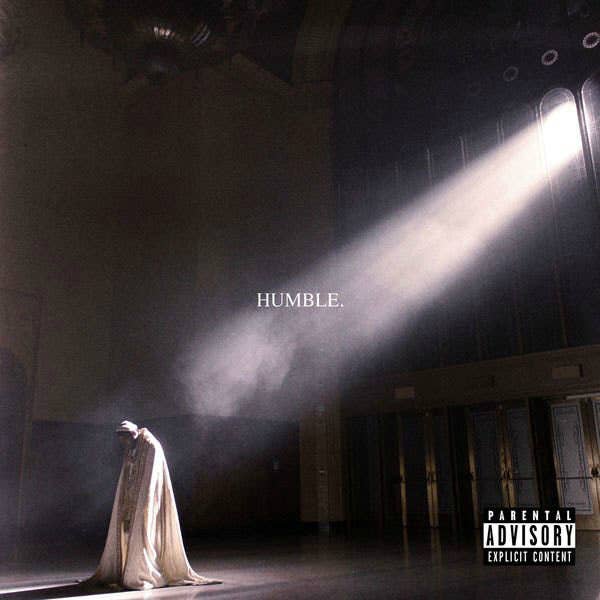 Without getting too personal, I've only ever recognized religion—Christianity, at least—through its most lavish icons, through gold and velvet. The Ukrainian churches in Winnipeg hold portraits of Jesus in robes he definitely couldn't afford, the megachurches in the American Midwest spend tens of thousands on audio/visual systems. You might be someone who feels religion in your bones, or maybe you had a pastor who drove a Camry and made you feel safe; that's not me. My mom taught herself how to make stained glass in our basement.
Anyway, Kendrick Lamar. "Humble," with a Mike WiLL Made-It-produced beat that has similarities to songs like Mr_Hotspot and Team Twin's "My Friends (We Get Turnt Up)" and Jimmy Wopo's "Elm Street," came out Thursday and is, presumably, a single from Kendrick's yet-to-be-titled April 7th album. (Both of those other songs are recommended listens, by the way; on the latter, Wopo, from Pittsburgh, raps, "If your daddy was a rat, then your ass is a mice." That song opens, "Lord, forgive me for my sins.") Kendrick's warning shot, "The Heart Part 4," was a feverish gasp for myth and stakes and the high-art things his music's always been steeped in. "Humble" feels like pushing someone out of the way in a cramped club, probably by the face.
Kendrick's work has always had a religious bent. Good Kid, M.A.A.D. City very nearly lapses into full-on Christian rap. He trafficks in symbols—on Obama's favorite song from To Pimp a Butterfly, a homeless man reveals himself to be God. What draws me to "Humble," and especially to its video, is how Kendrick plays with the iconography more freely, maybe more joyously, than he has before. Whether he's dressed like Ernie Els or the Young Pope, he's grinning at the camera. When his cornrows are on fire, when he's dipping deep into Being John Malkovich territory, when he's slumped in a chair in a hoodie at the last supper—he's having fun.
I'm sure there will be people who project a whole lot of baggage onto "Humble." At the time of this writing, the top comment on YouTube claims that Kendrick's "making fun of the rap game" by "doing that little thing all the rappers do in their videos with his hands," and that those who disagree should "go back to Lil Yotti [sic]." And, sure, the crux of the song is that his peers (or would-be peers, especially Big Sean) should sit down, be humble. But the truth is that Kendrick is moving in and out of the robes as he sees fit, sliding through marble foyers, hitting six-irons into the barren L.A. River.
He's been cast (and frequently cast himself) as a generationally important artist, and he's certainly grown into that—Section.80 began the mythmaking (and generational address), Good Kid was a classic debut by design, Butterfly a sprawling treatise on race in America—but it's hard to shake the feeling that Kendrick could have been perfectly happy as the 45th most popular rapper in the world. There's almost definitely an alternate timeline where they're still making Soundbombing and Kendrick always has one of the two best verses on the tape. This is someone who, in his formative creative years, was making Lil Wayne tributes to little acclaim, then realized he should be making Kurupt tributes instead.
He could have very well ended up as something between the two, a hyper-regional favorite with fans but no Imagine Dragons cosigns. And yet the mantle he's been given—the mantle he's snatched—has brought out something different in him. Aesthetically, there are few rappers in any generation capable of "Cartoon & Cereal" or "A.D.H.D." or "M.A.A.D. City" or "Hood Politics"; there's no serious argument to be made that Kendrick hasn't earned his spot in our brains. But how would rap be different if we all decided that, say, Busdriver albums must be picked apart with the same vigor? "Control" hit so hard because it was so hard, but also because Kendrick is part of a small coterie of rappers that we've collectively identified as Important, and from whom a verse like "Control" is taken seriously. The "Humble" video, whatever its intent, reads like a sly acknowledgment of these machinations, a nod to the stagecraft of it all.
"Humble" is a very good single. It's going to rattle around L.A. in a way "King Kunta" never quite did. And every time I hear it in Ubers and parking garages and those patios they have here where you can smoke spliffs openly but can't carry a drink, I'm going to think of Kendrick putting on a crown and smirking when it makes people bow.