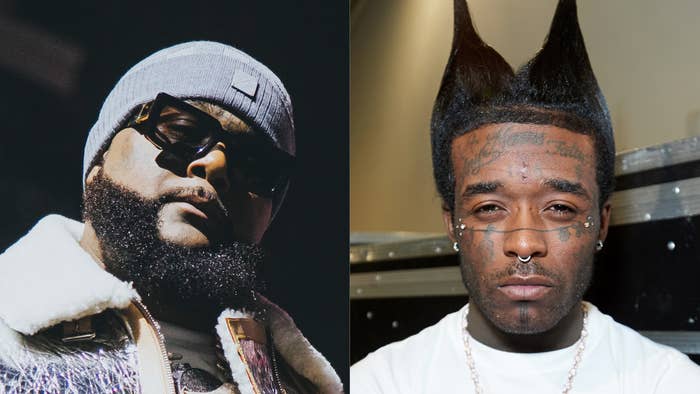 03 Greedo has revealed Lil Uzi Vert looked out for him while he was in prison by putting some money on his books.
During a recent interview with the Million Dollaz Worth of Game podcast, Greedo was asked if any of his rap friends kept in contact while he was serving time in prison. According to the West Coast rapper, Baby Pluto never lost touch and blessed him in a major way.
"I know on my way out, it was support from a lot of people, Lil Pump did a day with me and invited me to his mansion. I called Uzi up and introduced him to Uzi. Uzi jumped on a song for him. Uzi was there the whole time," Greedo said. "Even sometimes [they'd] be busy, [they] would hurry up and get back to me."
He continued: "One time I hit that n***a, I had my girl at the time hit that n***a and I'm like 'I'm just checking on you bro' and [they] said 'I'm sick, but I can't talk right now. Have your people answer the phone in a minute.' So it's like a 15-minute call, and I got off the phone. I get back in rotation and get back on the phone she like, 'That n***a just sent me $10,000.'"
Greedo explained the gesture surprised him because he just wanted to know how Uzi was doing and wasn't expecting any money to come his way. The Philly native also told Greedo there were enough funds if he needed something in case they were busy and couldn't answer a phone call.
"I ain't say I'm down bad [or anything], [and] that n-gga sent me 10 bands," Greedo continued. "Like '[just in case] for anytime I can't answer n-gga, [you] better dig out this bitch-ass pot. I ain't gone treat you like my girl.'"
He added: "Uzi a little shit talking little n***a. I expected so much different from him. That's my lil bro."
03 Greedo was sentenced to 20 years in prison after pleading guilty to gun and drug charges in Texas in 2018. He was initially projected to be released in 2026, but became eligible for parole in 2020, with a maximum sentence year of 2038. After serving 5 years of his sentence, Greedo was released in January.