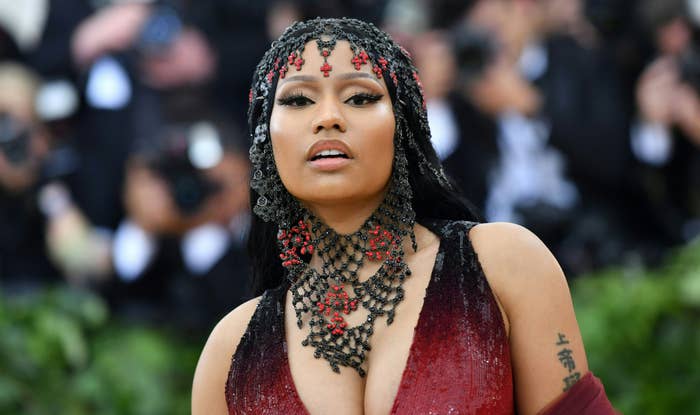 And here comes the FOMO. 
On Monday, Nicki Minaj took to Instagram and shared photos from a recent hang she and her husband, Kenneth Petty, had with Rihanna and ASAP Rocky. But stealing the show was Minaj and Petty's son, who Nicki affectionately calls "Papa Bear."
"#RokNRiha #QueenRih #CaribbeanGirlsRunit Love her downnnnnnn #NewYorkShit #YKTFV," Nicki captioned the post, which shows her and Petty sitting comfortably and looking right at the camera with their son on their lap, while Rihanna smiles next to them. ASAP, meanwhile, is chilling behind his girlfriend's head, being a little camera shy.
The "Anaconda" MC also shared another slide of videos, with one featuring her and RiRi posing and cracking jokes. "#ChunRih & My baby Majesty (the barbz love u more,)" Nicki wrote in the caption. Naturally, the legendary link-up had fans going crazy in the comments.
While a Rihanna and Nicki collab is what everyone really wants., Nicki has shown she can be pretty particular about who she works with these days. She recently told HipHopDx that she turned down an offer to appear on Doja Cat's hit single "Get Into It (Yuh)" because she didn't think she "could bring anything to it."
"It's not that I'm too busy at all. It's just, there were middle people involved in that situation so I had told her, if it was like how me and BIA were direct and we dealt with each other directly, it would be different," she said. "But I didn't love that song because I didn't think I could bring anything to it. So I asked them to send me something else. I think that was the second song they sent me, but I asked them to send me something else and they didn't send me anything else."