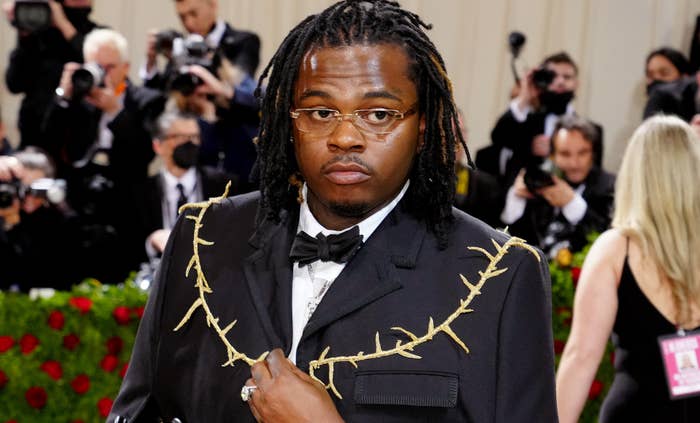 Gunna has released his first public statement since he was arrested on RICO charges back in May. He shared the message to his social media accounts, where he proclaimed his innocence and said he is being "falsely accused."
"2022 has been one of the best years of my life, despite this difficult situation," Gunna began. "This year I had the whole world pushing P."
He went on to say he's always used his art form to change his circumstances. "I worked, I honed my craft, I worked, I empowered Black Women in my industry," he wrote, adding that he was "being falsely accused and will never stop fighting" to clear his name.
The Young Stoner Life (YSL) member's open letter comes after he was denied bond at the end of May, with a trial date being set for Jan. 9, 2023. Gunna previously entered a not guilty plea on one count of allegedly violating Georgia's racketeering law. Prosecutors argued Gunna was "not just an associate" of YSL, but a "documented gang member" who was in a "command position." The judge deemed Gunna a "danger to witnesses and other folks tied to this" before denying his bond.
"The picture that is being painted of me is ugly and untrue," Gunna continued in his letter. "My fans know I love to celebrate life, I love my family, I love travel, I love music, I love my fans. I have all faith that God will grant me justice for the purity in my heart and the innocence of my actions."
Prosecutors have also aggressively sought to use Gunna and other YSL members' lyrics against them come trial time, a controversial tactic that has since spawned a massive petition from 300 Entertainment's Kevin Liles and Atlantic Record's COO Julie Greenwald called "Rap Music on Trial: Protect Black Art."
"As a Black Man in America, it seems as though my art is only acceptable when I'm a source of entertainment for the masses," Gunna wrote. "My art is not allowed to stand alone as entertainment, I'm not allowed that freedom as a Black Man in America."
During this weekend's Hot 97 Summer Jam, Young Thug echoed this sentiment and implored fans to sign the petition.
"I always use my music as a form of artistic expression and now I see that Black artists and rappers don't have that, you know, freedom," Thugger said. "Everybody please sign the Protect Black Art petition and keep praying for us." 
Both Gunna and Young Thug were named in a sprawling 88-page RICO indictment earlier in May, with the 56-count indictment listing 28 YSL affiliates in connection with charges such as conspiracy to violate RICO, murder, armed robbery, aggravated assault with a deadly weapon, and more. Young Thug was also denied bond, with Judge Ural D. Glanville saying in a June 2 hearing that he was concerned witnesses would be harmed or threatened if the YSL head was released.
Read Gunna's full statement below.
Following his message, Gunna's music video for "Banking on Me" arrived on Wednesday: