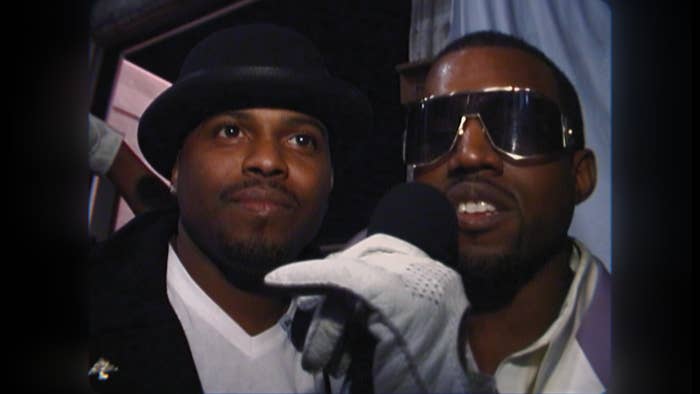 The first time Clarence "Coodie" Simmons ever picked up a camera, it was to film a fight for Channel Zero, a Chicago public access television show that covered the city's rap scene. The show's name is familiar to any Kanye West fan who has stumbled upon archival footage of the rapper's younger years. Originally created by Danny Sorge, Channel Zero was a hip-hop show that aired on Chicago's television sets back when artists like Common were only hometown heros and West was just cooking up beats for local rappers like Cap.One or Mikkey Halsted. By sneaking into concerts and events, Coodie was one of the only creatives in Chicago interviewing hip-hop artists like Run DMC, young sports legends like the late Kobe Bryant, and rising Chicago acts like Abstract Mindstate. The show was well-loved in Chicago for being raw and uncensored. Coodie remembers how the hip-hop artists he interviewed opened up to him because they were allowed to kick back, smoke weed, and speak more freely without any of the restrictions network television dictated. Overall, the show was known for taking creative risks. 
"Danny was a little afraid to film it, so I said 'Man, give me your camera.' When we put together that episode it started with a fight, but ended with The Last Poet talking about something positive," Coodie remembers. "So we were going to hit you with all this craziness to draw you in, but then hit you with a positive message at the end."  
The raw and uncut style of filming that Coodie is known for is the foundation of Netflix's new jeen-yuhs documentary, an enlightening three-part series about Kanye West. The documentary is exclusively composed of hours of behind-the-scenes footage shot by Coodie, who co-directed the film with his longtime creative partner, Chike Ozah. Traditionally, the safe approach to a music documentary would be using Coodie's footage as B-roll to substantiate present-day interviews with the subject at hand and their closest acquaintances. Yet, it doesn't feature a single scene with West—who now legally goes by "Ye"—sitting inside a brightly lit studio to be interviewed retrospectively about his career. Instead, Coodie and Chike produced a documentary that stylistically feels like Richard Linklater's Boyhood meeting Exit Through The Gift Shop. It gives a first person look into Ye's development into an icon over two decades, but also tells the story of Coodie, the young Chicago creative who follows his path on the periphery. 
"Although this documentary has everything to do with Kanye and Coodie, it's really about using them as a vessel to help other people unlock their true passions and understand how to move when you're a genius," says Chike. "How to use faith to overcome fear."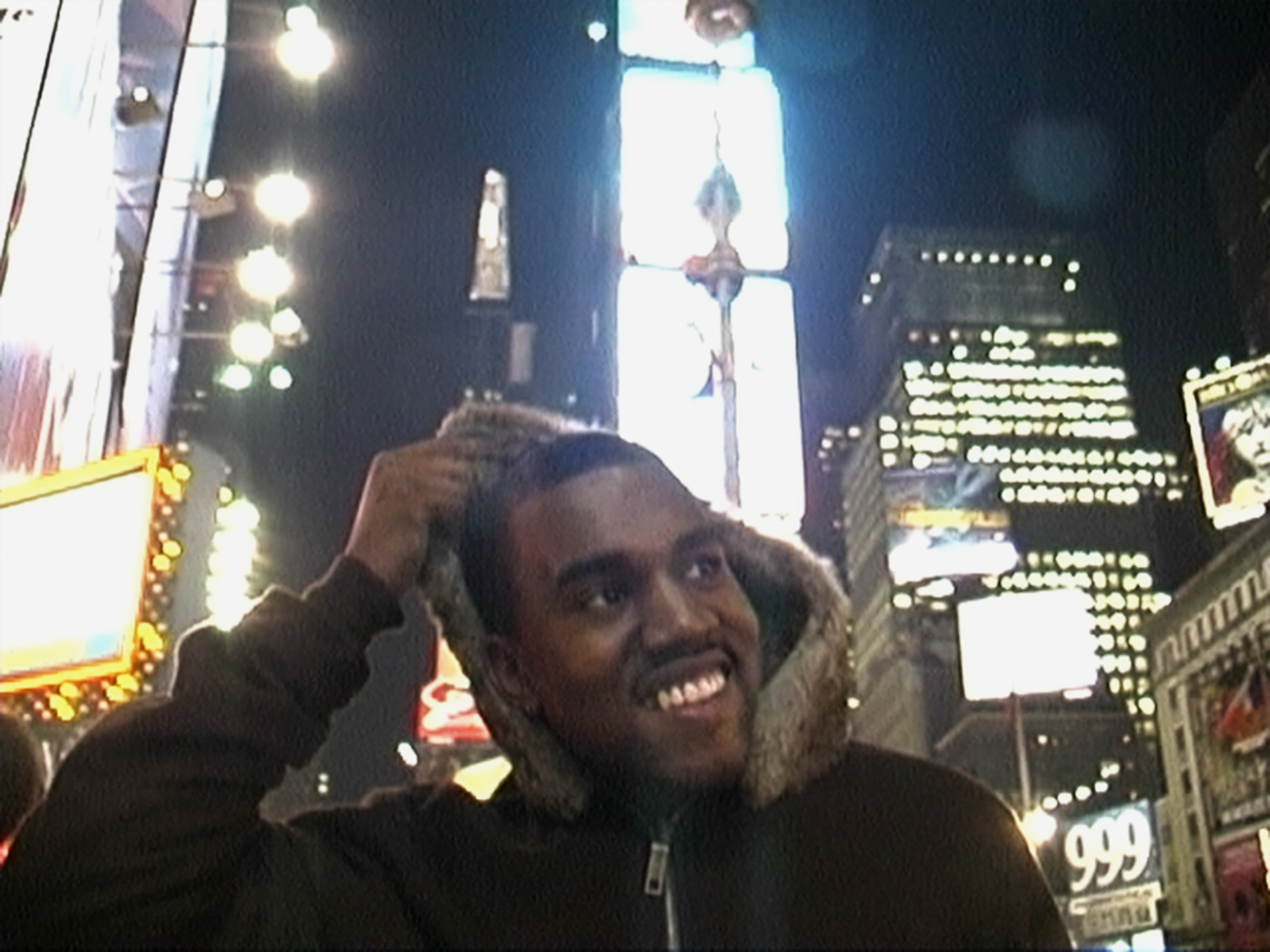 Years before Coodie linked up with Chike to produce iconic music videos like West's "Through The Wire" and critically-acclaimed documentaries like Benji for ESPN's 30 for 30 series, Coodie was just like West—another creative from Chicago figuring out how to make it after dropping out of college. Before picking up a camera, Coodie was an aspiring comedian who was mentored by the legendary Bernie Mac. "First person to ever bring me on stage and give me all kinds of advice as far as it goes when it comes to making it in the industry, '' Coodie remembers. "[He said,] '10 years it's gonna take you Coodie before you even get seen.'" Like West, Coodie is a '70s baby and grew up in Chicago during a time when hip-hop was more of an emerging subculture than a full blown scene. It led to the two Chicagoans knowing one another early on. 
"I remember being at No I.D. 's house with Kanye knocking on the window. They were like, 'Be quiet, there's Kanye!' I was like 'Who?' because I couldn't even pronounce his name back then," says Coodie, who recalls driving a young West to local parties thrown by Abstract Mindstate and listening to some of his earliest beats at a local barber shop called Mellow Swings. "He would love to come up there and play tracks like the beat to 'Izzo.' I was like 'Yo, this is a crazy sample and this dude is talented.' At the same time, we put together episodes for Channel Zero and showed it at this barbershop. People would go crazy for it."
By the time Coodie approached West in the late '90s with an idea to create a Hoop Dreams-esque documentary on his rise within the hip-hop industry, he was not only a friend of Kanye but a bonafide local celebrity because of his work on Channel Zero. Back in those days, Coodie was getting invited to Jermaine Dupri's parties on a regular basis to interview artists like Mase. West was more than open to participate. Coodie emphasizes that fate brought him and Kanye together. When Kanye took a leap of faith by moving to New York in 2001 to get closer to the industry, Coodie followed suit. It was a move that many aspiring creatives in Chicago, like Common, also took. This is well captured in the first part of jeen-yuhs in scenes where West is surrounded by fellow Chicago creatives in his Newark, New Jersey apartment where he recorded the first cuts of songs like "Jesus Walks."
"We were just building each other up. But when we all started bonding and building, it was like God had put us all together," says Coodie, who reminisces on those days spent at West's apartment with fellow Chicago creatives like the poet J. Ivy—who famously appeared on "Never Let Me Down'' and also helped pen Coodie's narrations for the documentary. Although Ye was making money as a producer, creatives like Coodie remembered having to support themselves in New York by working on a street team that handed out cases of Hawaiian Punch daily. "I had to give out 40 cases of Hawaiian Punch a day. That was our job. I had [Olskool Ice Gre of Abstract Mindstate] and J. Ivy working with me. We all had a little money in our pockets and then I was also filming Kanye."
Coodie and West moved to New York with a similar motive. Coodie was interested in being in the center of the media industry because he felt the industry was already watching his moves. He claims that he even created famous television concepts that MTV jacked. Although that may sound far-fetched, it does seem oddly coincidental that MTV produced an animated television series titled Station Zero in 1999 that's centered on four Bronx teenagers starting a public access hip-hop television show. 
"We had this idea called The Life with John Monopoly. It was supposed to cover the urban lifestyle of the rich and famous. We actually had an episode with Cash Money and another episode following Juvenile to his home in the Magnolia projects," remembers Coodie. "When we were doing The Life, I remember interviewing Ananda [Lewis] from MTV and telling her about our idea. Next thing you know, here comes MTV Cribs."
Ironically, Coodie's relationship with jeen-yuhs' co-director Chike Ozah happened through MTV News. Chike, who studied at the Rhode Island School of Design and the Savannah College of Art and Design, was hired to make motion graphics for MTV in the 2000s. The two met when Coodie provided footage for West's first major television appearances on a 2002 episode of You Hear It First—an influential MTV television series that broke emerging artists. Chike felt like fate brought them together and was blown away when Coodie showed him videos from Channel Zero. 
"The rawness of it, the way he shot it, and the storytelling behind it, was brilliant. From that moment, we just really started talking about film. All the aspirations and thoughts about how we looked at cinema were aligned," recalls Chike. "We were damn near finishing each other's sentences. Coodie's an amazing storyteller and I feel like a lot of it is due to his background in standup. So having to be on stage, he understands beats and timing. He brings that into the edit room and is truly amazing with pace when it comes to telling a story." 
Although the duo hit it off as friends immediately, they would not work together until a year later when they both got their big break for directing the iconic visuals for "Through The Wire." The music video marked the first marriage between Coodie's raw and uncut footage and Chike's great eye for aesthetics and motion graphics. It became the first of many memorable music videos—which they prefer to call "music visuals"—produced by Coodie and Chike. Ye fans are probably familiar with the work they did for the alternate music video for "Jesus Walks" and "Two Words." But younger hip-hop heads who watched music videos in the aughts likely stumbled across work from Coodie and Chike's production company Creative Control. Originally launched in 2007, the duo produced videos for the likes of Curren$y and Erykah Badu. One of their most famous videos from that era includes Joey Badass and Capital Steez's "Survival Tactics." Creative Control's music videos were true to Coodie's style of videography. Music visuals like Joey Badass' "Waves" or Wiki's "Wikispeaks," came off more like raw and authentic slice-of-life vignettes rather than a traditional music video filmed in a studio. At one point, Coodie remembers their aesthetic was so popular that videographers from around the world were sending the duo visuals inspired by their style with the Creative Control logo watermarked on them . Chike says their previous work within the realm of music visuals helped define the unique look they're known for.
"I always say that pretty much everything we've done to this point was a rehearsal for this film," says Chike. "This film, I truly believe, is the epitome of having the proper resources and the perfect combination of what we've always been trying to stylistically bring to the masses. This is the first time I feel like we could sit back and be like, 'This is what we wanted to make.'"
That raw videography style is very enthralling in some of jeen-yuhs' best moments, which are bound to please anyone who deeply misses "the old Kanye." Yes, we're talking about footage of a wide-eyed Kanye West crashing Roc-A-Fella's offices and being practically ignored by everyone there while playing the "All Falls Down" demo. There's video from the years when West was courted by Rawkus Records and blasted beats in a Mercedes-Benz parked on a quiet New York street with Mos Def and Talib Kweli. There's even a scene where Kanye spits the "Family Business" opening verse to Scarface. The Houston rap legend called the verse "incredible" and asked if Ye wrote any other verses before clowning the rapper-producer for leaving his retainer on the table. Coodie's footage is suspended in time and his voice is the only one that breaks up these surreal moments with his retrospective reflections. His footage shows West as a real person who isn't taken seriously, ridiculed, and vulnerable like anyone else. His commentary provides just enough context to understand what Ye was going through as an artist at that moment, without overemphasizing his own place within the story. 
"I was blown away by the amount of content he actually captured and the intuition of what he decided to capture. Coodie is very intentful with what he shoots. He doesn't really waste tape," says Chike. "I don't even like to edit. But I used to love editing Coodie's footage because he almost guides you. You know where to go with his footage and he's almost telling you how to piece it together just by the way he shoots."
When the duo pitched the documentary to Time Studios in 2019, they dumped a duffel bag filled with mini-DV tapes on on an office table in New York. Their pitch was approved on the spot and the entire film was eventually cut from eight to four hours. While they acknowledge that it's difficult to get rid of intimate shots of a celebrity as intriguing as West, Coodie emphasizes that the footage always had to move the story forward even if it would be great to see—he laments removing some footage he had of John Singleton praising Kanye for "Jesus Walks," which happened during a meeting Kanye had with him about producing some music for 2 Fast 2 Furious. For Chike, a difficult darling to kill was footage of the Chicago rapper Payroll pressing Kanye about giving a beat he originally made for him to Jay-Z. 
"There's this scene where Kanye almost gets his head bust open," says Chike. "What strikes me is just how that could have gone really bad really quick. Luckily, everybody was able to walk away fine and unscathed. But in pursuit of your dreams, I do believe that Coodie and Kanye had angels watching over them to help just get through some of this adversity. So that was a real adverse moment that we had to take out, but I think it's important for people to see that it's not all sweet."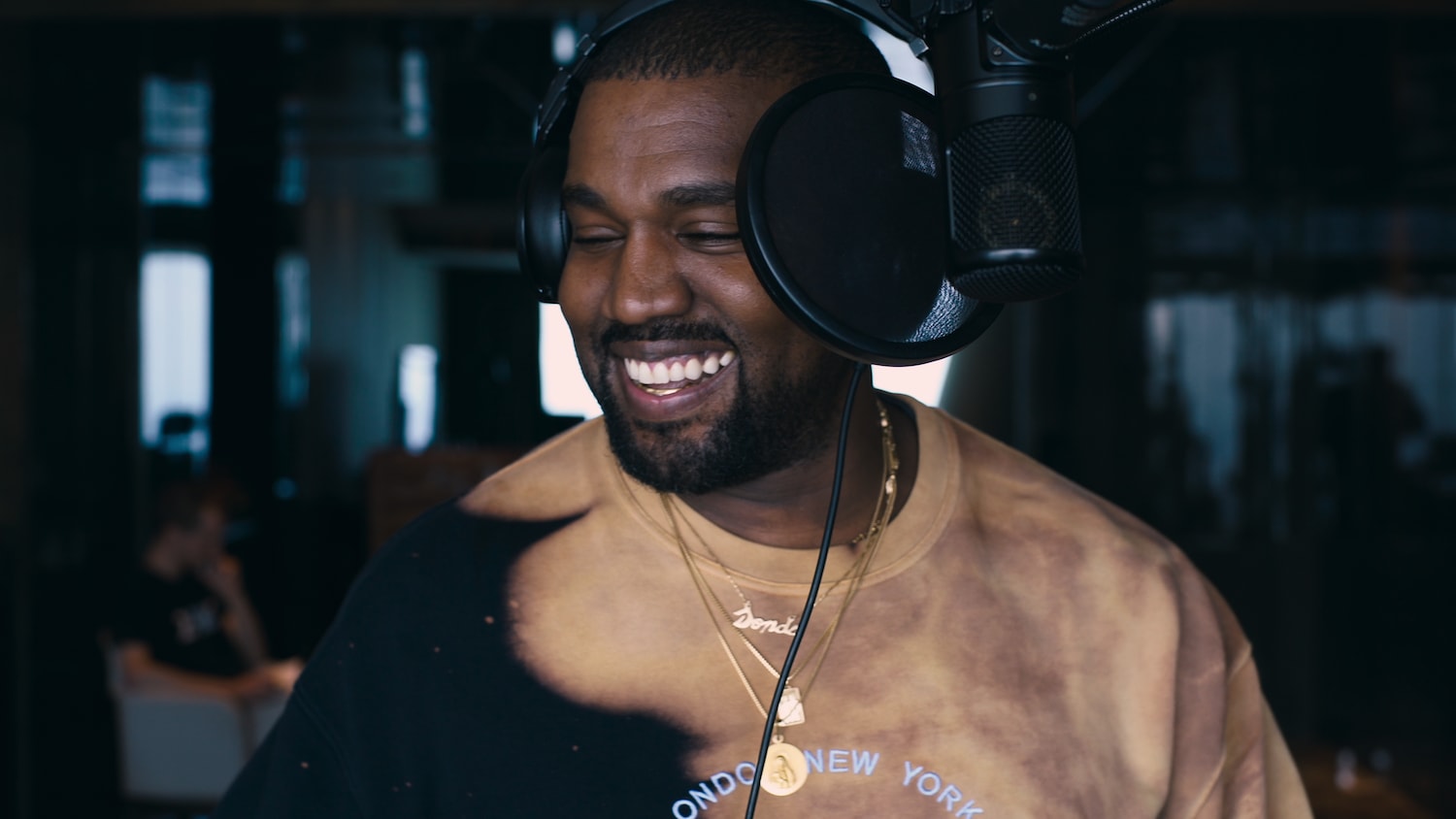 The first part of jeen-yuhs has plenty of sweet moments. There's poignant footage of Ye's mother, Donda West, and Kanye on the steps of their old home on South Shore Drive, but also intimate footage of Ye speaking to his mother at her apartment in Chicago. Coodie says he has more memories of Donda's kindness rather than footage. Some of those memories include Donda taking him to B&H to bless him with a new video camera and West's family asking him to make a video piece for her funeral. While putting together footage for jeen-yuhs, one bit that stuck out to Coodie was Donda telling West to remain humble and that, "the giant looks in the mirror and sees nothing." The moment he stumbled upon that footage felt apt to send to Ye at the time. 
"My ears popped up because I didn't even remember seeing it. This was the day before he went to the Oval Office [to see Donald Trump]," remembers Coodie. "That week, I sent it to him and my message was, 'Your mother wanted me to send this to you.' Because that's the only explanation I have. At that point, I was asking myself, 'Did she say that then? Or is she saying it now?'"
In light of Ye's recent Presidential ambitions, controversial comments, and widely publicized mental breakdowns, both directors strongly believe Ye is a misunderstood artist especially in the eyes of mainstream media. But despite Ye's recent comments about the film, they affirm they had creative control over their work. They aren't necessarily looking to change or shift the public's opinion about him but want to instead provide important context around who he is as an artist. "It's kind of like evening the seesaw here," says Chike. "This shows a full spectrum of an individual, as opposed to just one side. And again, we didn't make a documentary as a commercial to skew anybody." Coodie emphasizes that West is still a real person who he sees as his "god-sent brother." 
"I believe that when I came around with the camera, it was like a disguise. So I could really sit and talk to Kanye," says Coodie, who remembers having his own personal conversations with Kanye cut short while visiting his home in Calabasas as a friend rather than filmmaker. "All of sudden, people were pulling Kanye saying, 'We need you over here!' I'm like, 'Wait a minute, we're having a conversation. But he has to go?' You know what? Let me just be the cameraman."