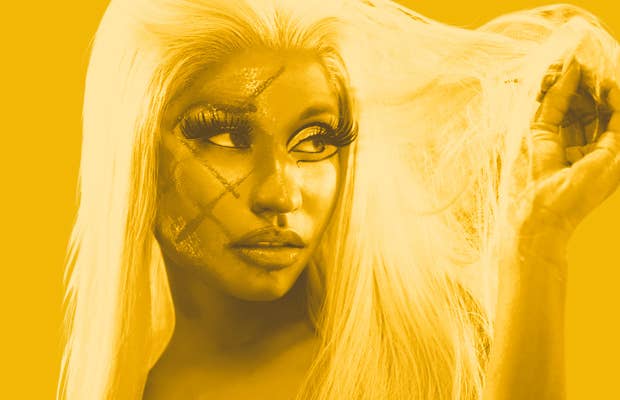 Over 10 years ago, Nicki Minaj was struggling to make a name for herself as part of The Hoodstars, a four-person New York-based group. Her manager Debra Antney (Waka Flocka's mother and CEO of "Mizay Entertainment"), seeing the star potential in the Jamaican, Queens-raised star, got her noticed by a number of people in the industry. This lead to Nicki appearing on The Come Up Volume 11, a street DVD released by Brooklyn label Dirty Money Entertainment. Nicki would go on to drop two releases with the label, Playtime is Over and Sucka Free. But it was on her 2009 project Beam Me Up Scotty that would garner the attention she deserved and net her a deal with Cash Money. 
In the last five years, Nicki has gone from that girl from Queens who could spit really well to one of the most powerful figures in the hip-hop industry. She runs an empire. Her first album, Pink Friday, would become a critically acclaimed project, and she'd follow suit with Pink Friday: Roman Reloaded and Pink Friday: Roman Reloaded – The Re-Up.
She's been put under fire for the schizophrenic use of everything from EDM to hip-hop to R&B to bubblegum pop. Her fans have been divided into two groups: Those who want her to rap like the girl on The Come Up and those who enjoy her pop-leaning tracks. With Nicki's forthcoming The Pink Print, we're excited to see where she goes next. And with her latest single, "Pills N Potions" out now, very few people know what to expect. Whether you love her or hate her, you know she's one of the most talented rappers out right now, so what better time to look at her catalog and find some standout moments. Here are The 25 Best Nicki Minaj Verses.
25. French Montana f/ Nicki Minaj "Freaks" (2013)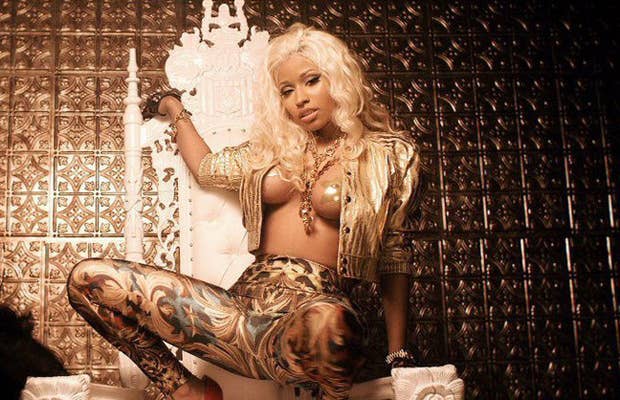 Album: Excuse My French
Producer: Rico Love, Earl & E

If it were socially acceptable to put this verse down simply for the "Big Fat pussy/Mufasa" line, we would, but there's more to this verse than that. Let's kick things off with that cackle. If you follow Nicki on social media, every time she gets sassy with one of the Barbz, you can imagine her laughing like that in the background. Beyond Nicki's silly side, the verses resurrected the memories of Doug E. Fresh and Lil' Vicious' 1994 classic "Freaks" and Nicki outshined French on his own song.
Maybe it was her teasing an accent, dabbling in patois, or just the narrative about Nicki taking a dude home for sex. "Where my bad bitches at? Pretty gang, make noise" was her very own cat call, and fans flocked to it. -Lauren Nostro 
24. Lil Wayne f/ Nicki Minaj "Mercy" (2012)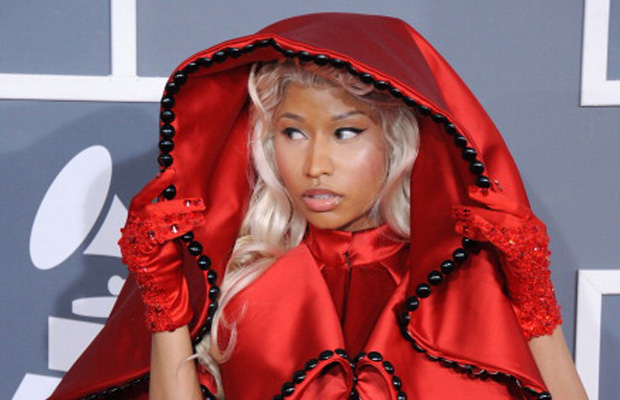 Album: Dedication 4
Producer: Hudson Mohawke, Kanye West, Lifted, Mike Dean, Mike WiLL Made It
"I'm a Republican, voting for Mitt Romney/You lazy bitches is fucking up the economy." By the time we get to that line, we're already a minute into Nicki's verse off this Dedication 4 cut wherein she flexes on dudes attempting to stunt with little trinkets like 'Lambos and 'Raris. You probably don't remember this verse because D4 was kind of terrible, but for those who plowed through it, you were rewarded with one of Minaj's best. She starts off recycling the original "Mercy" flow before abandoning it all together in an attempt to outrun it.  When listening to verses like these, it's easy to see why should call the competition lazy. —Damien Scott
23. Nicki Minaj f/ Chris Brown "Right By My Side" (2012)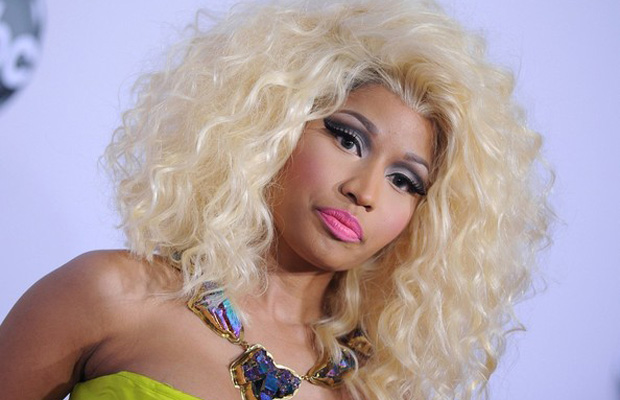 Album: Pink Friday: Roman Reloaded
Producer: PopWansel, Oakwud
"Right By My Side" is the perfect combo of pop and R&B, but Nicki's laidback verse still smacks you across the face. This was deliberately meant for Top 40 radio, so the PopWansel production is literally bubbling. Ester Dean is even more at home as one of the song's co-writers. Whereas "Starships" was straight-up bubblegum, "Right By My Side" teeters on the increasingly blurred line between the genres Nicki dabbles in.
Chris Brown's guest verse is a welcome addition, but it's Nicki's final verse that seals the deal. She goes from singing about needing her man right by her side, to laying down what is a definitive verse on relationships. "It ain't ya spit game/It's ya dick game," kicks off a vicious set of bars on loyalty, her pussy game, and the result of creeping through your man's phone. If you're willing to give Nicki's attempt at pop a chance, you'll find that "Right By My Side" features one of her most solid verses off Pink Friday: Roman Reloaded. -Lauren Nostro 
22. Gucci Mane f/ Rocko, OJ da Juiceman, Waka Flocka Flame, Shawty Lo, Yo Gotti & Nicki Minaj "Coca Coca (Mi Casa Su Casa)" (2010)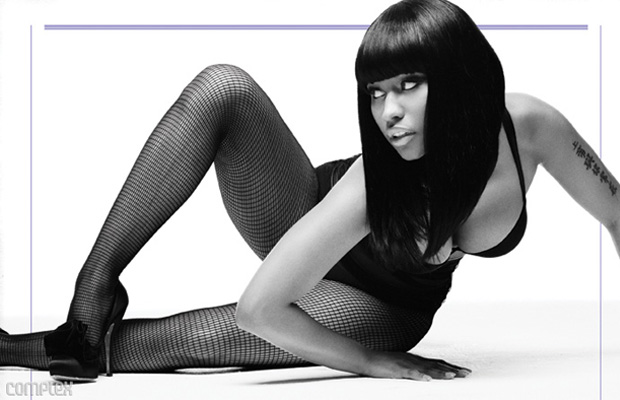 Album: Burrrprint (2) HD
Producer: Drumma Boy

Drumma Boy's menacing beat on "Coca Coca" was a darker canvas than Nicki is typically known for using. As time passed and she became known as a mainstream pop star, bars about taking trips with Papi and how she has fiends like Pookie were dropped in favor of more mainstream-friendly content.
Nonetheless, this era was an important part of her catalog (and after all, it is a song about "coca coca") so while she doesn't quite outshine Gucci's verse here, her bars about keeping her money in her Polly Pocket and boasting about being in a Bentley GT while you ride a Mitsubishi have a nicely dense, compacted quality with effortless internal rhymes. —David Drake
21. Nelly f/ Nicki Minaj & Pharrell "Get Like Me" (2013)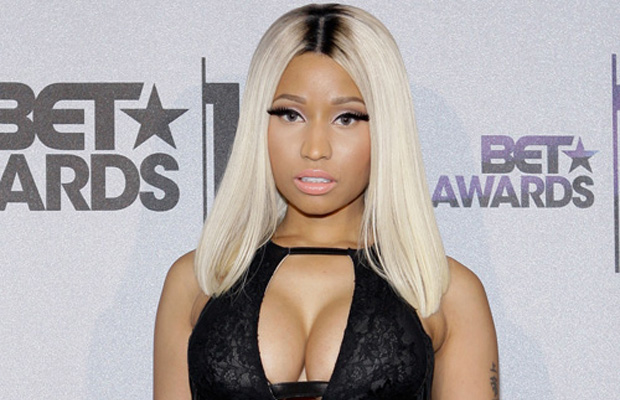 Album: M.O.
Producer: Pharrell Williams
The chemistry between Pharrell's scanty production and Nicki's hard-hitting lyrics on Nelly's "Get Like Me" is undenibale. It should've been a bigger hit. While critics praised the track, it got lost amongst the other major releases of Summer 2013, but it was an important point in her run of rap-heavy guest verses. Nicki kicks off the verse with her take on Lil Scrappy's reality TV dialect, and that specific vocal emphasis makes it one of her catchiest verses. It's a quick tour through Nicki's accolades, like her Beats by Dre endorsement, in which she implores listeners to "get they own speakers and some Pros like me."
More quotables ensue ("You should follow my example, bitch i.e.), and there's a special shout out to Trukfit ("In the Truk but I ain't suck diznayee"). This record was huge for the momentum her guest verses generated last summer, reassuring everyone that she wasn't just the world's biggest pop star who used to rap. -Lauren Nostro 
20. Ciara f/ Nicki Minaj "I'm Out" (2013)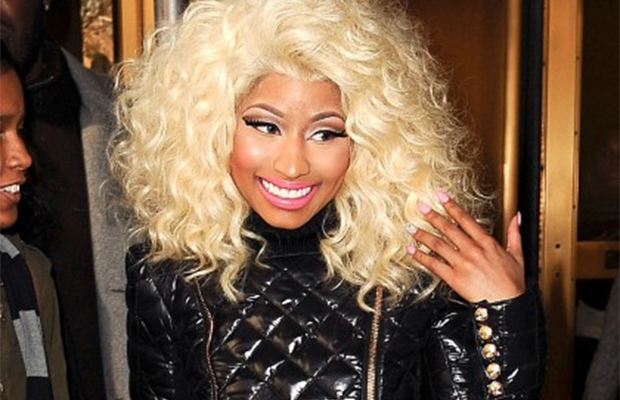 Album: Ciara
Producer: The Co-Captains, Rock City

Even before you saw the video for "I'm Out," it was clear that Ciara nabbed Nicki for the perfect track. In turn, Nicki delivered one of her best post-Pink Friday: Roman Reloaded verses. When it dropped, it'd been months since Nicki had rapped so aggressively on a new single. Not only did Nicki's verse turn everyone's heads, it pumped a ton of confidence into Ciara's verse because you're never stronger than when you're next to your favorite girls.
A few standouts from Nicki's verse include her everlasting love for reality TV, her entire line about her ass and ass shots, and this Instagram drama-which, at the time, was suspected to be aimed at Rihanna after some subliminals between her and Ciara online. Nicki showed the energy in her bars that her rap fans missed, and kicked off a few months of excellent features from her that year. —Lauren Nostro
19. Nicki Minaj f/ Lil Wayne (2nd Verse) "Roman Reloaded" (2012)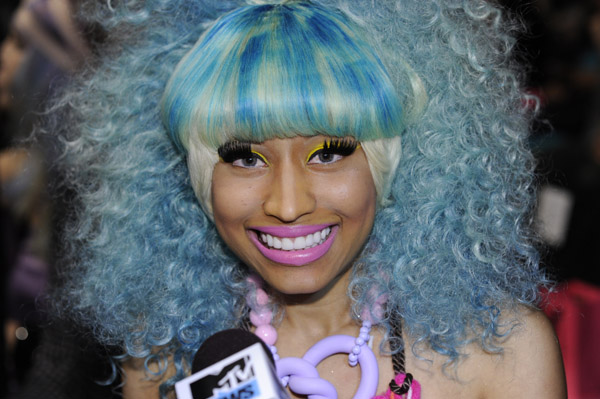 Album: Pink Friday: Roman Reloaded
Producer: Rico Beats
As a standalone track, "Roman Reloaded" is a fierce look at four solid verses from Nicki with Wayne closing out the track rapping about eating pussy and doing molly and cocaine. Sounds simple enough. But the second verse is nothing more than an explicit shot at Lil Kim, who infamously has shown no love for Nicki, with the first line saying she's putting rap bitches on the map again.
With references to her religious stint at the Grammy's and calling out her imitators, she boasts about landing on the Hottest MCs list—let alone the top five. It's a clear sign she couldn't give less of a fuck at this point about anyone saying she stole their lane—she made her own, even kicking off the entire song with: "I guess I went commercial, just shot a commercial." She was an unstoppable force at this point, and explicitly called out anyone in her way. -Lauren Nostro
18. Trina f/ Lady Saw & Nicki Minaj "Dang A Lang" (2010)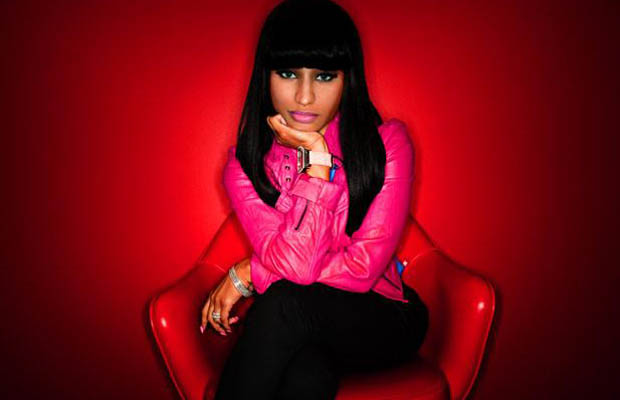 Album: Amazin'
Producer: DJ Frank E, DJ KeyOne
Let's get real: Nicki's been more explicit about what she's wanted in bed but linking up with Trina and Lady Saw on this track helped drive home the point that these women have everything they want on their own—they just want your dick. In later years, Nicki will hit you over the head with the same sentiment, and it's fair; women who are successful on their own only look to men for love, and, well, their dick game.
In between Trina and Lady Saw's standout verses, Nicki's in her Harajuku Barbie phase with lines referencing her pink Range, d-d-d-diamonds on her neck, and being on a dancehall song with the queen, Lady Saw. Nicki gets kinky on the verse's finale, with her ever-subliminal "I be singing them ballads when he tossing my salad/When I pet my parrot, all you see is colorful carrots" line, but beyond the sex, it's about the "bad bitch convention." And like Nicki says, you gotta warn 'em before you throw this song and verse at them. -Lauren Nostro
17. Lloyd f/ J. Holiday & Nicki Minaj "Take It Off" (2009)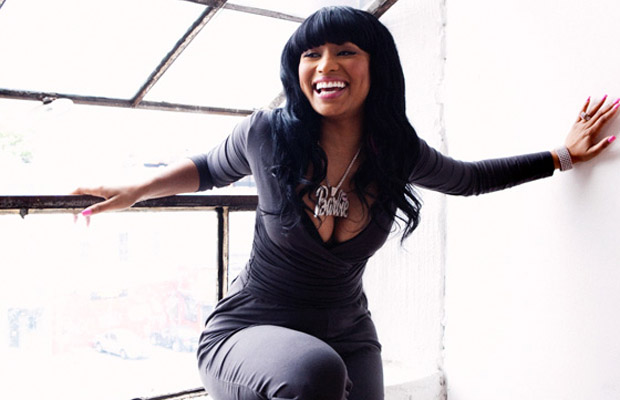 Album: Like Me: The Young Goldie EP
Producer: Jim Jonsin

One of the best performances of Nicki's rookie year was her guest spot on Lloyd's "Take It Off," a flip of the UGK song of the same name. It begins by detailing her dominance/trend-setting, especially effective since it was particularly true at this point: "If I eat it, then everybody gonna order that/Everything I do, these bitches wishin they'da thought of that/I'm an Indian Giver, I want the quarterback/If hip-hop was dead, bitch I just brough it back." She then shifts into a double-time flow to bring the song to a close, ending with some striking imagery in the last couplet before the final chorus: "Make it rain, it's a 10,000 dollar day/Pop it like champagne on the holiday." —David Drake
16. Nicki Minaj "I'm The Best" (2nd Verse) (2010)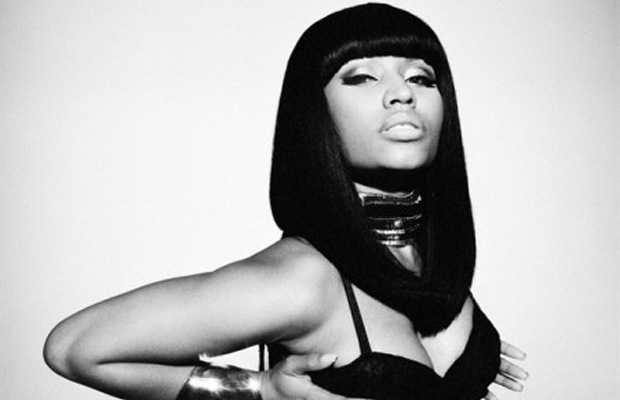 Album: Pink Friday
Producer: Kane Beatz
Kane Beatz produced three tracks on Nicki's debut album, one of which was "Super Bass," then "Dear Old Nicki," and the intro track, "I'm The Best." She's at her peak working with Kane in the sense that it's the perfect catchy, bubblegum-pop chorus to pair with slick verses. But on the second verse of "I'm The Best" she took it to another level, a much more personal one. She kicked off the track—and album—with a boastful look at her accomplishments thus far. But she touches on growing up poor, her siblings, and her dad being on crack.
Besides finally putting a bit of real life to her, at the time, fairytale, braggadocios rhymes, she has a line that would predict what she's been doing for her entire career: "All the girls will commend as long as they understand/That I'm fighting for the girls that never thought they could win/Cause before they could begin, you told them it was the end/But I am here to reverse the curse that they live in." And she's still reversing it to this day. -Lauren Nostro 
15. Big Sean f/ Nicki Minaj "Dance (A$$) Remix" (2011)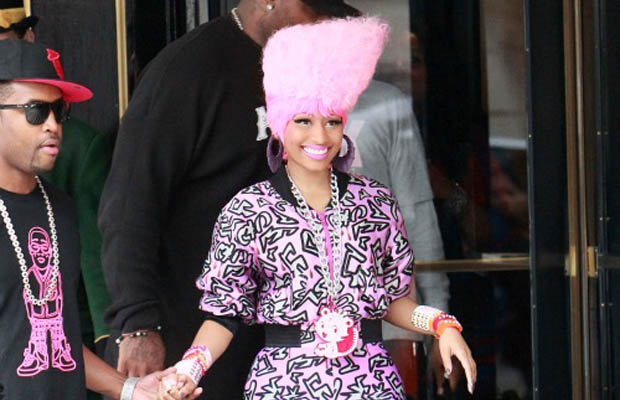 Album: Finally Famous
Producer: Da Internz
This might be the biggest alley-oop any artist has ever set Big Sean up with. Let's be honest, without Nicki this song would have consisted of a roll call of girls of all different races. Luckily, Nicki comes in on her verse wob-wobbling with the measured cadence of a drum machine. Never missing an opportunity to demand sexual pleasure as a mechanism to establish her supremacy, she solidifies her own ass as an insurable world treasure. Seriously, google it. —Dana Droppo
14. Nicki Minaj f/ Eminem "Roman's Revenge" (2010)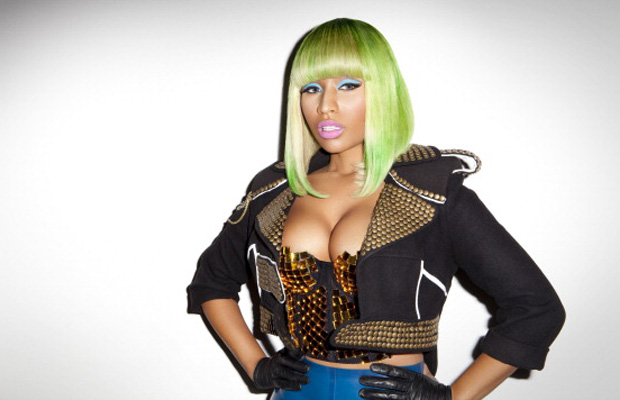 Album: Pink Friday
Producer: Swizz Beatz
Slim Shady and Roman Zolanski on one track? It was bound to piss people off from the start. Both Nicki and Eminem's alter-egos threw jab after jab at anonymous foes; but most people knew her disdain was aimed at Lil Kim. The Swizz Beatz-produced schizophrenic track was a dark fantasy; it's a sound that is reminiscent of dark, old 8-bit video game soundtracks, typically heard on something like a 'Dungeon Level.' Besides the insane production, Nicki and Eminem are at their most aggressive tip on every bar. It's a boisterous, hectic, violently overwhelming track-and it deepened Lil Kim's grave.
With lines like "Look at my show footage, how these girls be spazzin'/ So fuck I look like getting back to a has-been?/ Yeah, I said it, has-been, hang it up, flatscreen," the verse is an obvious shot. Plus, it introduces Nicki Minaj's other other alter ego, Martha Zolanski. Fans knew they'd be in for the ride no matter which personality Nicki pulled out. -Lauren Nostro
13. Nicki Minaj "I Am Your Leader" (1st Verse) (2012)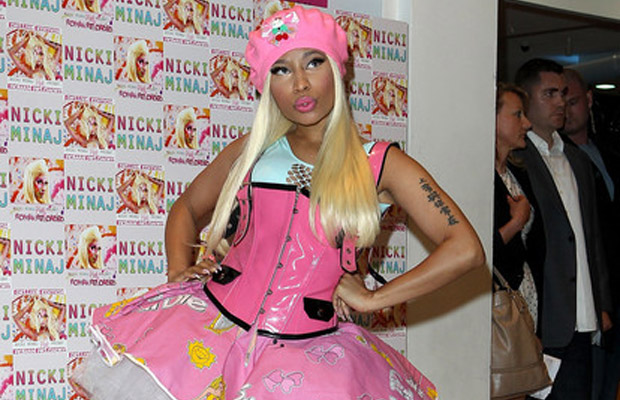 Album: Pink Friday: Roman Reloaded
Producer: Hit-Boy
A dryer record than the typical Nicki verse, "I Am Your Leader" finds the Queen in a New York state of mind: few funny voices or characters (aside from a momentary ragga reference), and a sparse beat and flow that recalls Jay Z's "It's Hot" or, perhaps, "The Takeover" (it's easy to hear "Young Vito, voice of the young people" echoing in Nicki's "Young Yummy, fuck you got from me?"). Her voice is deliberate, precise, comprehensible, swaggering. It's not her most representative performance, but it does display an ability to play to the cheap seats when needed. —David Drake
12. 2 Chainz f/ Nicki Minaj "I Luv Dem Strippers" (2012)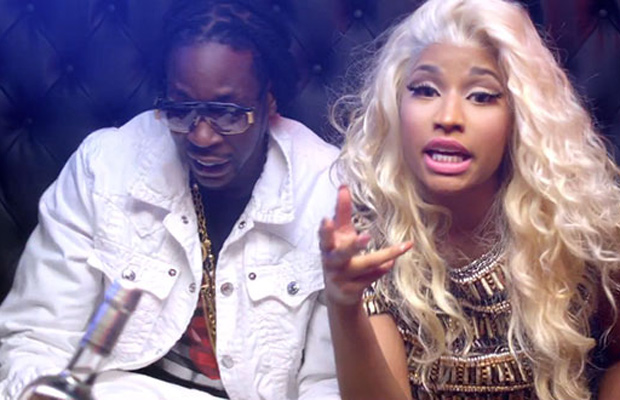 Album: Based on a T.R.U. Story
Producer: Youngstarr Beatz, Marvel Hitz, Megatron Holdings
The real feat of Nicki's verse on this single from 2 Chainz's debut, is that she sounds more comfortable and elated to be rapping about scantily clad woman bouncing their asses for money than Mr. Chainz. Anyone who's listened to 2 Chainz's body of work knows how high that praise is, for he's one of modern-day rap's stripper shamans. But Nicki goes to work here, switching flows the way strippers change outfits, threatening to steal dude's girls, and repurposing popular children's books as put downs to any woman thinking she's iller: "I wish a bitch would, hundred thousand dollar engine, I wish a bitch could." —Damien Scott 
11. Nicki Minaj "Super Bass" (1st Verse) (2010)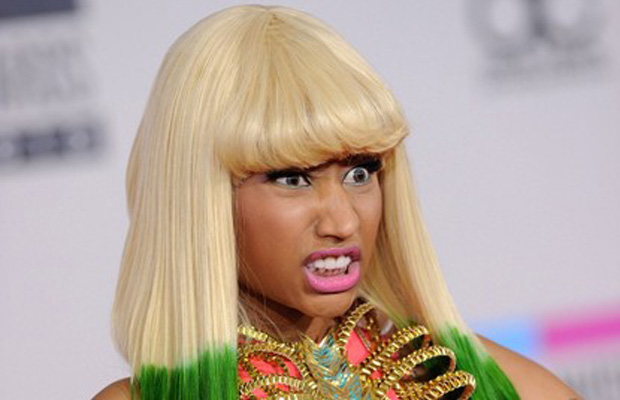 Album: Pink Friday
Producer: Kane Beatz
It's the pinnacle moment of Nicki's career, and it's one of the most incredible looks at how Nicki raps her best with a catchy chorus and sparkling pop production. Ester Dean's songwriting credits here shouldn't go unnoticed; her and Nicki are a dream team when they link in the studio. The first verse of "Super Bass" is a perfect look at what Nicki was trying to achieve on her debut album by dabbling in everything from her hip-hop roots to EDM-based production to glittery pop and R&B ballads. The now 8-times platinum single was the fifth song to be released off the project, and was initially listed as a bonus track. It's a playful look at Nicki crushing on a dude, showing her lighter side, and what would become a first look at the production she leans on most during her most pop moments.
When the otherworldly, futuristic synths start up, any fan of hers will spit that first verse in attempts to even remotely sound as ferocious as she does: "And he ill, he real, he might gotta deal/He pop bottles and he got the right kind of build/He cold, he dope, he might sell coke/He always in the air, but he never fly coach" was her flirtatiously playful way of listing out all it was that she loved about her crush. But it ends with the "Somebody please tell em who the eff I is" line, and after hearing it, you won't be asking anymore. -Lauren Nostro
10. Nicki Minaj "Itty Bitty Piggy" (2009)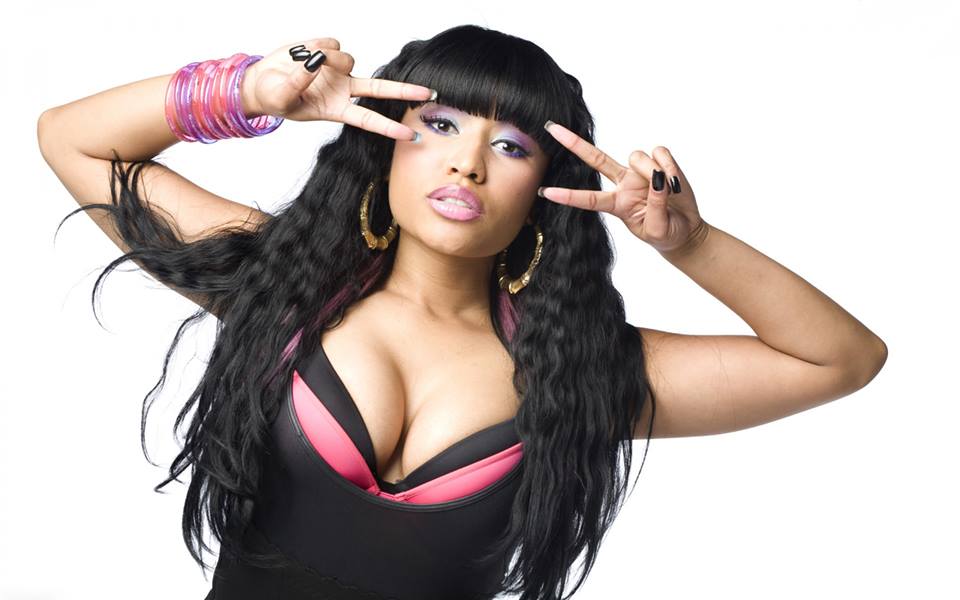 Album: Beam Me Up Scotty
Producer: DeAndre Way
"It's like I just single-handedly annihilated every rap bitch in the building," Nicki says at the end of one of Beam Me Up Scotty highlight "Itty Bitty Piggy." One would think it was one of the most ferocious raps in her catalog, 2009's "No Vaseline." But ironically, returning to the record five years after it was released, it's apparent how conservative "Itty Bitty Piggy" seems in retrospect. There's an unexpected effortlessness to the steady stream of punchlines and pop culture references (A Different World, Rapunzel, NFL teams), an ease to her performance. This seems counter, now, to the reputation Nicki developed over time as a ferocious spitter. Tongue-twisting raps weren't even the point.
But the real reason it feels more tame today, perhaps, is that it was the moment when a new style cohered: with Beam Me Up Scotty, Nicki's broadly appealing persona was established, as she blended Lil Wayne punchlines with a broader set of cultural references, opening up hip-hop's topicality to subjects unlikely to be broached by male rappers: MAC concealer, Whitley from Hillman College, or female fairy tale characters. This barely seems worth commenting on now, where female rappers have becoming increasingly numerous in her wake. But at the time, Nicki cemented a lane that hadn't existed previously. Simply by knowing her audience, she didn't annihilate other rap bitches; she transcended them-and most men rapping, too. —David Drake
9. Nicki Minaj f/ Lil Wayne "I Get Crazy" (1st Verse) (2009)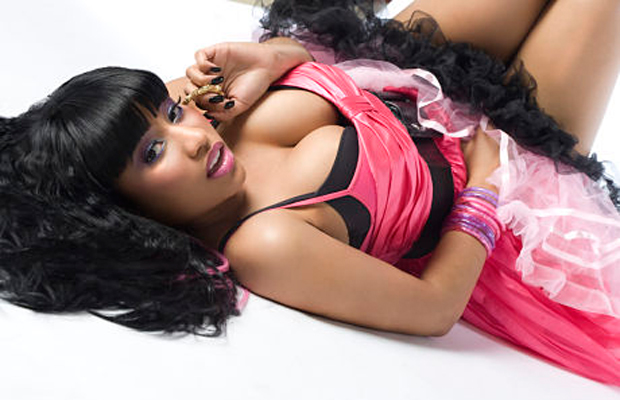 Album: Beam Me Up Scotty
Producer: Ron Browz
If we're talking about mixtape Nicki, we're talking about the "I Get Crazy" era. The opening monologue on the Beam Me Up Scotty track will define the fantasy world that Nicki would intertwine into her music for the next five years. "When I feel really crazy, I just get on my broom and fly away. I go, go real real far away." And it's as if you can imagine her going to this other realm before the song kicks off. Then the first verse starts and it's pure insanity. She's said this is her least favorite collaboration with Wayne, but as a duo, they're fucking nuts—she's hopping from being old school and using Pro tools to referring to herself as Nicki Lewinsky (A nickname/alter ego that would stay for a bit) to traveling to Mandalay and finally, calling herself the "rap Hannah Montana."
The verse stands alone on the uncanny ability to manipulate her vocals on nearly every line—you'll hear her raspy, amateur emphasis on certain syllables here and there, but the first verse resonates like an earthquake. If you didn't care about her yet, you were at least fascinated by the absolutely bonkers intro verse. -Lauren Nostro
8. Nicki Minaj f/ 2 Chainz "Beez In The Trap" (1st Verse) (2012)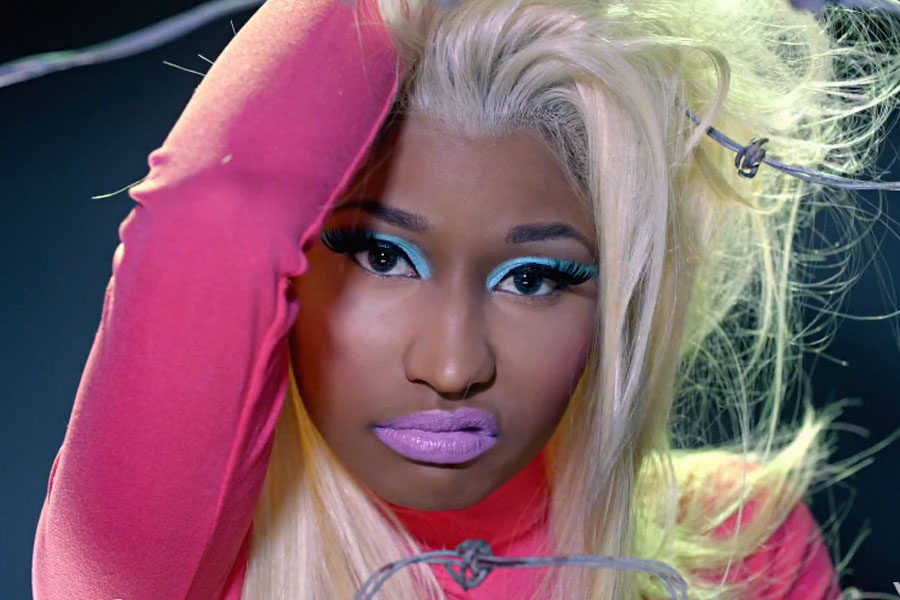 Album: Pink Friday: Roman Reloaded
Producer: Kenoe
On Roman Reloaded's fourth single, Nicki taunts her competition with raps reminiscent of mixtape Nicki. For those who didn't care for the schizophrenic sampling of every genre on her second album, "Beez In The Trap" was a comfortable return to her roots. On the record's first verse, Nicki describes how she's secured the top spot in the game over Kenoe's calculated beat. This is Nicki at her finest—nonchalantly dismissing anyone who veers into her lane, with a quick and breathy verse. While it's not so lyrically dexterous, her flow, cadence, and general presence make the bars timeless. One hundred motherfuckers can't tell her nothing. —Lauren Nostro 
7. Nicki Minaj "Come On A Cone" (1st Verse) (2012)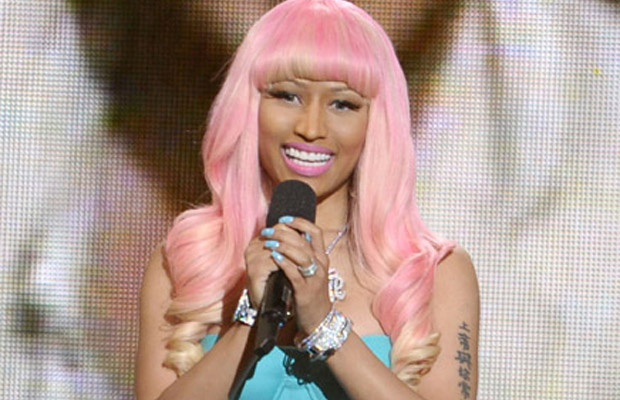 Album: Pink Friday: Roman Reloaded
Producer: Hit-Boy
"Come On a Cone" is one of Nicki's best records, its sizzling Hit Boy beat the perfect labyrinthine template for two verses featuring Nicki firing on all cylinders, a hypnotic king-of-the-mountain boast. This is peak Minaj. It's noteworthy for its opening bars and their serious/delirious/inferiors/interiors internal rhymes, and a distinct one-two, one-two-three, one-two rhyme pattern. But what makes it her catalog's victory lap is most apparent in the video, where each other major rapper is merely a member of her supporting cast, and in her boasts about Wintour and Ellen appearances. (Especially the boast about Wintour; "Ain't a metaphor, punchline, I'm really sitting with Anna!"). "Pink Friday two milli, 'Super Bass' triple plat." As much hand-wringing is done about pop Nicki vs. rap Nicki, it was apparent that her most successful pop song, "Super Bass," was simply another chain hung around her neck. She might have gone pop, but she was still bigger than her biggest songs. "Come On a Cone" was a celebration of that fact. -David Drake
6. Trey Songz f/ Nicki Minaj "Bottoms Up" (2010)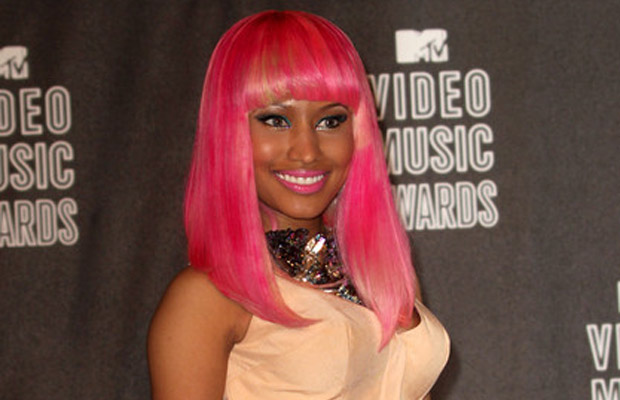 Album: Passion, Pain, & Pleasure
Producer: Kane Beatz
"Bottoms Up" wasn't just a normal Nicki verse, she let her outlandish voices manipulate every aspect of her appearance on the Trey Songz song. "Bottoms Up" was Nicki's chance to spit off a list of vices (Patron, Henny, Margarita on the Rocks) while somehow perfectly imitating a drunk girl's tipsy hypnotizing voice. The 16-bar verse combines every aspect of her personality into 45 seconds—and let's not forget she outperforms Trey—but underneath all of the cartoonish voices and personalities, it's really just a tribute to Anna Nicole Smith with lines like, "Yelling all around the world Do you hear me? Do you like my body? Anna Nicki," a reference to her infamous 2004 American Music Awards appearance. You've entered the weird, pretty fucking wild mind of Nicki, and there was no going back. -Lauren Nostro 
5. Nicki Minaj f/ PTAF "Boss Ass Bitch (Remix)" (2013)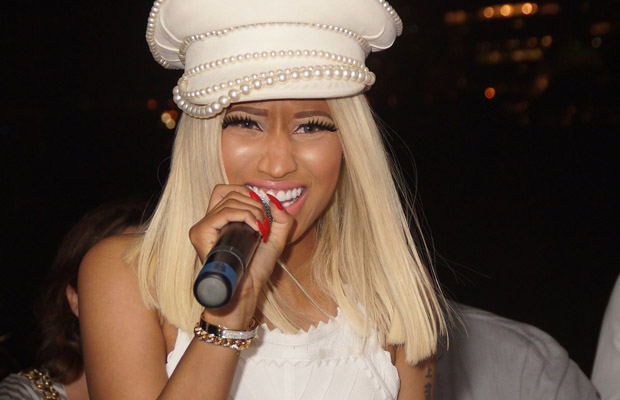 Album: N/A
Producer: PTAF, Detail
Nicki invented the phrase "Pussy on vacation," which is pretty much all that needs to be said about her "Boss Ass Bitch," remix. In all seriousness, the voracity with which she praises the pussy in this song is almost ceremonial. In a phallocentric genre she not only eschews the self-esteem issues an entire generation of girls taught to worry about what dudes think of them have, she encourages safe sex at the same time. Thanks Nicki, never rawing is a great rule. —Dana Droppo
4. Nicki Minaj "Did It On'em" (2010)
Album: Pink Friday
Producer: Bangladesh
Sonning is an art form. In the first verse of Nicki's "Did It On'em," off Pink Friday she shows that she is the mother of the craft. Nicki biologically sons her competition. The sheer Freudian genius of it projects the most damaging collection of feelings. Her sons love her, are in debt to her, look up to her, want her approval and also want to have sex with her. Of course, that is the most shameful part. It's doubly beautiful when she retracts the privilege of blood relation and demotes bitches to step sons. Capitalize on those daddy issues, Nicki, we know everyone's got them. —Dana Droppo
3. NIcki Minaj "Lookin Ass" (2014)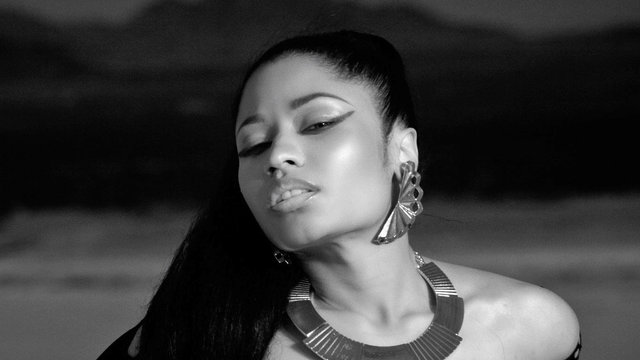 Album: Young Money: Rise Of An Empire
Producer: Detail
We hadn't heard Nicki snap on a verse quite like she did on "Lookin Ass" in years. She was back and she was coming for every fuckboy in site, in the most vicious way possible. She was fed up: With the industry dudes who show her no respect, the dudes who thirst over her, and the dudes who stay frontin' on her. It became an anthem for the ladies; not one dude can even feel comfortable rapping along to it. Plus, a fair share of dudes tried to remix the song, and it just went horribly. Bye, Boost Mobile. -Lauren Nostro
2. Drake f/ Nicki Minaj "Up All Night" (2010)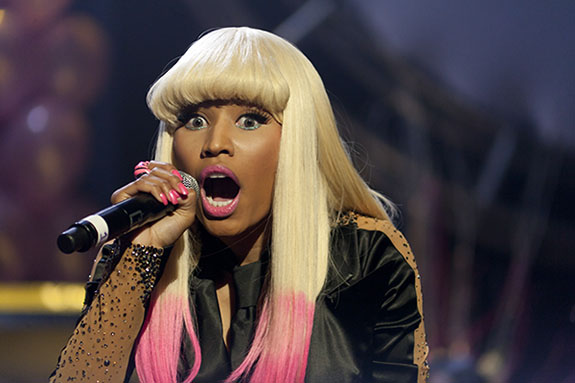 Album: Thank Me Later
Producer: Boi-1da, Matthew Burnett
Remember the days when YMCMB was a tight little camp that all pledged allegiance to Wayne and Birdman on every track? "Up All Night" is one of those. As one of the standout tracks on Drake's debut Thank Me Later, Nicki pops up to reassure the Cash Money fan that she's a ride or die while throwing out figures here and there on how much she's cashing in. The verse kicks off with a line that pays homage to Remy Ma's "Whuteva" and goes on to prove she's a "bad bitch" who has never been "a mixed breed."
Her quotables are incredible, which makes sense because it is a Drake song, but lines like "Fuck I look like, ho? I look like 'yes' and you like 'no'" will remind you that you're simply not shit. While both Drake and Nicki are ride-or-die for their crews, Nicki's verse showed that she's just more vicious with her approach. -Lauren Nostro
1. Kanye West f/ Jay-Z, Rick Ross, & Nicki Minaj "Monster" (2010) Album: My Beautiful Dark Twisted Fantasy

Producer: Kanye West, Mike Dean, Plain Pat
What is there really left to say about Nicki's verse on "Monster?" It's been engraved in hip-hop history forever, and established her as one of the best rappers of all time. There is no arguing with a lyricist who can outshine Kanye, Jay, and Rick on all fronts. She's more aggressive than Ye, more effortless than Jay, and more opulent than Rozay. We've already ranked it as the best rap verse of the last five years, but if her opening lines of  "You could be the king but watch the queen conquer" don't show you the amount of power she has on the verse, keep listening as she alters her vocals and bounces off wordplay involving everything from her Giuseppe Zanotti shoes to "Dutty Wine." She shows she's not just a rapper; she can entertain, and this was just the beginning in a long line of her standout verses, and guest appearances on a variety of tracks. -Dana Droppo