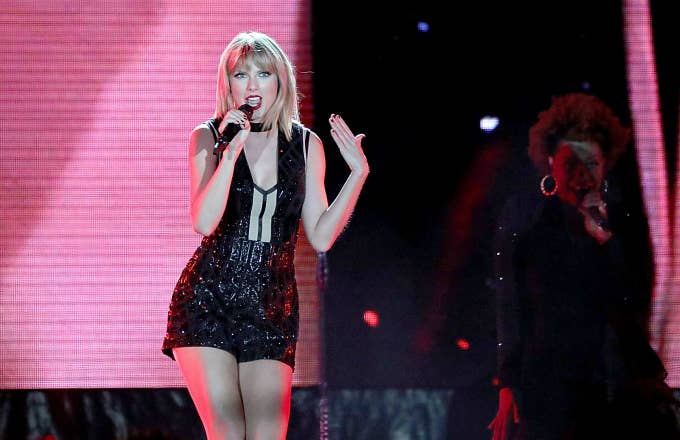 Taylor Swift has done everything she can to rattle cages with her new single, "Look What You Made Me Do," but not everything she's done so far has been welcomed with open arms. A big discovery was made shortly after she announced when her next album would release—it coincided with the 10th anniversary of Kanye West's mother passing away.
Though Swift was, well, swift to deny any intent to antagonize Kanye with the drop date, she has resorted to all sorts of petty moves in the past. Her discontent with Kanye runs deep, from award show embarrassments to his infamous, "I made that bitch famous" line on "Famous," so she has the motivation to attack him and his family if she wants to.
Not content to take Swift's denial at face value, Kanye fans have decided to strike back against the pop star, and they're planning their own event for Nov. 10. Allow me to introduce you to "Hey Mama" day, a concept dreamed up by some of Kanye's biggest fans on the r/Kanye subreddit. Here's a brief description of what they plan to accomplish.
Basically, Taylor Swift has released a Kanye diss track, taken shots at Kim's Paris robbery, and has stolen Kanye's font and cover art style for her new album Reputation. Most importantly she is planning on releasing it on the anniversary of Kanye's mother, Donda West's death - November 10.
The post gained enough traction that it rose near the top of the subreddit, and now there's an event page for the day on Facebook. The title has been altered a bit to, "Listen to Hey Mama by Kanye West Day" but the concept is still the same, and the interest is beginning to grow. So far, around 2,200 dedicated fans (or T. Swift haters) have declared interest in participating, and Spotify playlists of just "Hey Mama" have been created in advance of the event. These people are not messing around.
They're up against a giant, however, and succeeding in knocking off Swift is a lofty goal for Kanye fans. "Look What You Made Me Do" broke all sorts of streaming records upon release, and even though she's not the darling she once was, Swift is a sales and streaming powerhouse. A few thousand people are not going to be enough to defeat her audience, even if they do dedicate themselves to playing the song all day on Nov. 10.
Of course, there's several months between now and Nov. 10, so they have a lot of time left to recruit members for their cause. In the meantime, get those playlists locked and loaded.