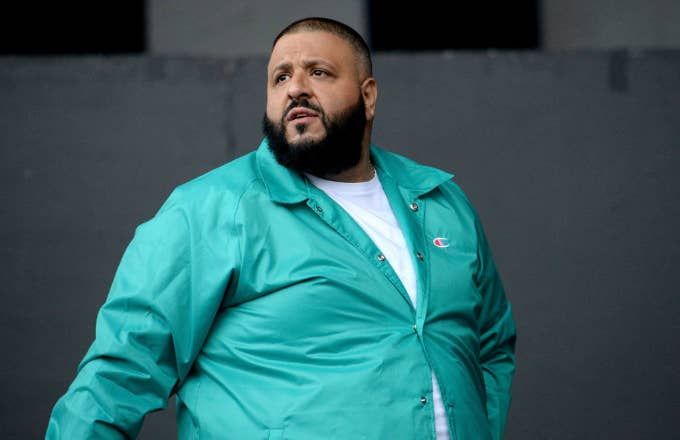 According to Page Six sources, DJ Khaled wants to make another major move in the industry and make a bid to replace L.A. Reid as the Chairman of Epic Records.
Although the other candidates for the position are more traditional executive types—Page Six sources suggested Sony Music UK's Jason Iley or RCA's Tom Corson as possibilities—Khaled is said to be actively pursuing the opening created by Reid's departure.
"He was petitioning to get that job," said an insider. "He's like, 'I make more happen than anyone in the game, why would I not be considered to run the label?'"
Running a record company the size of Epic would be a daunting challenge for Khaled, but the logic behind the move wouldn't be as crazy as you might think. Khaled has the title of a DJ, but in practical terms he's more of an executive producer and curator than anything else. Assembling star-studded casts has become his calling card, so his job as a record executive would be a natural progression of the work he's already doing.
The most recent example of that ability to assemble talent led to a No. 1 hit for DJ Khaled, with "I'm the One" soaring to the top of the charts in its first week of release. If Khaled can bring together a mix of artists like Chance the Rapper, Justin Bieber, Quavo, and Lil Wayne on a song and make it work, maybe he could do the same thing behind a chairman's desk.
After a down period a few years ago, Khaled used the power of social media to propel himself back into prominence, and now he's popping up in new places seemingly every other day. Maybe it's a long shot, but never say never with Khaled.