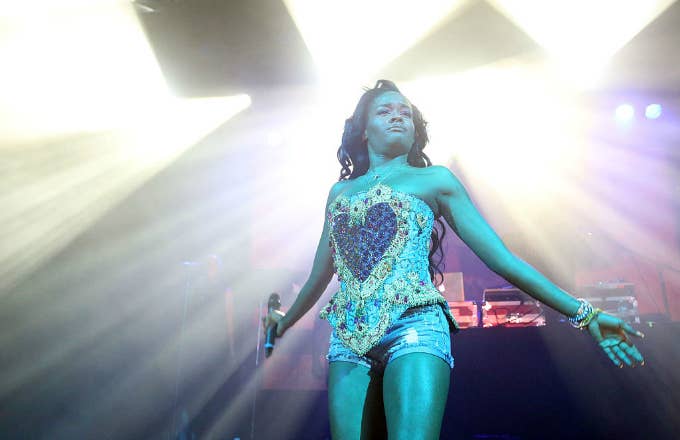 SZA's full-length studio debut, Ctrl, has been a massive success for her in every measurable way. She had the best sales week she's ever had as an artist, and part of the key has been revealing her true self in her music.
Unless you ask Azealia Banks, anyway. The always outspoken rapper took a look at SZA's video for her song "Drew Barrymore" and believes there's a clear inspiration for SZA's work—Banks herself. She shared what she thinks is evidence in a side-by-side photo on her Instagram, which she has since deleted from her page. In the comments section of her post, Banks went even further, accusing record labels and agencies of "trying to recreate my shit" and saying they should just hire her to be an A&R.
She would eventually put up a separate post claiming she was not trying to tear down SZA. That one got deleted too, but screenshots on the internet live forever.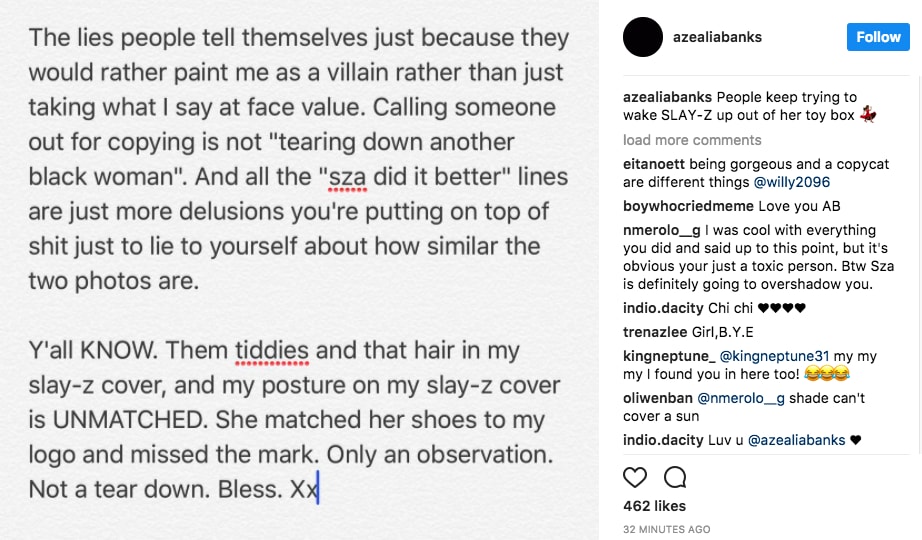 While you can't rule out SZA borrowing style elements from Banks, it's important to note that the cover Banks shared of her own ripped off adopted its name from one of the most famous rappers on the planet. When you are so obviously borrowing from someone else in the very picture you're using to prove a point, it dilutes your message, and it's not as though big hats and skimpy clothing is something Banks originated.
Plus, if you listen to what SZA has to say, she doesn't seem too concerned with other people's input on her work. When she appeared on a recent episode of Everyday Struggle, she shared with us that she doesn't even like writing for other artists because it doesn't feel true to herself, and said her focus is solely on what's meaningful to her.
"When you first make an album, you only have your favorite albums from your favorite artists," she said. "And you don't come close to touching them. How do I satisfy myself sonically?"
That doesn't really sound like someone who's interested in ripping off Banks, or anyone else for that matter. It wouldn't be the first time Banks came sideways at another artist, and if she was less interested in internet beef and more interested in making career moves, maybe she'd come out on the positive end of a headline every so often.