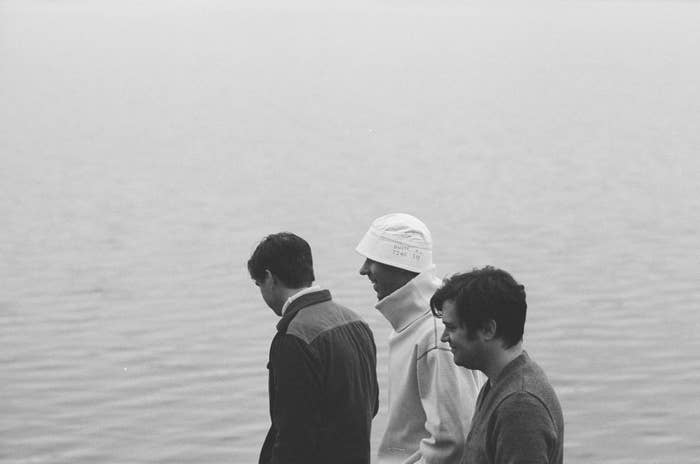 Of all of BADBADNOTGOOD's big-name collaborators—from Ghostface Killah to MF DOOM, Future Islands' Samuel T. Herring to Kaytranada—the Toronto alt-jazz trio is just as jazzed about a new team-up on their new album, Talk Memory, out this Thursday. And it's with a musician you may have never heard of, though you'll want to. Yes, Arthur Verocai may not be a household name in North America. But in jazz circles the Brazilian composer is beloved, so much so that BBNG named Verocai's 1972 self-titled album among the five LPs that "changed our lives."
Below, BBNG bassist Chester Hansen and saxophonist Leland Whitty tell us more about working with Verocai and Terrace Martin (of To Pimp a Butterfly fame) on their new album, why they enjoyed returning to their jazzier instrumental roots on this LP, what it was like to mourn their former collaborator MF DOOM after the legendarily enigmatic MC's untimely recent passing, and more.   
What was it like to work with your hero Arthur Verocai on more than half of Talk Memory's tracks?
Chester Hansen: Arthur Verocai is a legend. He's such an incredible arranger and composer, and part of so many important records coming out of Brazil. It was an honor to work with him. He's been such a big influence of ours, almost ever since we started the band, ever since someone showed us his music.
Leland Whitty: All these different factors of his music, we aspire to have as well—in the way we compose, in our production, and in our improvisation. The collab was done over the pandemic via email. But it would've been super magical to see his creative process in person. Hopefully we can do that once it's safer.
How many of your collaborations have been done in person, and how many electronically?
Hansen: Overall, half and half. Sometimes doing it via email makes more sense, especially if the artist lives far away. But we make an effort to go meet wherever they are, or get them to come to us in Toronto, when we can. Because it's nice to have that physical meeting. For this record, we were lucky enough to have Terrace Martin and [jazz and hip-hop drummer] Karriem Riggins in the studio when we did those tracks. That was just before COVID.
"The past year and a half was the most productive we've ever had, musically. Because of the pandemic, we had nothing else to do but record."
What do you admire about Terrace Martin?
Whitty: It starts with him as a producer, and him as an instrumentalist. He's a direct inspiration for what we do. When we were on tour in 2019 we saw him perform six or seven times with [multi-Grammy nominee] Christian Scott and [Grammy and Emmy winner] Robert Glasper in the band. The magic of seeing them perform live—not that it's something I've experienced, but it's the closest thing I could imagine to seeing Miles Davis in the '60s. They had this beautiful connected energy that I've never seen before.
Hansen: He's [Terrace Martin] just so versatile. It's kind of crazy. I also saw him play with Herbie Hancock. He's played with every top jazz artist, but also made some of the best hip-hop records that are sure to be considered classics in the future.
Aside from working with Martin and Verocai, how is Talk Memory different than your prior LPs?
Hansen: The music is concise and there was a lot of improvisation. It was a very focused writing period, and we made a conscious effort to make the album flow as a unit. We're just excited for people to hear it, and see where we are now as musicians. It was an incredibly fun recording process and very creative, and I enjoyed getting to work with those other musicians. We've collaborated with plenty of vocalists and rappers, but we always wanted to do another instrumental album, and it was good to step back into that world.
Whitty: Since a lot of it was improvisation-based, it forced us to be more vulnerable and go deeper into the emotional aspects of each song.
That sounds quite cathartic.
Hansen: Yeah, I experienced some of that, because the music in some places is very emotional. And yeah, there was just a lot of energy flowing around.
In the promo for this album, you also talked about how working on it reinvigorated you as a band. Were you burned out and in need of a reset?
Whitty: Iwasn't burned out from the band, but I was burned out from being on the road all the time. I felt really fortunate to tour so much, but it's really draining and hard to keep going forever. We each pursued different projects after the last tour and were able to enjoy life a bit more. That was more so the thing that reinvigorated the excitement to get back together. It was a long process, but also a really nice one, and when we did get back together we were all so excited and had so much to say musically, that the new album happened very quickly. The record is a product of a very specific time in our lives together.
Hansen: The past year and a half was the most productive we've ever had, musically. Because of the pandemic, we had nothing else to do but record. Apart from this album, each of us had been working on other stuff. It was a nice time to be able to be creative, and see where we can go next.
How did all that help after being burned out from touring?
Whitty: At the end of the tour, Chester moved to L.A. There was this geographic divide. [BBNG drummer] Alex [Sowinski] and I visited, so there were little pockets of us working together. But there was space to work on other things, like Alex and I scoring the movie Disappearance at Clifton Hill ], and [former BBNG member] Matt [Tavares] putting out an acoustic jazz record. And other random side projects. And I bought a house, which took awhile to settle into, things like that.
"We were soundchecking in this hotel bar in London, and then we heard a super distinctive voice from across the room, and were like, 'Oh my god, that's totally him!' And [MF DOOM] came through, and didn't have his mask on."
Buying a house may seem a bit mundane to the rest of us, but must've been exciting for you after all that time on the road.
Whitty: Exactly! We actually took a break before the pandemic, and planned to go on tour again in April 2020, just as everything was shutting down. So now we've been missing touring. Especially because we were trying to switch it up, and develop a new live show. But hopefully we'll be able to present that in the coming months. We've been fortunate enough to be able to record, but performing live is such a raw and authentic way to display what you do as an artist, so it's definitely important.
How will your live show be different?
Hansen: We're trying to work in more visual elements. And also when we were working on this album, our first thought was: "This will be great live, and we can play each song in a row and make it flow together." We actually played our first show in a long time a few weeks ago, this little afterparty, which was fun. We want to expand the show and see where we can take it.
Do you think this new tour will be even more cathartic than the recording process you described?
Whitty: Definitely. When we recorded this new album, we could mimic what the live show does in terms of a true performance, with no editing. Having improvisation be such a big part of it led to a more raw and honest depiction of what the songs were trying to bring out of us.
So there was a lot more studio polish on your prior albums, comparatively?
Whitty: We would record to tape, so not exactly. But we'd hyper analyze every part, and decide upon the perfect envelope for this synth, or listen intently to come up with the perfect phrase for that woodwind. Talk Memory is about trying to let the music breathe more.
I also wanted to ask about MF DOOM's untimely recent passing, and your tweet commemorating your collab with him.
Hansen: We've all been fans of his since really early on in our listening to hip-hop. In high school I was obsessed with Madvillainy and Operation: Doomsday, listening to them on the school bus. I think people more eloquent than me have spoken about his impact on hip-hop. But I think he was one of the most unique artists out there. He brought such an amazing energy and surrealism and lyricism to his music. The Special Herbs series is some of my favorite music. I love all the stuff he produced for himself.
We got the chance to open for him in London six years ago. That was super special, and we met him for a few seconds. Since then, being able to work on a song with him ["The Chocolate Conquistadors" for a Grand Theft Auto Online soundtrack] was really, really cool. And it was also crazy working on that right before he passed. He was just a legendary artist, and we were super honored for a chance to work with him, even in a brief way.
What was he like in person?
Hansen: Very laid back. We were soundchecking in this hotel bar in London, and then we heard a super distinctive voice from across the room, and were like, "Oh my god, that's totally him!" And he came through, and didn't have his mask on. He just said hi and that we sounded cool, and then he left.
When you guys have worked with vocalists and MC's—especially one as distinctive as DOOM— have you thought about what they can do with their voices and lyrics, and what they can't do compared to your instruments? Is there any envy between them or you, or do you have any thoughts on how you compare and contrast each other?
Whitty: For a lot of strong vocalists—and everyone we've been able to work with has been extremely strong—part of the process has been connecting who you are as a person to your art form. So I think there's virtuosic limitations with vocals that aren't as inherent as playing an instrument. But there's such depth and meaning to what they all do. That's the beauty of being able to work with vocalists in the room—you can find a pocket that's working toward everyone's strengths.
And yet, we've had a bunch of sessions with Moses Sumney, and even as a vocalist and all the limitations that come with that compared to an instrument, he seemingly has no limitations [laughs]. As a saxophonist, he's probably a better tactician with his voice than I am on an instrument where I can push buttons to make what I want. But then he also has such emotional depth and context.
For every vocalist, singing is the most natural state of who you are as a person. So it's been so beautiful with everyone we've had the fortune of working with, because you really get to know them on a personal level just by hearing their voice and artistry.
Speaking of Moses—he worked with Brandee Younger, a harpist who is featured on your new album and who has also worked with Thundercat. So lastly: what was it like to work her, and does she have the potential to be as big as some of the more established acts you've collaborated with?
Whitty: She totally has that potential. She just put out a great record, Somewhere Different.
Hansen: To tie that together a little further: They played a show in New York, maybe three years ago. And she was accompanying Moses, it was just the two of them. And it was such an intimate, special show. But yeah, I think everything she's been a collaborator on or the main artist for has been really special. And we feel lucky to have worked with her. Her contribution was the last piece of the record we received. She sent us three takes of her performance on the song "Talk Meaning," and each of them was so beautiful and unique it was hard to choose what the final one was going to be. It also seemed fitting that she does this harp solo that ends the record in this peaceful way, which was very nice.