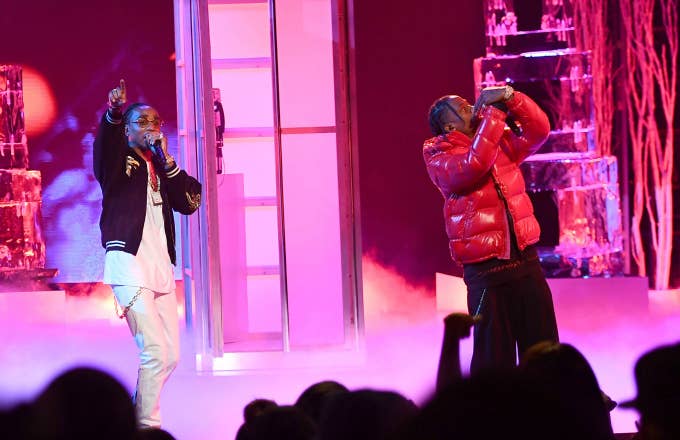 For those of you who keep your ears to the street (or whatever we're calling the act of keeping up with hip-hop, digitally), you should be aware of the heat Travis Scott and Quavo have been cooking up. Travis announced in March that he and Quavo had been in the studio, and then let Zane Lowe preview two bangers on Beats 1, mentioning that they are working on an album. Twitter is obviously on fire, but if you've been paying attention, these two have been working together for a bit.
Most of this has come from Travis' projects, but it's dope to see that, in a similar vein to what Drake and Future have been doing (and turned into a mixtape), Quavo and Travis work so well together that they decided to lock-in on an album, especially considering that they both have solo projects on the way.
For those of you trying to get your playlist on, here's a brief look at all of the times Quavo and Travis Scott hit the studio and made magic.
Aug. 19, 2014 - "Sloppy Toppy"
Back before Travis dropped his 2015 album Rodeo, he got Migos and Peewee Longway on his song "Sloppy Toppy." Not only did Quavo and Travis spit the first and second verses (respectively), they both collaborated on the song's bridge, which also had a hook by Quavo. Maybe the spark was lit while they worked on this one?
Sept. 4, 2015 - "Oh My, Dis Side"
On "Oh My, Dis Side," one of Rodeo's more memorable tracks, Travis got Quavo to lend a hand on a solo tip. The "oh my" in that hook (which they did together) is one for the record books... or at least for that time in 2015.
June 3, 2016 - "Pick Up the Phone"
While this was featured on Travis' excellent Birds in the Trap Sing McKnight album, the infectious banger had been all over the radio (and in all of your playlists) as a single from Young Thug and Travis Scott, with Quavo on the feature. This song is actually more of a showcase for Thugger and Travis, but Quavo does come in with a dope third verse to bring things home.
March 2, 2017 - "Go Off"
You know it's real when Hollywood comes knocking. This single, which finds Travis and Quavo aligning with Lil Uzi Vert, is taken from the companion album to The Fate of The Furious. It's pretty much a Quavo and Travis party, with them sharing hook duties and dropping their own verses before Vert spits last. Not the biggest banger in their arsenal, but definitely one to turn up to.
March 18, 2017 - "Portland"
When Drake surprised the world with the release of More Life, it featured the flute-tastic collab with Quavo and Travis Scott, "Portland." After Drizzy gets the first verse off, it's nothing but Quavo and Travis for the rest of the song, including Quavo all up on that hook. This one will be knockin' for the rest of the year.
April 3, 2017 - "Rerun" and "Lo-Fi"
While these two tracks are low quality af, they both sound dope. It'll be interesting to see how a full album of Quavo and Travis Scott songs sounds. We're definitely here for whatever collabs they might have on the release, but just like we learned on "Oh My, Dis Side," their best work together might be just the two of them and no features.