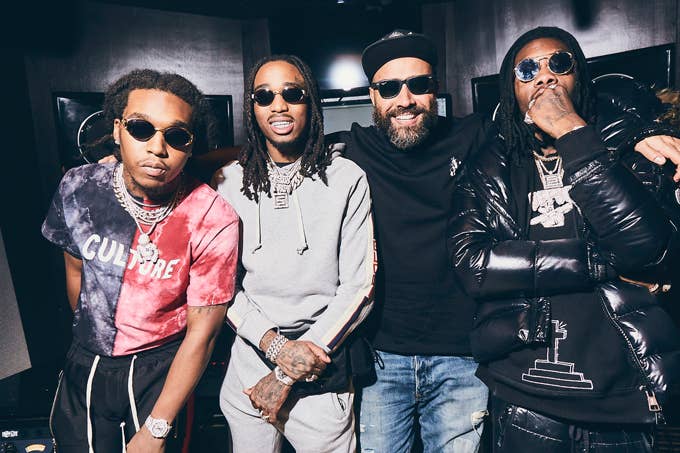 Back in October of 2017, Quavo teased on Twitter about the executive producer on Culture II, causing mad people to theorize that it might be Kanye West executive producing their album. That ended up not being true, although 'Ye had been spotted by the paparazzi working with Migos out in Los Angeles that summer. For all of that fussing, 'Ye was only listed on one track (as a producer on the 21 Savage-featured "Bad Bitches Only"), but let the Migos tell it, this is one track of many.
During part two of their sit-down with Ebro Darden for Beats 1, Darden opened up the convo about the track, to which Quavo stated "he got a lot of shit over there." Ebro followed up, asking specifically if the Migos had more records with Kanye, and if so, how many. Offset simply states "stash." Quavo then cuts in, letting the world that "we working" and that the Migos "never stop."
Quavo elaborated a bit, telling Ebro that they go "to the crazy compound with all the top secret shit go down." He's not familiar of the name of the spot, but he and Takeoff both say it's called No Name.
This shouldn't come to anyone as a surprise, as during a trip to Real 92.3, Quavo said he'd been working with Kanye on his production. They had worked together prior to this as well; in 2016, Kanye West dropped "Champions," which featured Quavo, and both West and Quavo were featured on Yo Gotti's "Castro."
Check out the interview below, which also features some talk about Migos' own emoji, E-Migo-jis.