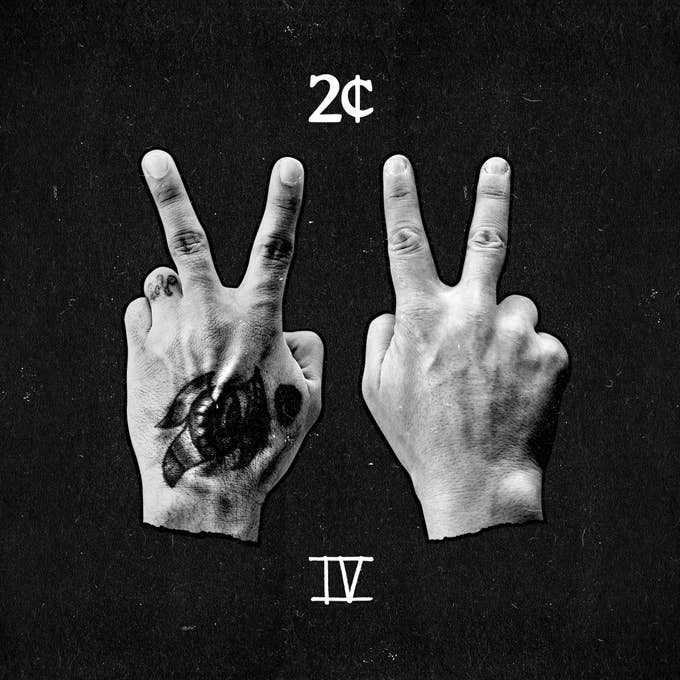 Last night, the Red Bull 3Style's 2018 grand finale was streamed live from Krakow, Poland. While heads got to see some of the world's best turntablists get loose on the decks for the world to watch, we were also treated to DJ Craze and Four Color Zack performing live for the crowd. What did they perform, you ask? Well, it looks like the duo linked up once again as 2¢, performing cuts from their latest 2¢ mix, which is available right now.
As we're known to do around these parts, we got the scoop from Craze and Zack about this mix. As per usual, it's not just an assemblage of tracks they are loving right now: these two came prepared, taking everyone from our current Cheeto-hued President Trump to rappers with monotonous hooks and no bars to task. Press play on the mix below, and get some more insight into the fourth installment of Craze and Zack's 2¢ mix series.
Most DJs seem to only come up with dope songs as the intro to their sets. You two are in a small crop of DJs, like Dieselboy and RL Grime, who seem to make an effort in giving their sets a theme. That said, where does something like Penny (who I remember being on Part II) essentially relaying the plot to Terminator come in? Do you guys start from concept and how the mix would begin, or is that something that happens later?
2¢: We see Penny as our reoccurring narrator (a la A Tribe Called Quest). We look for opportunities to get her involved so people can get to know her. She'll tell it like it is, but apparently sometimes we catch her slipping talking about Terminator... Or maybe she really is trying to warn us that Elon Musk is an anagram for Skynet.
One of the running themes through these mixes has been calling out the lazier aspects of the music scene. This year, you guys went directly at the one-word choruses to then recreate Sagat's classic "Why Is It? (Funk Dat)." It was a perfect way to address how DJs and EDM producers market themselves. What was the genesis of bringing that idea into this mix today?
2¢: Each time we have to reinvent the way we talk about these issues. If we were to just keep barking our opinions at people in the same way over and over, listeners would tune out and not get involved in the conversation. We are making these things not to be "haters" or whatever, we really want listeners to think about the topics. If fresh delivery gives them some new perspective on something, boom.
Listening to the music makes me think of how bleak things can be. With the bullshit occupying the White House, we have to escape into things like music and other arts. But when the charts are filled with a different breed of bullshit, I have to ask: is it hard to wake up and keep doing it? How important are statements like this series are to keeping you guys sane in this bugged out world? Is this too deep of a question? If so, my bad. Turn up!
2¢: To us, everyone should be questioning all the crazy bullshit in the world at all times, especially with the level of bullshit in the U.S. these days. We put this kind of work in because its our creative outlet, and sure, without it we might go a little nuts. It's therapy, and we really don't know how anyone would stay remotely adjusted without some kind of outlet.
We're premiering this after you guys performed portions of this mix during the Red Bull 3Style competition in Poland. Did you guys know you'd be eventually performing this on that stage? If so, did you guys take into account having the perform this live when building the mix?
2¢: Definitely, performing these ideas appropriately on large stages is always the plan. It's the future of this DJ shit (insert infamous Craze shrug). And eventually we want people to expect wild performance premiers like these at these shows.
There any routines from this set that are harder to pull off than the rest? If so, what are they?
Craze: Nah, it's all easy to us...
Zack: ...but the reality is sure we are putting in some serious work up here. The "Humble" routine, for example, is some technical wizardry, but we never want the audience to suffer because of complexity. It's always gotta sound dope, end of story.
I know Craze gets on Twitter and goes ham on Trump, and there's definitely a grip of "Fuck Trump" stuff on this mix. Assuming that the next 365 days are as insane as the first year of his presidency can we assume Part 5 will be a must for 2019?
2¢: When it comes to the messages and delivery, each year has to be better than the last. We always have to take the conversation to the next level. If that human dumpster is still around to give us ammo we'll keep speaking on it, as well as a long list of other things that matter to us. Stay tuned, 'cause we are just getting started.